Walking through the garden each season, or even week, a different plant will take center stage. Previously ignored as a team player in the rhythm of the landscape, the wallflower suddenly dominates the beauty of the garden. Late summer / Fall is when ornamental grasses get their champion moment in the garden against the autumnal colors. As other perennials are beginning to lose their luster and drop leaves, ornamental grasses are still standing tall with some parading proud plumes in fall winds. However there are ornamental grasses other than maiden hair grass (Miscanthus) and fountain grass (Pennisetum) . Here is a list of seven great ornamental grasses to try in your garden that give a lot in return.
Bouteloua gracilis 'Blonde Ambition'- Blonde Ambition blue grama grass
ZONES: 3-10   HEIGHT: .75 – 2.50ft    SPREAD: .75-1.50ft    FULL SUN
DESCRIPTION:
An American native Blonde Ambition blue grama grass changes the perception of  what an ornamental grass should look like with its horizontal insect-like seed head that appear mid to late summer.  Once the seed heads appear you can see where it gets it name with the blond coloration.  A terrific choice for a hot dry / xeric garden because it is quite drought tolerant after established.  Make sure this one has good drainage!
Hakonechloa macra – Japanese forest grass
ZONES: 5-9   HEIGHT: 1.5-2.5ft   SPREAD: 2-3+ft   SHADE/PART SHADE
DESCRIPTION:
I love this grass!  Commonly known as "the grass" for shade- which is true, but it can be way more than that.  Once it is established this grass has a beautiful almost weeding habit which gracefully smothers the ground, good luck weeds!  There are many chartreuse cultivars on the market, all of which I use- like 'Aureola', 'All Gold' and 'Albo Striata'.  However, I am really addicted to the straight species green variety- just regular old Hakonechola macra.  Tuff to find on the market, that is why I grow my own, but well worth it when you do.  Macra can be planted in shade, part shade, and full sun!  This grass likes consistently moist, but well drained soil.   As the pictures below illustrate it can get quite girthy which I think is why I love it so much- a beautiful, low and wide grass.
Sporobolus heterolepis- prairie dropseed
ZONES: 3-9   HEIGHT: 2-3ft    SPREAD: 2-3ft    FULL SUN
DESCRIPTION:
The quintessential North American native grass. The blades are floppy and finely texture which makes is a great grass to blend into a mixed border or planted in mass.  To see a great example of a prairie dropseed meadow be sure to visit the majestic Chanticleer Gardens.  This handsome grass send up beautifully scent airy plumes mid summer that persist into the winter.  Come fall the green foliage turns an attractive golden color for an added bonus.
Deschampsia cespitosa 'Schottland'- Scottish tufted hair grass 
ZONES: 4-6   HEIGHT: 2-3ft    SPREAD: 1-2ft    SHADE
DESCRIPTION:
This cool season grass gets going in the early spring with foliage emerging much earlier than other grasses.  The wispy seed heads dance gracefully above the low fine foliage.  This grass might win the grass I have shot most video of because of the way it sways in a light breeze.  The golden plumes stay on the grass until December or first major snow which quickly flatten.  Still worth it!  Schottland- preforms excellently in my garden (shown) in part shade.  Actually, needs a little bit of shade to really bloom well.
Panicum virgatum 'Northwind'- Northwind switch grass
ZONES: 5-9   HEIGHT: 4-6ft    SPREAD: 2-2.5ft    FULL SUN/PART SHADE
DESCRIPTION:
Attractive wide blades of steel-blue is what draws me to this grass.  An extremely sturdy selection that I often use in designs for its textural qualities.  In September the plumes emerge to create a handsome grey haze with-in the top of the blades.  Introduced by renowned plantsman Roy Diblik this grass deserves an area in a sunny spot in your garden.
Calamagrostis × acutiflora 'Karl Foerster'- feather reed grass
ZONES: 5-9   HEIGHT: 3-5ft    SPREAD: 1-2.5ft    FULL SUN
DESCRIPTION:
An architectural grass with it's stick straight plumes, feather reed grass creates a strong vertical accent in the landscape.  Straw color plumes decorate the summer months.  Used in mass or as specimen dance in a border this grass creates drama wherever you plant it.  Best suited in full sun.  Very drought tolerant once established.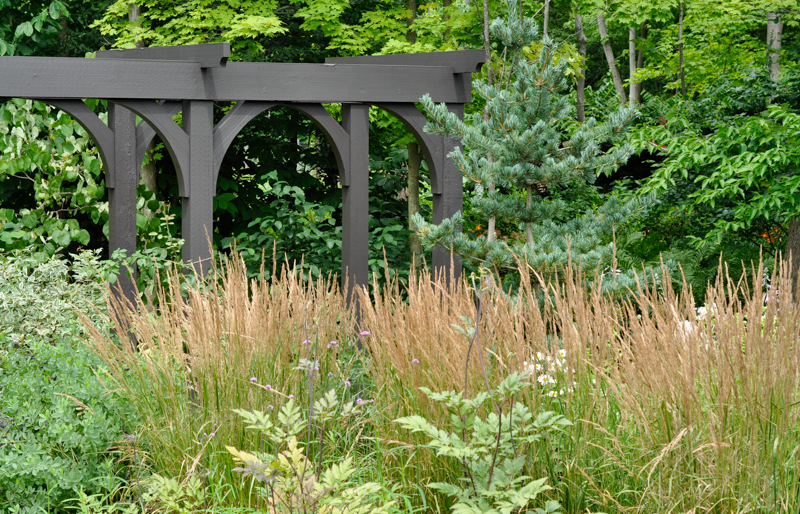 Schizachyrium scoparium 'Jazz'- Jazz little bluestem 
ZONES: 3-9   HEIGHT: 2-2.5ft    SPREAD: 1-1.5ft    FULL SUN
DESCRIPTION:
Looking for blue in your garden.  Jazz little bluestem, a North American native, offers a shorter non-flopping selection introduced by Brent Horvath form Intrinsic Perennials.  I often plant in pockets of 5-7 to create a bit of drama in a border.  Fall the blue turns a purple / mauve tone!
Here is a graphic listing for the seven grasses listed with their main details for quick reference pinning.  Email or comment with any questions.