While I was traveling we received the death frost, wiping out the last of the summer annuals. Before I left, I filled a box truck with the tender plants I wanted to save or covered a few of the special plants I could not fit. It was a abrupt announcement of fall, returning to the skeleton of plants. So now begins the clean up of the annuals and preparing for winter. As I bundle up for these tasks, I look back at what did and did not work this year in the garden, starting with our containers.
Curated Mono-pots
An addition to the container collection this year was a grouping of smaller single planting containers inspired by Claus Dalby, that we collected on a garden trolley (really old Smith & Hawken display fixture). We started in the spring with some tulips (some worked and some didn't) and pansies and expanded to summer annuals filling both tiers.  Our spring planting grouping was small, just a few containers with a few of the fall planted tulips not making it through the winter. However, with the table elevating the containers to eye level, we really got full enjoyment of the blooms.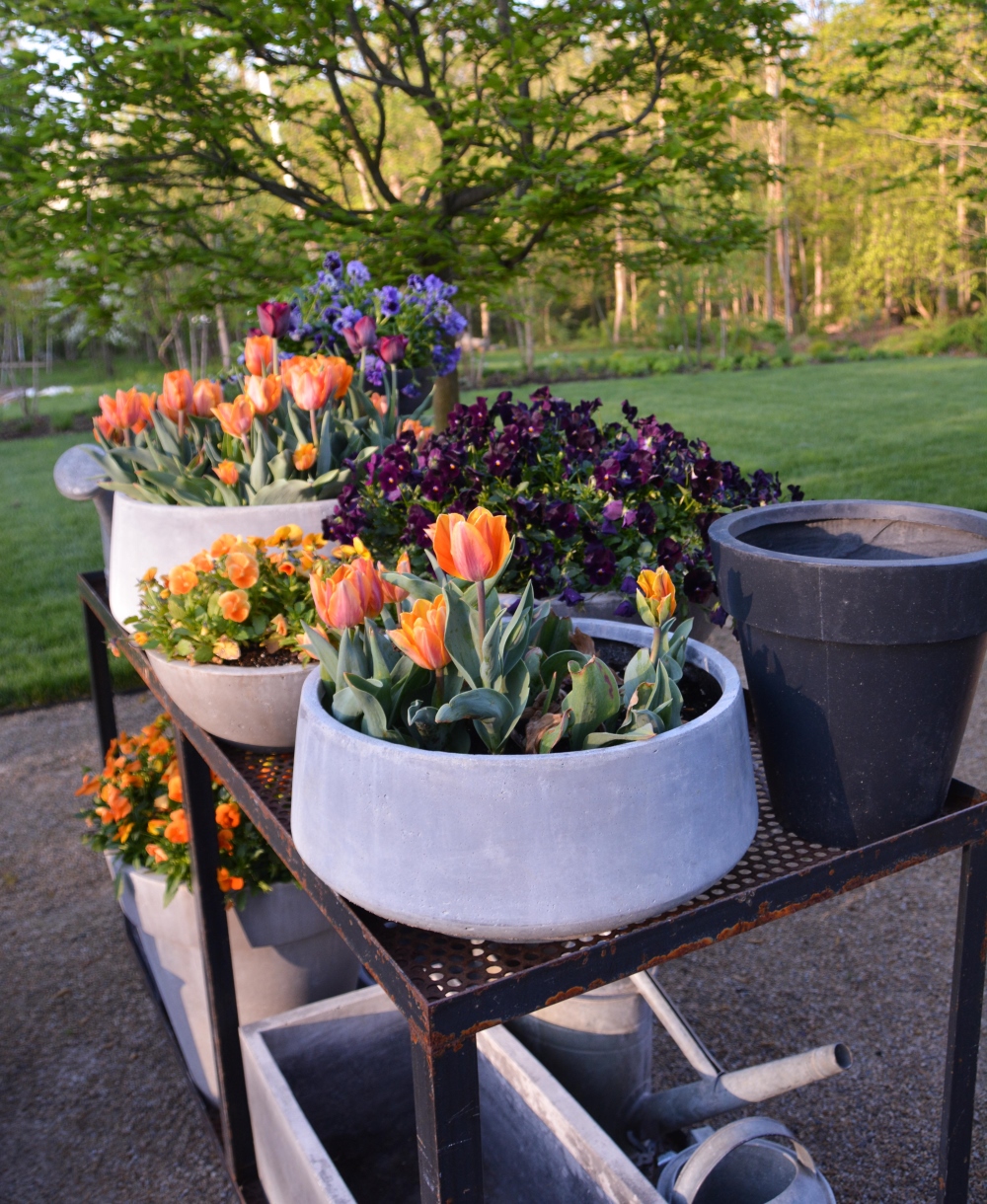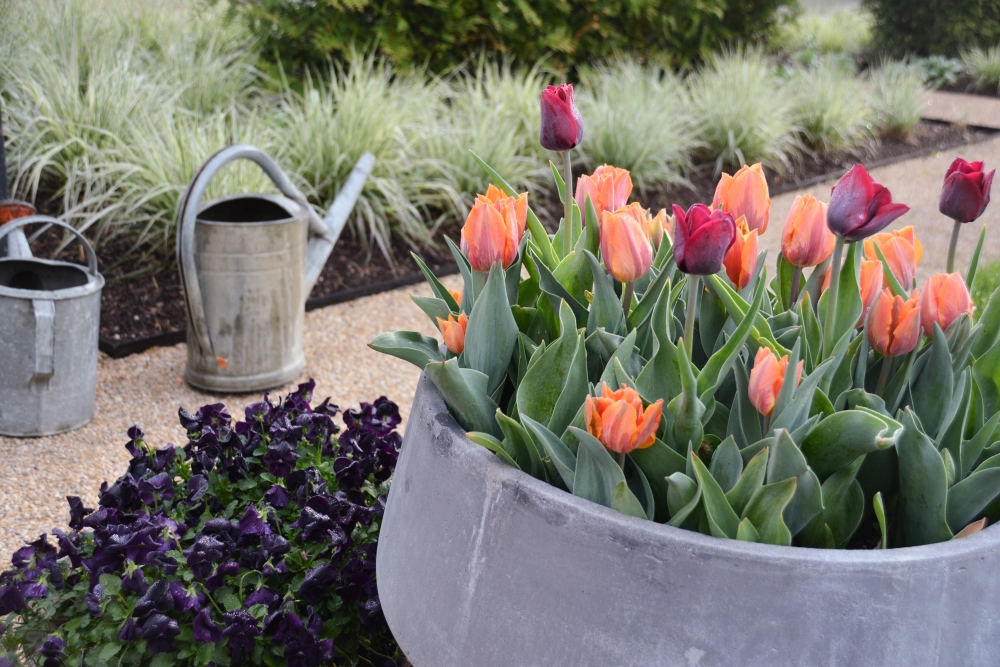 For our summer annual plantings we added more containers and stayed with a black, green and silver palette. This time we covered both the top and bottom tier of the trolley and added a few garden ornaments to fill any empty spaces with some additional interest. This was the plant grouping and use of the trolley we enjoyed the most. As the containers filled in, it provided a lush room divider to the patio space. Again the elevated tier raised the plants to eye level and really allowed us to enjoy the containers. Plus creating mono-pots, allowed for plants we only had one or two of to be used and not lost in larger container recipes.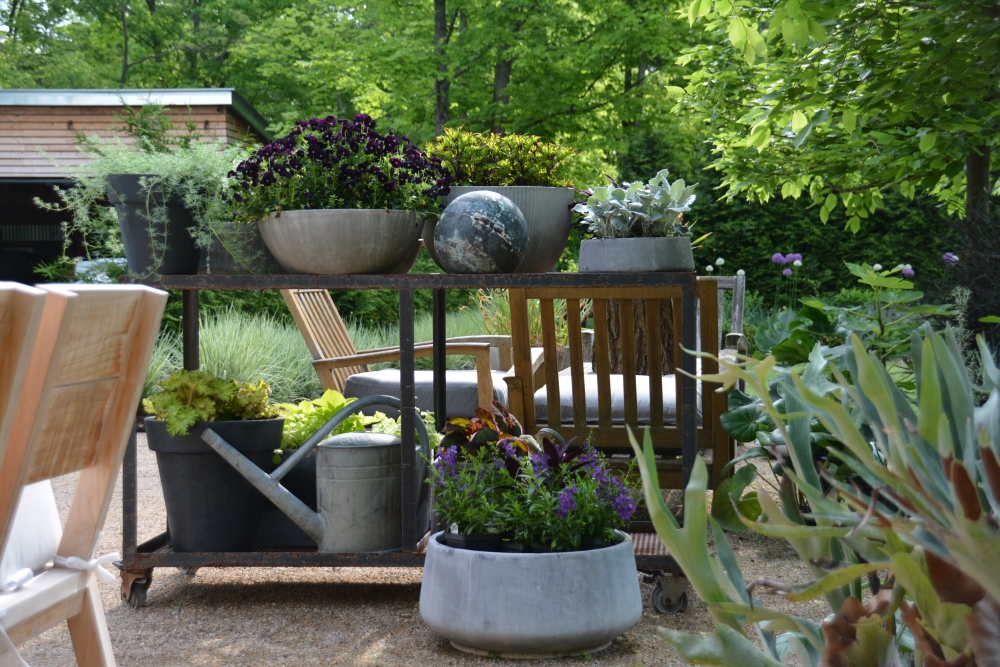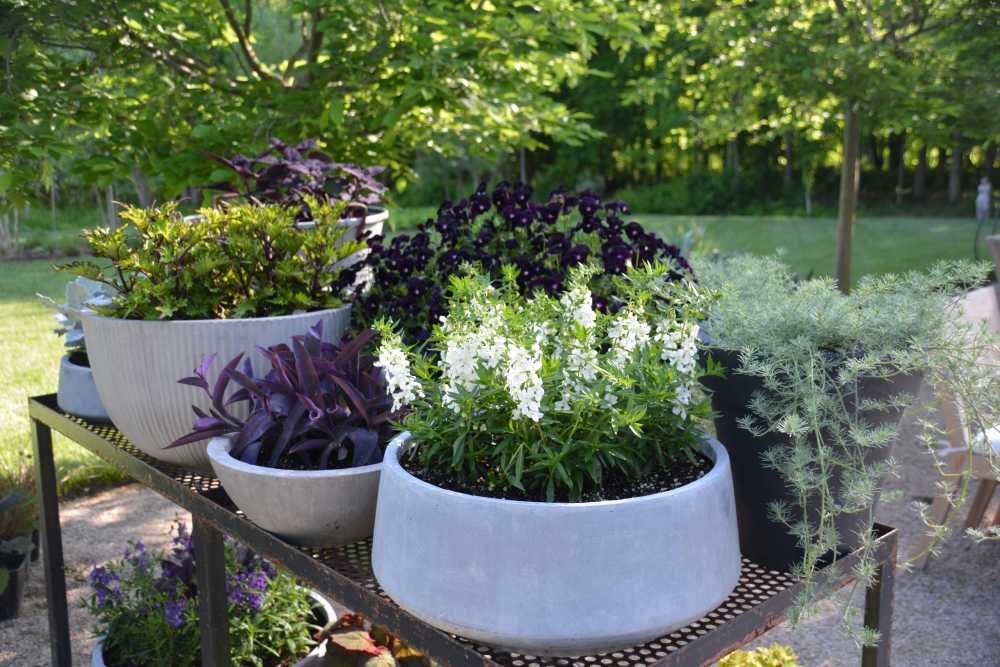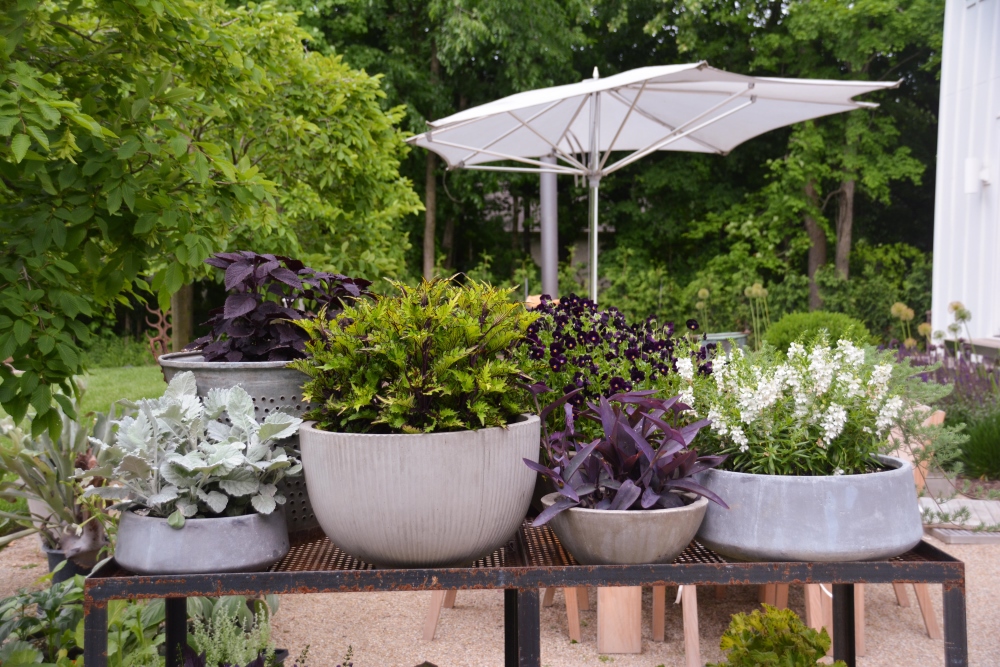 The collection of mixed container shapes and sizes in the same color family allowed us to move things around when plants got too large, required more/less sun or met the end of their life span.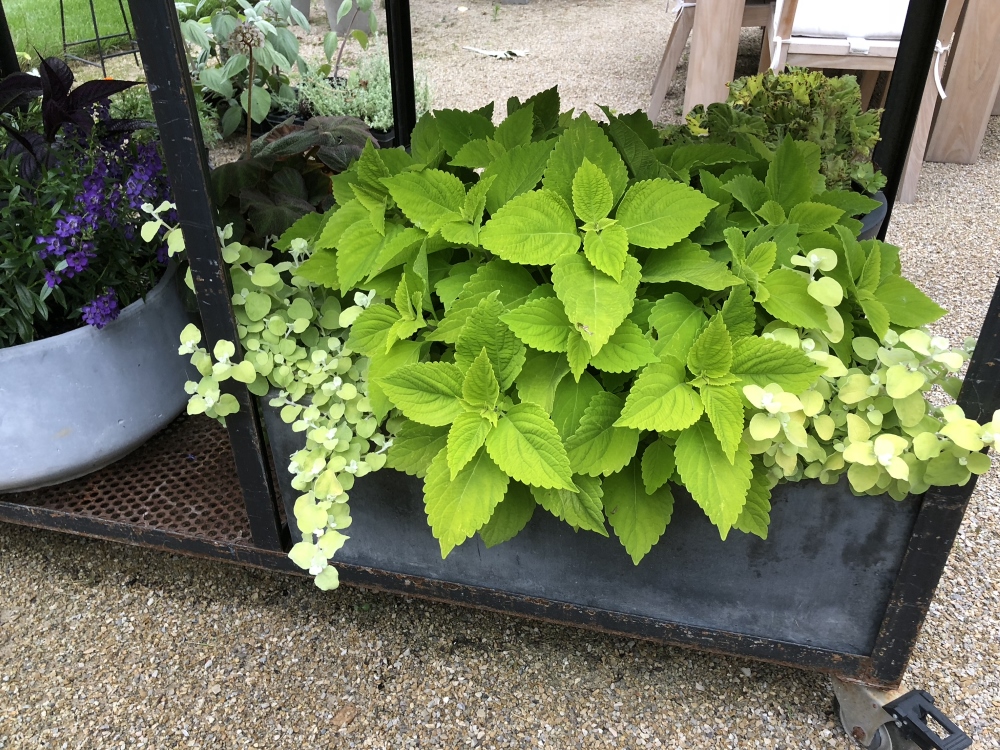 Overall, the two tiered garden table will make a repeat appearance for a few more season before we get tired of it. There were some issues that I will change for next year. First, I will rethink the smaller pots. I need to plan better for plants with shallower root systems (succulents or maybe some snakes tongue). I don't want to eliminate the size completely from the combination, but need to be smarter in plant selection. Second, for the spring containers I am going to try more than just tulips for the bulbs. I had two containers of tulips rot last winter, and want to diverse my collection in case that happens again.  (P.S. if you would like something similar, we are going to have some exclusive designs available in the spring for purchase).
Here is the trolley from last year when I first brought this home from work. We were still learning what to put on the trolley. We have also removed all the plants and used the surface for a buffet space during family parties.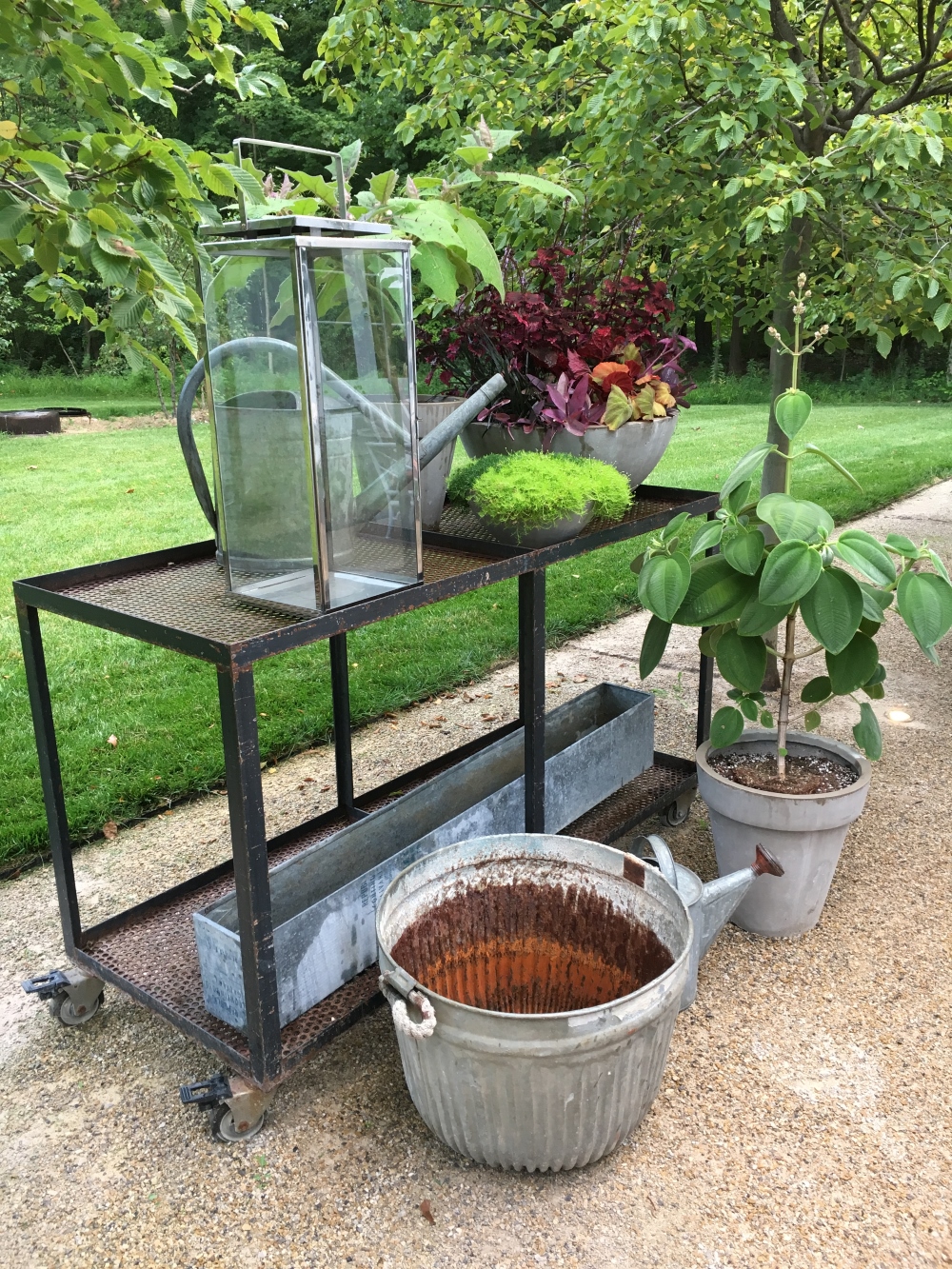 Table Centerpieces. 
Other new item we added this year are table centerpiece containers. I guess we tried last year with a Scottish moss bowl, but that never makes it through the summer either from drying out or the humidity. This year we had two smaller containers that featured drought tolerant plantings that looked great on lounge tables. They were smaller to allow for plenty of room for drinks and feet on the table, but were beautiful texture added to the seating areas. Also, for our Cultivate dinner, we had some small potted stag-horn ferns that we kept at home for the remainder of summer. These were beautiful running down our outdoor table and moved around a lot.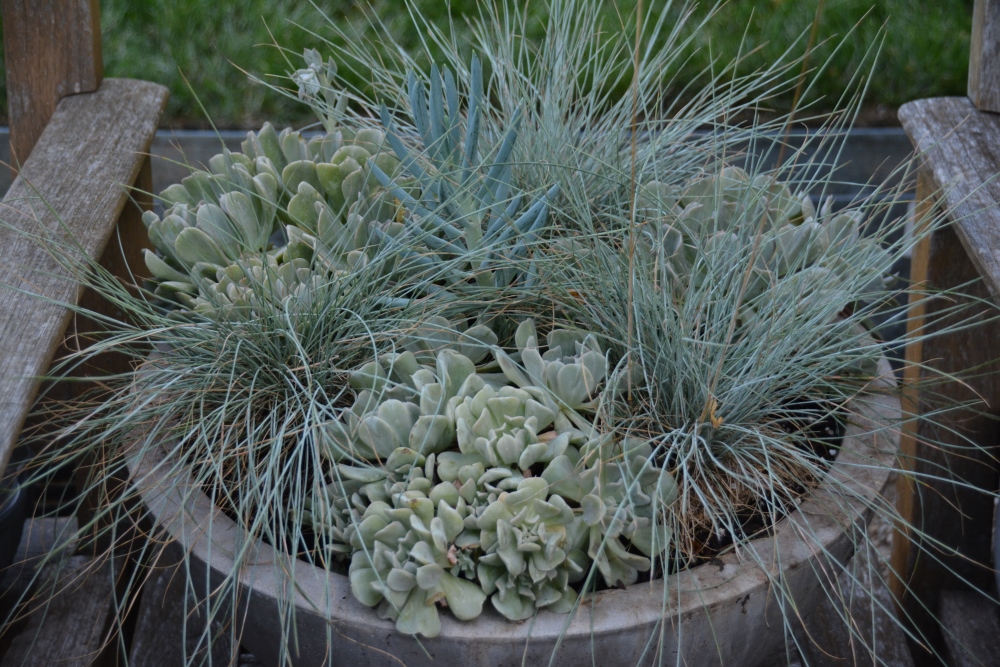 For next year I will put more effort and designing specific containers for these areas. One was an existing container I save year to year and the other was created with some extra plants.  I do see the great value these smaller containers add to the garden and entertaining spaces and will work at incorporating at client properties next year. However, they need to be water-wise containers, the smaller bowls dry out quicker, and had it not been a consistently wet summer I am sure I would have had some issues keeping watered.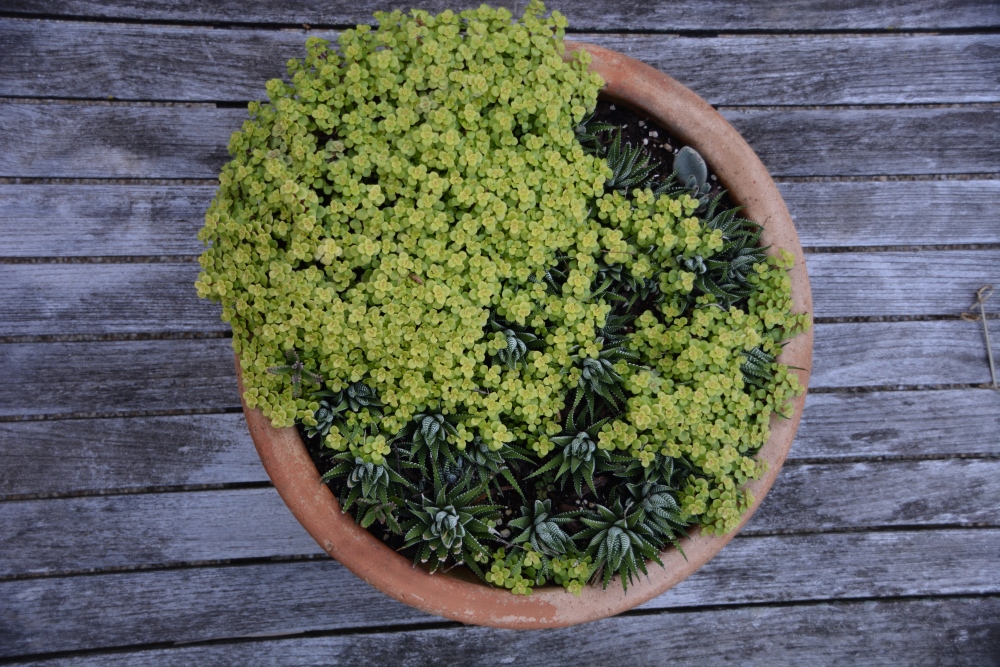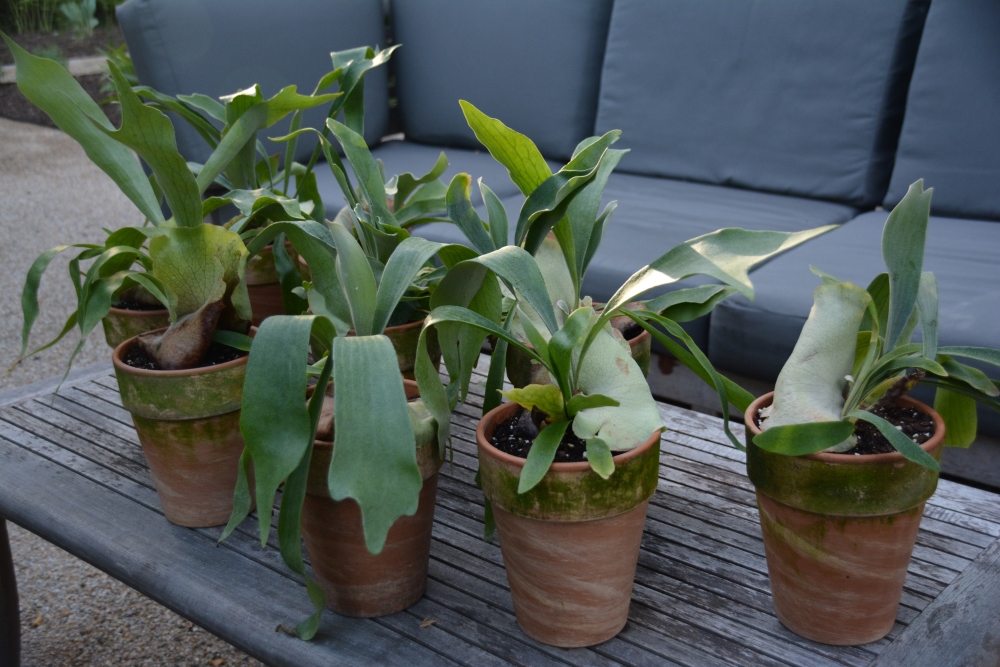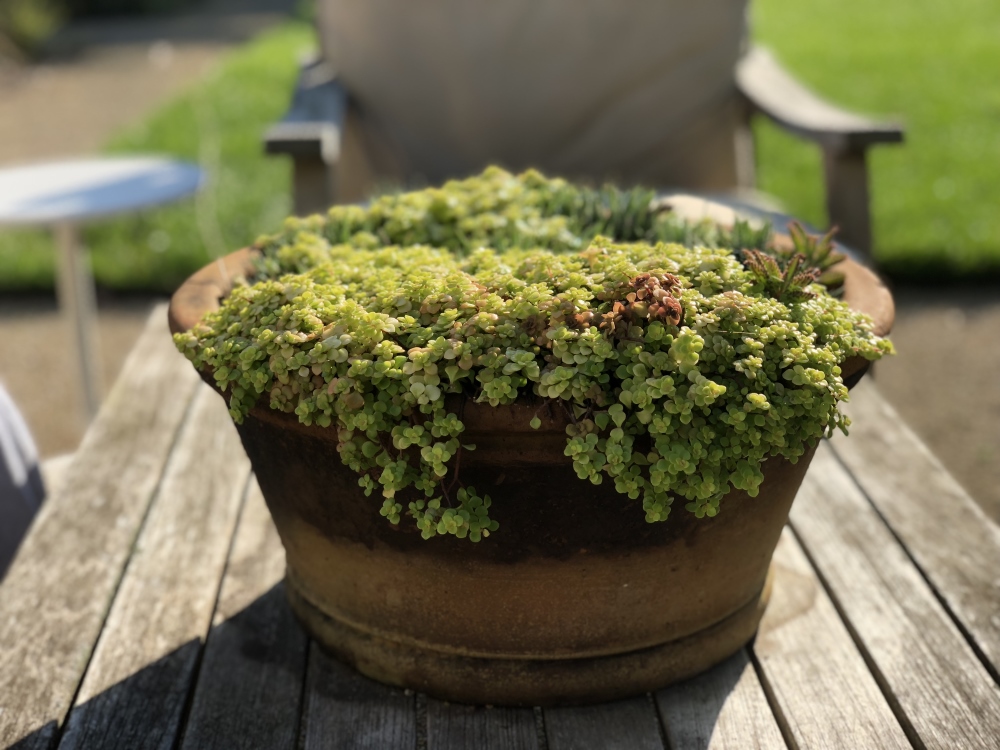 Black Backdrop Containers
We have a group of three containers that have the black portion of the house as a backdrop. I loved our planting last year, with the alocaias etc, but this year the plantings just fell short. The boxwood hedge has grown to cover the planters, so my green textured plant selection just did not make an impact between the garden and the house. Next year I am going to rethink the plants and reference back to what worked in 2017 and look at more contrasting color approach to the planting. Below are the photos from last year, not happy with this year so I don't think I took any photos.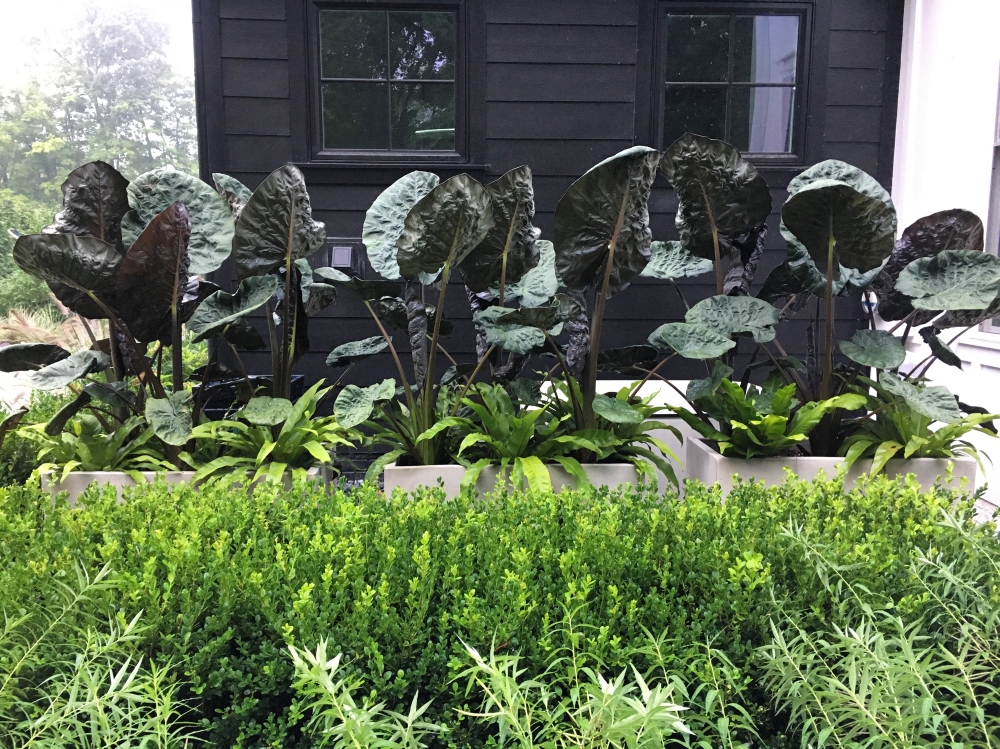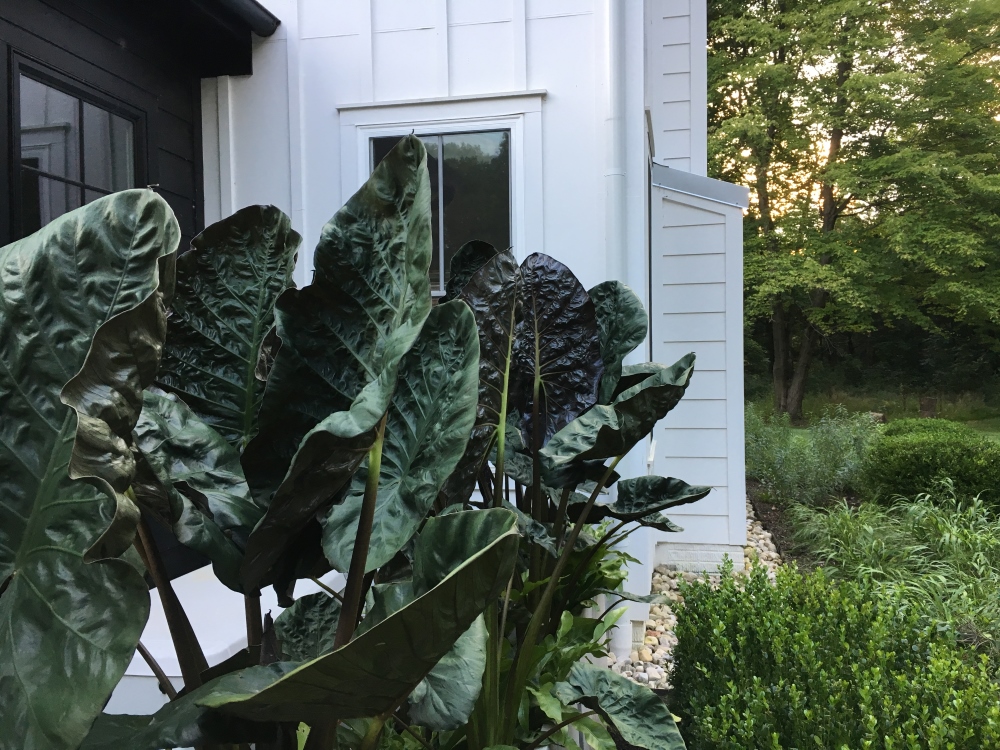 Faux Bois Container. 
This year we did both a spring and summer planting for the backdoor faux bois planter. The spring plantings of pansies, muscari, hyacinths and daffodils was a fragrant welcoming mini garden. What was great about that container again, was elevating the plantings (and fragrance) to just below eye level and allowed you to enjoy the very delicate plantings. For next spring I think we will remove the daffodils and focus on the intense blue for the pansies, muscari and hyacinths adding some white contrasting bulbs.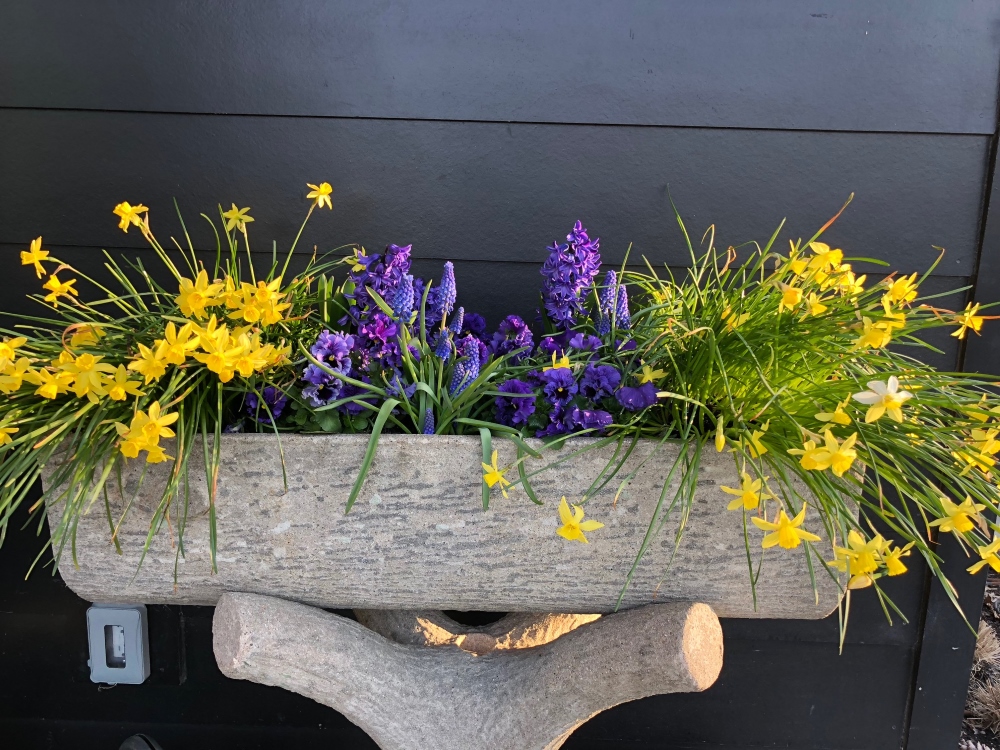 Our summer plantings was a mix of succulents, that we enjoyed all summer but was not super impactful. We had to move out the tradescantia early in the season, since it over grew the mothers-in-law tongue. We replaced with a selection of succulents and annuals that made it much more texture rich than the first design. We had to move the whole container for a photo shoot, and right now we are enjoying the openness of the back porch without the container. Not sure when we will move it back, might keep off the porch until spring. Will need to keep looking for photos of this container, still have not found any.
The Randoms.
We still have collections of more random containers spread across the garden. The number of containers never seems overwhelming except for when we have to find winter homes for everything. The large scale container did great this year, and enjoyed it on the driveway even though it was a bit annoying of a location with kids bikes etc. We also had some very large pencil cactus that loved spending the summer on the front porch that I have no clue how we are going to move now that they are 7 feet tall in the planters.  Another great container was a rosemary and petite helychrisum container that lived on the patio, which was a simple two plant combo that was a perfect play of textures. It was also my son James' requested container since he enjoys breaking off and smelling rosemary whenever he walks past.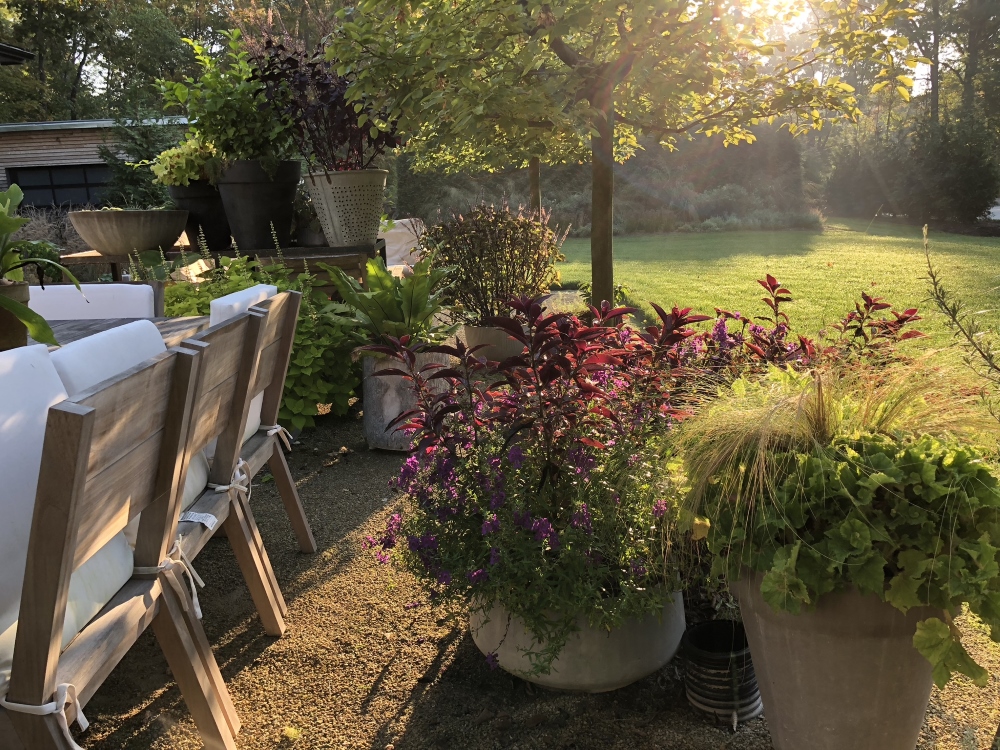 There were times when I thought we had too many containers, but after my recent trip to Chanticleer, I felt good about our collection and looking to add a few more. In the photo above you can notice how stretched out the trolley containers became at the end of the season. This group above helped conceal the conduit for our string light poles that still need to get installed.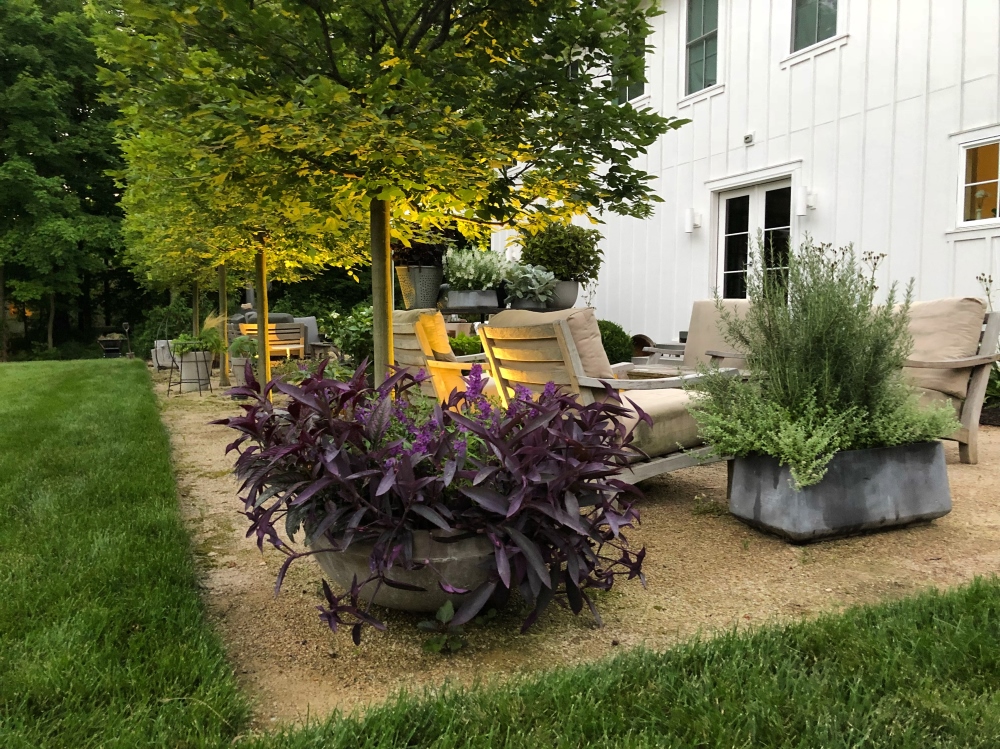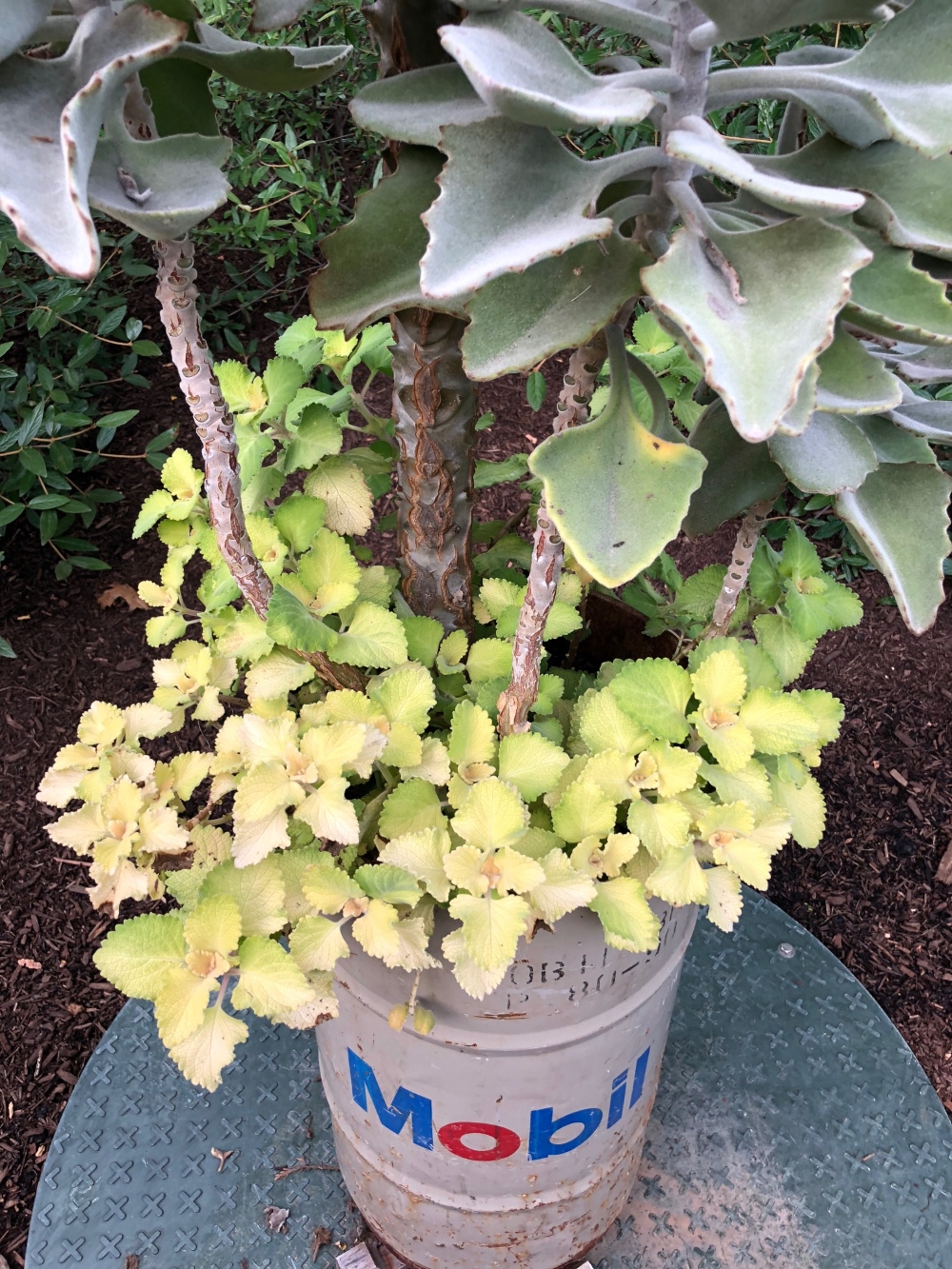 Overall, I am not going to plan too much at this point for what we will do for next year in our key containers. These are always the fun experimental items that I like to create in the moment with input from the whole family. Also I have all winter to dream and find new containers I have to fill.  In a later post I will be breaking down the planters by species and dive into what was successful and less than successful.