Every July, Cultivate brings in tens of thousands green industry individuals from all over the world to Columbus, Ohio for one of the largest gardening industry trade shows. When I get to travel for conferences or work, I like to add days to explore the area, shop and eat. I tend to look at places from a design point of view, be it the hotel, restaurant, store, row of houses or garden. I figured I would share my favorite spots around Columbus for the garden and design minded folks to break away from the trade show and explore what Columbus has to offer.
GARDENS: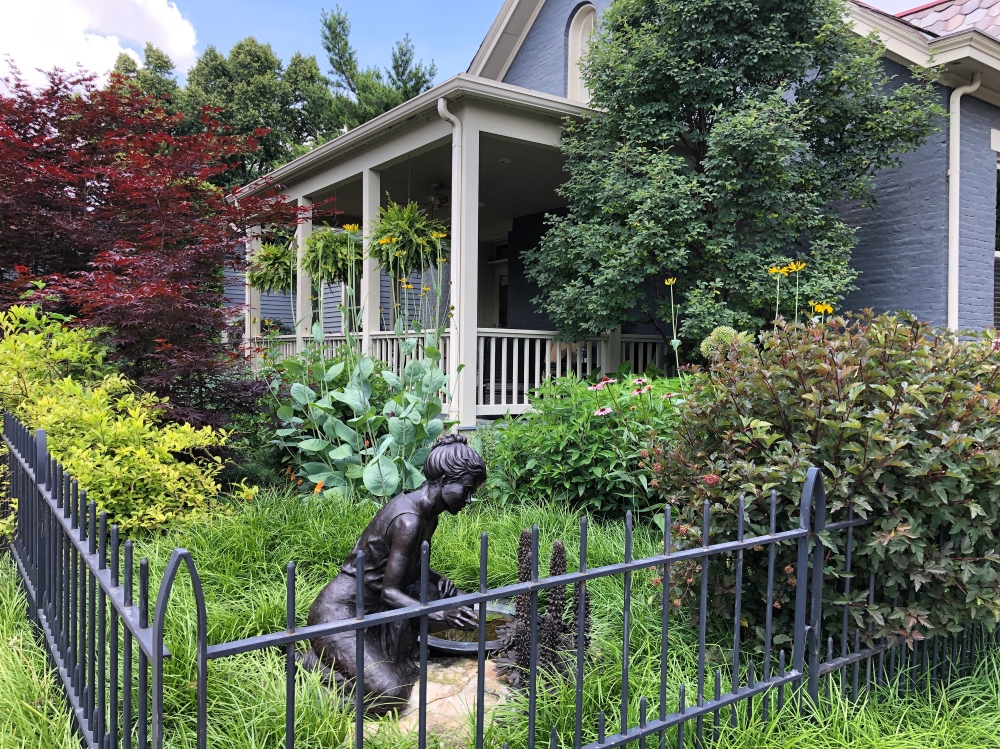 GERMAN VILLAGE. This is a historic community of 19th century (mostly) brick homes, lining brick streets just south of downtown Columbus. The area was largely settled by German immigrants, hence the name. These small unpretentious homes with small yards are in high demand and residents take pride in the restoration and updating for modern living. Walking around Schiller Park has the grandest homes but cutting up the smaller streets like Macon Ally provides great of 19th century American architecture.   Beck St. is another great street for walking with restored homes that connect two historic homes in one new home.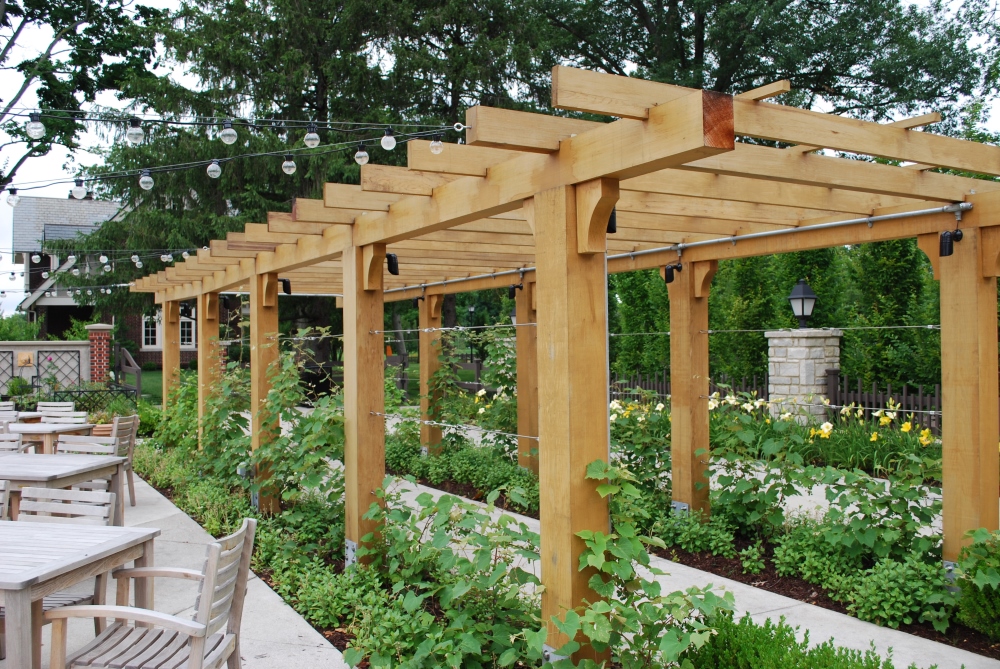 FRANKLIN PARK CONSERVATORY & BOTANICAL GARDEN: This is a popular garden stop in Columbus, however my favorite part is tucked behind the Conservatory, The Scott's Miracle-Gro Community Garden and is the least known portion of the conservatory. I love walking around the allotment plots and seeing what everyone is growing, and the different little areas meandering in no particular path. This year the Conservatory has a new Chihuly exhibit has been added. Franklin Park has  also recently opened a new children's garden that has greatly increased the visitors into the conservatory and with it more funding. It will be interested to see what other gardens and events start happening from the increased popularity.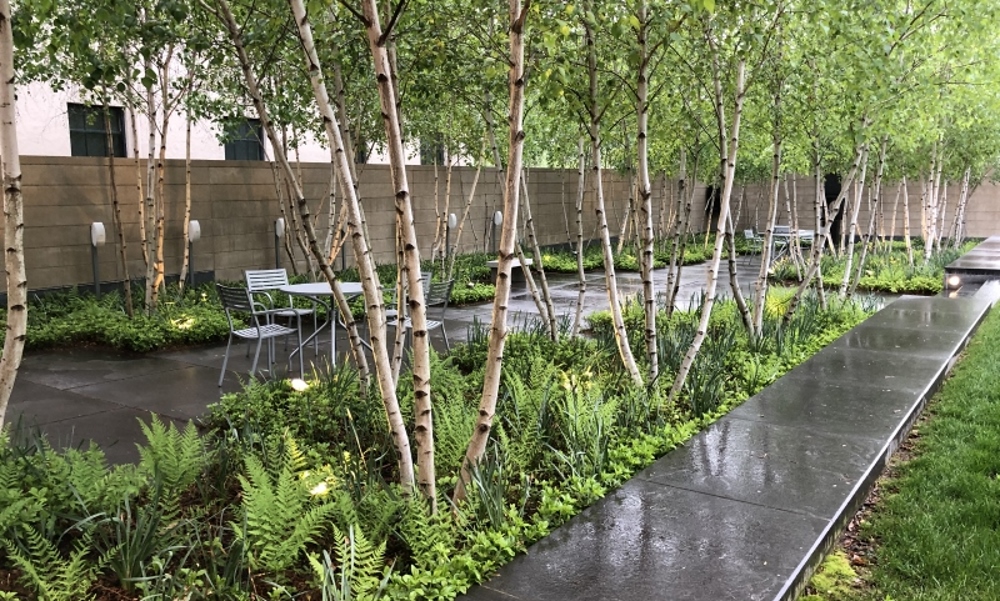 COLUMBUS MUSEUM OF ART. The CMA recently added a new wing to the art museum that involved removing an original Russell Page designed garden. The Museum worked to document that garden before demolition, and moved the sculptures into a new garden that is open to anyone to visit during visiting hours. For me this is the most inspiring garden in Columbus (outside of my client's and personal projects). Grab a drink from the café, bring your computer, book or just thoughts and sit in the allée of birch trees listening to the sound art.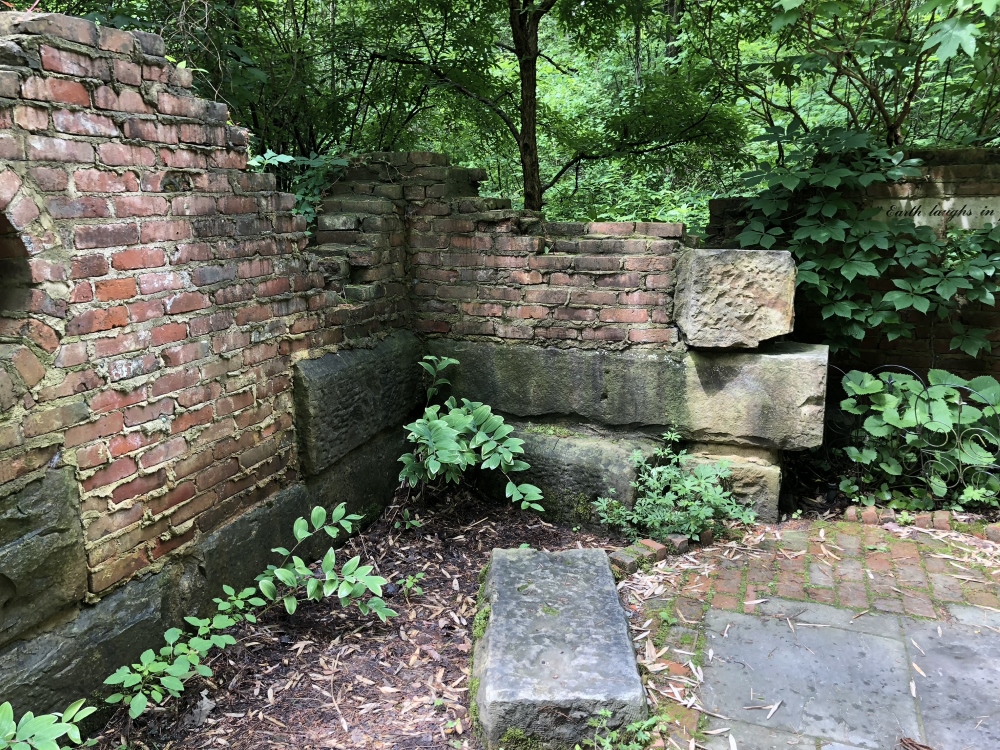 INNIS WOODS. Located outside "the Loop" in the suburb of Westerville, Innis woods is a private home and gardens donated to the park system. A popular location for graduation and wedding photos, I recommend heading back to the ruins in the far back corner. Crated using old foundation stone, bricks, and antique garden fixtures this small little garden shows you how creating history and unexpected elements in the garden can be transporting.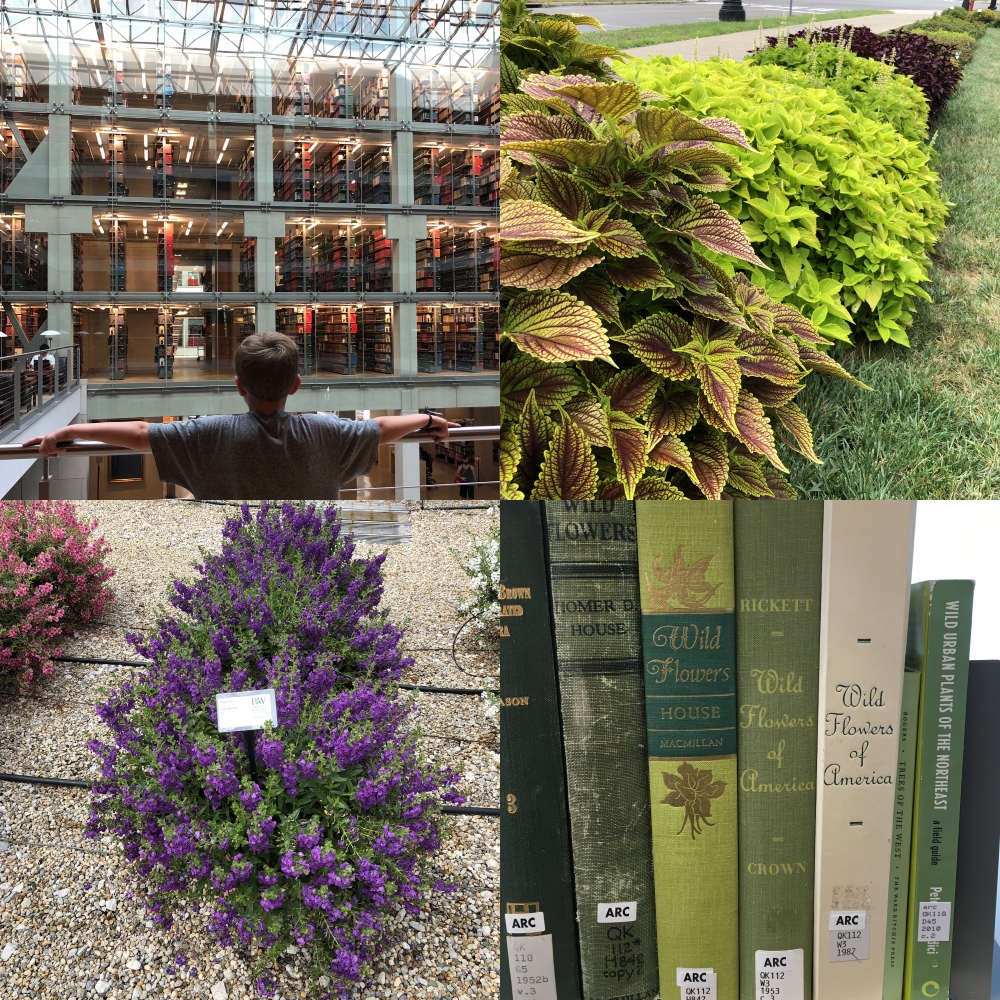 THE OHIO STATE UNIVERSITY – Trial Gardens, Chadwick Arboretum, Knowlton Hall, and the Main Library.  The Buckeyes are a big deal in Columbus, and the campus has a lot to offer outside of the athletics. First the trial gardens are always a great stop, that we visit every year. Here you can see new plant varieties tested and compared, and the bonus of us we can see how they thrive in our zones, soils and conditions. Right next to the trail gardens are gardens around the horticulture and crop sciences buildings. Across the road is Chadwick Arboretum, which is a great compact location for walking and selecting trees for your home garden. Knowlton Hall is home to the schools of Architecture and Landscape Architecture. Head up to the top floor and see if you can get into the Library. Filled with an amazing collection of design, gardening, and architecture that you can get lost. Finally, if you are on campus it is worth a trip to the main library and take the elevator all the way up to the top floor. There you get a great view north, south, east and west from the campus.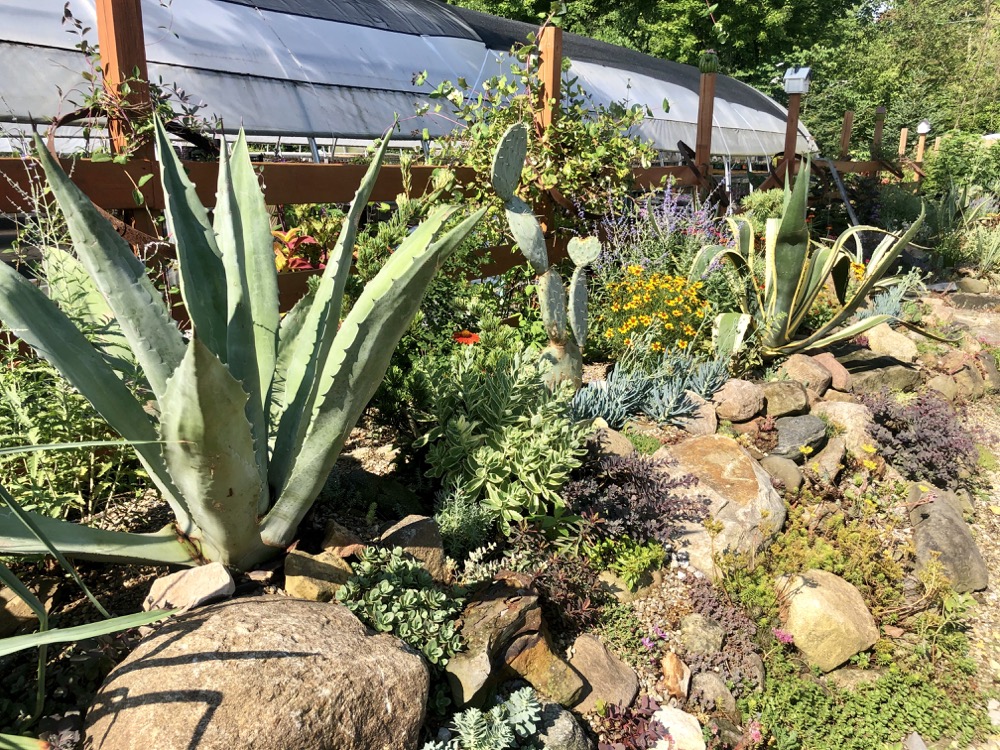 GROOVY PLANT RANCH: Located a drive outside of Columbus, this is nursery is worth the trip if you have the time. Outside of the excellent collection of succulents, there are a great selection of unique and native perennials. The perfect size nursery you don't get overwhelmed, but you are making discoveries of interesting plants on each table and around each corner.
RESIDENTIAL WALKING TOURS. There are a few other great neighborhoods for walking around Columbus besides German Village mentioned above The Old Beechwold area (High Street and Morse Road), has older homes on land that used to be a zoo, with one property using the old monkey house as their shed. Bexley is another great walking neighborhood. Starting at Kitties on Main St. with a coffee and walk down all the streets to the North. Around Jeffery Mansion, there are some other great historic homes (including the Ohio Governor's Mansion) to walk around under shade trees.
SHOPPING: I often find inspiration in retail design and experiences, beyond those in garden centers or similar stores. Below are a few local to just Columbus, and are worth a stop for souvenirs home and are original spaces.
QUINCI EMPORIUM: Located in the Short North on High Street, Quinci is our favorite place to get a cappuccino, light snack, take a cooking class and get a bottle of prosecco for the weekend. Deborah, the proprietor, is welcoming and brings in only the best Italian cooking items.
ROSE BREDL: We have been shopping Mary's store for over ten years. We have candles, overalls, lotions, seeds and a few Hable Construction pieces from her store over the years. Walking into Rose Bredl is a great refresh from all the current construction in the area.
SAMPSON: This is James' favorite store and we stop every time we are in the Short North. A great gentleman's store for everything from pocket squares, hats, and clothing. We buy their signature candle fragrance to burn at home.
HAMMOND HARKINS GALLERIES: This bright and airy gallery has the best exhibits that are constantly changing. Sometimes it is art we would love to buy, other times they are just interesting art to study. They represents local artist Paul Hamilton, who captures the Ohio landscape in the most compelling paintings and Sarah Fairchild, who crates bright, botanical driven works of art.
GRANDVIEW MERCANTILE: This is a great stop if you are looking for something for your home or just looking . A resale store that includes great antiques, jewelry and furniture, that if you see anything you like you can either play a game for the next markdown date or buy so not to risk it being sold out from under you.
OPAL STACKHOUSE. Tucked back down an alley in Victorian Village, Opal House has a great collection of antique items. Stop and see the concrete Michelin man (not for sale) that I envy.
BEAKERLOO: Located in German Village, this small shop is crammed with great mid century antiques. You need to catch them open, but even the window shopping is great.
STUMP PLANTS:  Columbus has two STUMP locations, one in German Village and the other off 5th Avenue closure to the Short North in Italian Village.  This is the mecca for finding a house plant large and small. They move inventory quickly so frequent visits always resort in something new or different.
WORTHINGTON FARMERS MARKET: If visiting in the summer, the Worthington Farmer's Market on Saturday mornings is our favorite stop. You can shop the local vendors and stop in all the great shops along the way, like GRID and Igloo Letterpress and dine at The Whitney House.
FOOD:  One of the greatest assets Columbus has is our food culture. I am barely touching the food options you have here in town. I urge you to stay away from any chain restaurant and push yourself to try something local. We also have great international food options, that if you check out @cbusadventures on instagram you will find a lot great recommendations.  Also if you are here for the convention, you will not go wrong with the North Market, but it is worth venturing out for some of the restaurants listed below.
SERVICE BAR, Middle West Sprits: (just off High and 5th), Once Ohio passed a law you can serve food at Distilleries, our local distilleries have opened some amazing restaurants. My favorite is Service Bar. Make sure to visit the Bottle Shop for cool merchandise and a bottle of Vim & Petal Gin to take home.
Third & Hollywood: Located in Grandview (down the street from the Mercantile), Third & Hollywood is our special occasion restaurant. The owners also own Northstar Cafes located around Columbus with equally fresh, local ingredients and Brassica. The team that works in all their restaurants are friendly and just go above and beyond in making your experience enjoyable. Third & Hollywood's pimiento cheese dip is amazing along with their iron skillet cheddar herb biscuits. I also love the use of ipe and incorporating the plantings into the architecture of the building. If you visit a Northstar Cafe, the Westerville location is our favorite with the buildings nod to the previous Japanese tea house that was on the location before.
Columbus Food Adventures. If you have enough time and plan ahead, go on one of the tours around local eateries, that include specific neighborhoods, meals, or deserts. These tours show the breath of culinary options around Columbus that really makes us a foodie city. If you don't get any further than the North Market for lunch, you will not be disappointed.
ANY CAMERON MITCHELL RESTAURANT. Most communities have a local restaurateur that dominates the restaurant game. I have had great meals at all his restaurants all over Columbus. Guild House has a great special gin with Watershed Distillery that makes great cocktails, Hudson 29 has a great tomato soup and trout dip, Cap City is my favorite Meatloaf and these are more restaurants opening in 2019 I have yet to visit.
I am sure after I post this I will think of more locations I left off the list, (mainly restaurants, there are too focus) so I will try to update as I think of more. We love living in Columbus for its ease to explore all corners of the city and beyond, the great food, creative folks living here and the general niceness of the community. Outsiders call it Midwest Nice, but in Columbus everyone is welcomed and is able to add to the depth of the community. I don't mind outsiders passive aggressive dig.