Happy New Year! January 1 is the official calendar transition into our winter work. We are un-decking the halls, watching for snow and in a general rhythm of completing the winter maintenance tasks. Despite dormant gardens, our offices are anything but slow during this time. We are building out a new design studio, estimating projects for spring, completing a few projects that can happen within a mild winter and planning, documenting and dreaming for when the gardens wake up. I look forward to this time for the general excitement of all that can happen in coming year and season for the garden. Here are the activities we have filling our offices over the winter.
NEW DESIGN STUDIO.
For the past 10-15 years my office has been in an upstairs nook within our headquarters. As our operations have grown and expanded, my office has stayed within the attic space. This past year we regained space that was dedicated residential and the planned to create a design office, meeting space and managerial desks. The project set dormant over the summer, never being the key priority. We kicked the project off late fall and are wrapping up in January. The project has evolved from a space to host clients into a space we are planning to have more out reaching activities. Once the space is complete I will share a tour, in the meantime he is a quick glance and some of our inspiration. The space will be bright and flexible to work with our needs, as has been inspired by places we have travel over the past few years.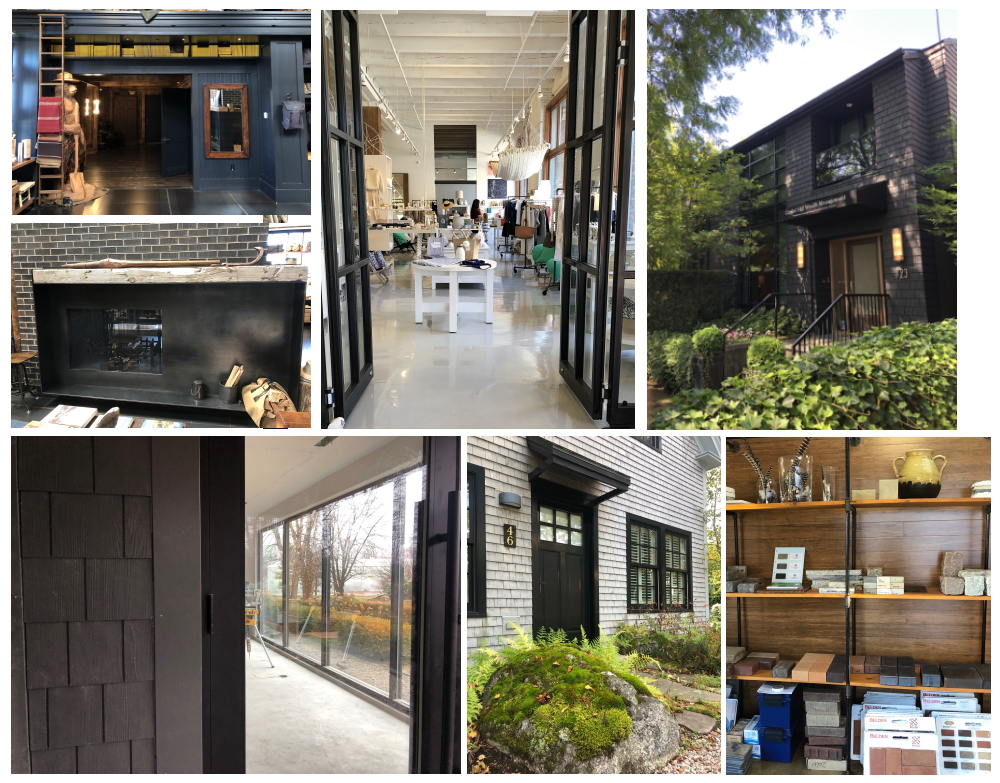 WINTER MAINTENANCE.
Winter has its very own unique set of maintenance activities we complete to ensure plants and trees are healthy once their growing season begins. Up until the ground freezes we are complementing dormant treatments, then our arborist and crews move into winter tree pruning. We also do some bed care with mulching, despite everyone thinking the spring is the best time to mulch, we are able to get a clean bed and mulch layer down in the winter prior to any spring weed issues arise. I should state that our 'Mulch" layer is a majority leaf compost mix that feeds the soil as it breaks down in addition to the protective layer it provides typically associated with purely wood chip mulch. I will share more details on these activities throughout the winter.
ESTIMATING, MATERIAL SOURCING and SCHEDULING 2020 Install Projects. 
Typically before a new year begins our installation teams are fully booked into mid-summer with designs created the year prior. I spend the winter working with the installation team estimating, sourcing materials and working on the execution plans to make sure all our projects are ready to go once the spring weather allows. Here are some quick snippets of projects we are working on in 2020.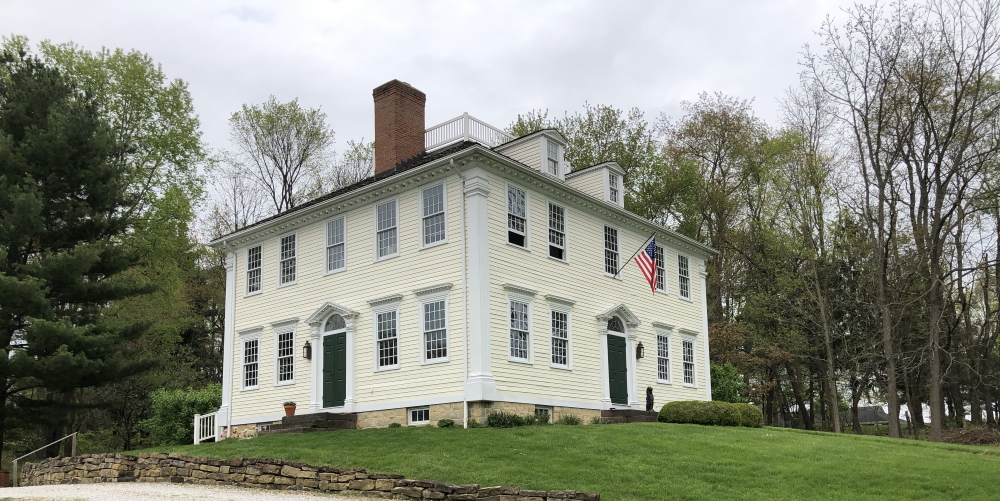 Waiting to install a garden at this historic home outside of Columbus. The house was moved from the East Coast to Ohio and includes so many unique details. The design is strong and clean garden, but we are waiting for the house to be painted dark before we are ready to install.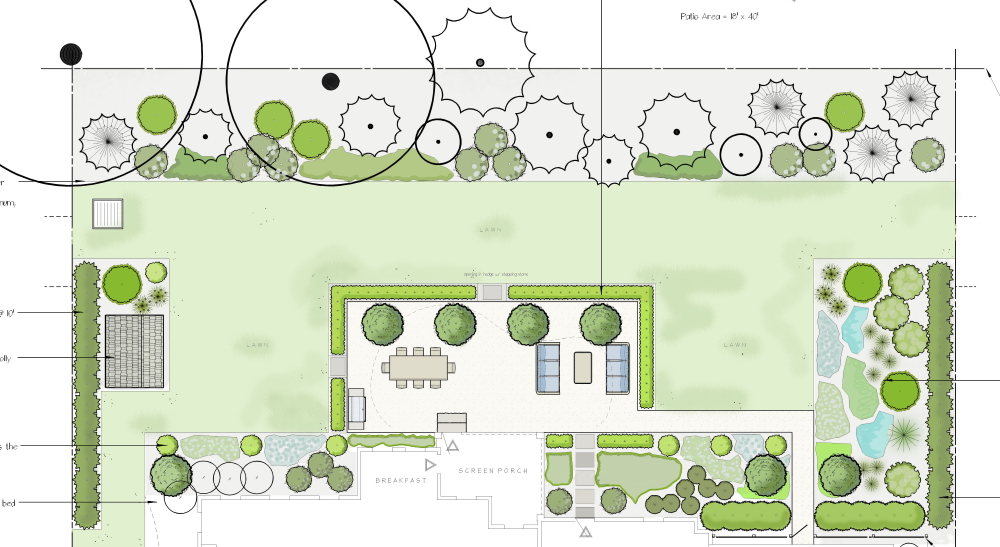 This is a backyard project that will be installed in phases.  The design focuses on drawing the family out to enjoy great meals with privacy. The design also ensures the family gets a beautiful view while inside the house.

This is just the front yard of entire garden redesign including pool and entertaining area. So much of designing is solving problems with flow and make the outdoors as enticing to be in as inside. This front garden uses existing elements like hedges, and expands the strong lines and provides a missing rhythm.
Planning, Processes and Procedures. 
We are always refining, documenting or revisiting our processes and procedures to make sure we are working smarter, not harder and everyone feels they are doing their best work for the best clients.  This is the time of the year were we all can talk about successes and failures and identify leaders for change for the better. These conversations can be intense, but somehow I leave these meetings the most excited for the work we create.
The "What if's" and "Great Ideas"
Throughout the year we keep a running list of random ideas that we spend the winter figuring out how to make happen. Sometimes these are for new services or products, sometimes it is expanding our production fields. Other ideas have no relation to revenue, but there are no limits on exploring the "what it's". Last year this time, so much of our exploration time was spent preparing for The Philadelphia Flower Show, that this year we have a very long list of "great ideas" we are exploring.
I will be getting back to garden posts I have from this summer and more details of some of the "What if's" we are exploring.