During the "off season" we work on internal projects that help us get ahead for the spring and summer seasons. This includes equipment and building maintenance, team training and organizing client information. One of our main projects this winter is reorganizing the greenhouses. We run our nursery for exclusive use in our client's gardens.  The greenhouse gives us the ability to grow spring, summer and fall annuals, store tropical plants and grow perennials for design & install projects. We also have production fields for specimen trees and harvestable branches. This area of the business allows us to be creative with the plants we use in annual containers and trial different ideas for container designs. It also gives us a unique palette of plants to use in our garden designs.  A lot of research and experience goes into our inventory and ensures our clients are getting high quality and exclusive plant material.
The greenhouse was built in 2008/2009 and have reached the point we need to rethink how we maximize the space and ensure it is as efficient as possible.  With our midwestern thriftiness, we looked at the property and what assets we had to help in this process. We moved our containers and supplies into an existing trailer that we moved closer to the greenhouse. This gives us at additional table space and improves air flow through the space. With all the tables cleared and moved out we added new water lines, top dressed the gravel and power washed the walls and surfaces.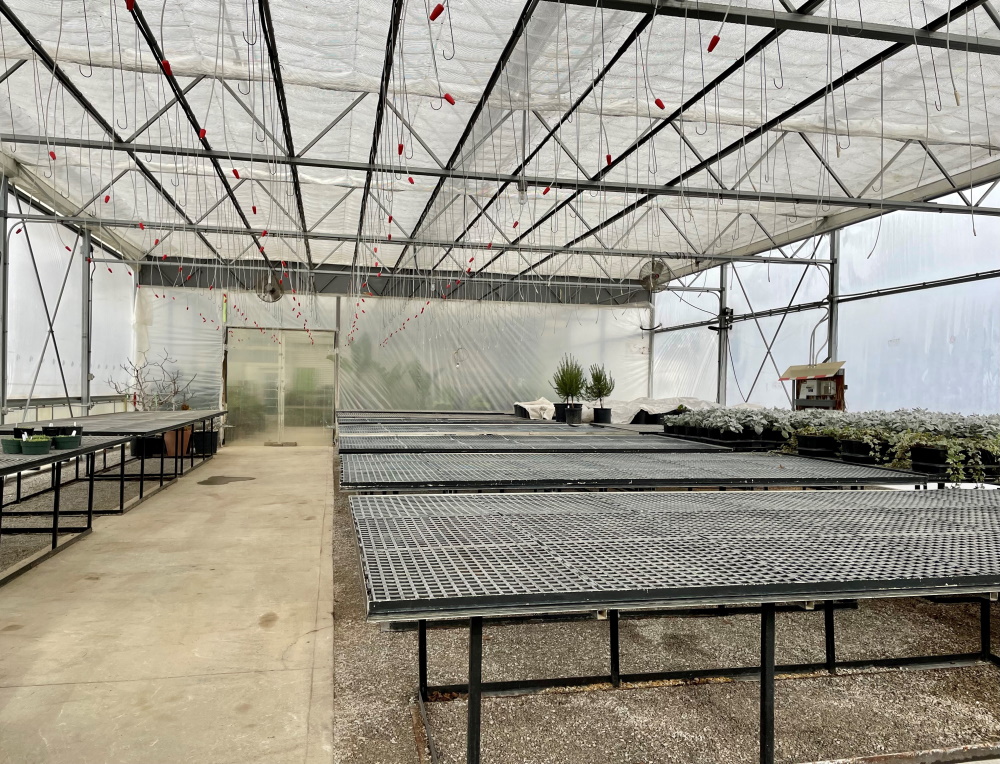 This is what the greenhouse looked end of last week. Seeing the greenhouse cleared is refreshing. The timing for all these projects getting done is aligned for our spring annuals arriving this week. We have some we already in production with our dusty miller we started last fall and some annuals we are growing from seeds and bulbs.
The greenhouse projects are not done yet. We still need to replace the barrier in the sun perennial area and add a barrier between our two shrub hoop houses. We also need to paint the trailer we are using for greenhouse storage, thinking olive, black and lime green. This year we are also expanding the production fields with some material already on order. The supply issues of 2021 reiterated the importance of having control over inventory and quality. Further niching our services feeds our creative spirt and enhances our pride in the gardens we create when we have nurtured the plants in the nursery, during install and on-going maintenance.
Since an empty greenhouse may not be as refreshing a site to everyone else, here is a tour of what the greenhouse looks during past seasons.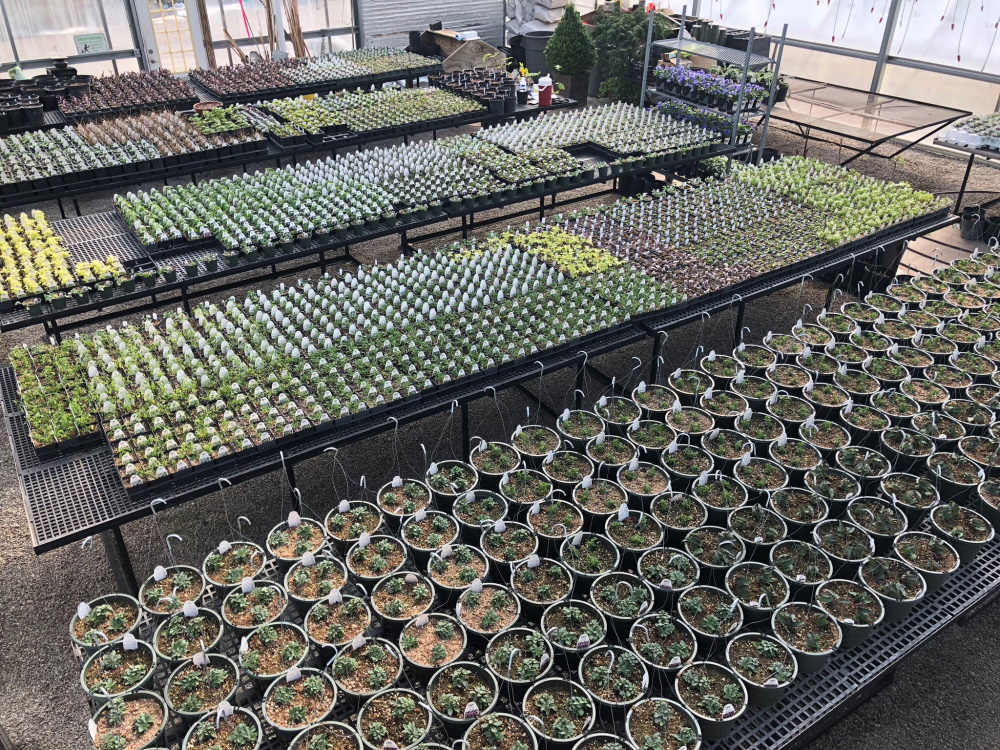 View of the tables from March 22, 2018. Annuals come in as plugs and get potted in 4in, 6in, quarts, 2 quarts and gallon pots.  A few get placed in hanging baskets three to a basket.  However, these will not be used as hanging baskets, rather larger filler plants for containers.  This obviously gives us larger plants to work with and gives us more growing space. Early March is when our summer annuals arrive and spring annuals arrive mid-January. This year we are increasing our in-house spring production so March will be a crowed time period in our greenhouse. But our Spring crop should be ready to move into the perennial house to harden off by this time.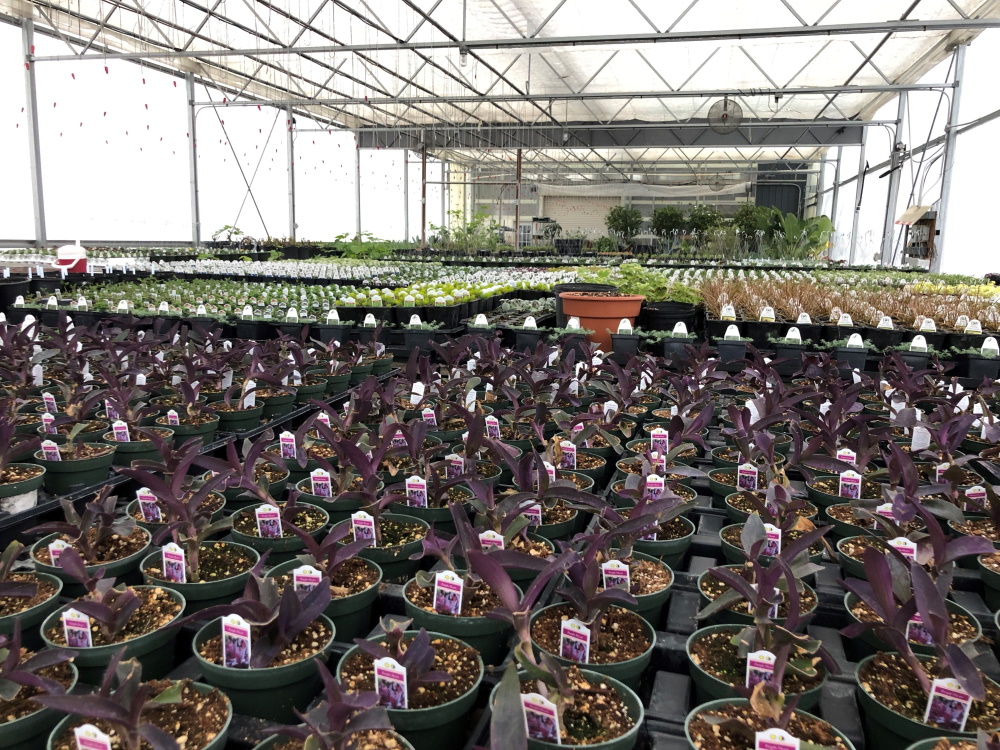 View of the Greenhouse March 27, 2018. All our annuals are still not potted up at this point since you can see we don't have the hanging baskets up yet. However, all the tables are getting close to covered. Also, at this point we have removed the wall between the main portion of the greenhouse and the tropical room. This wall goes up in December and comes down this time period, depending on the weather. We have four heaters in this space to manage temperatures and visiting the tropical room on a sunny February day is one of the best cases for winter blues.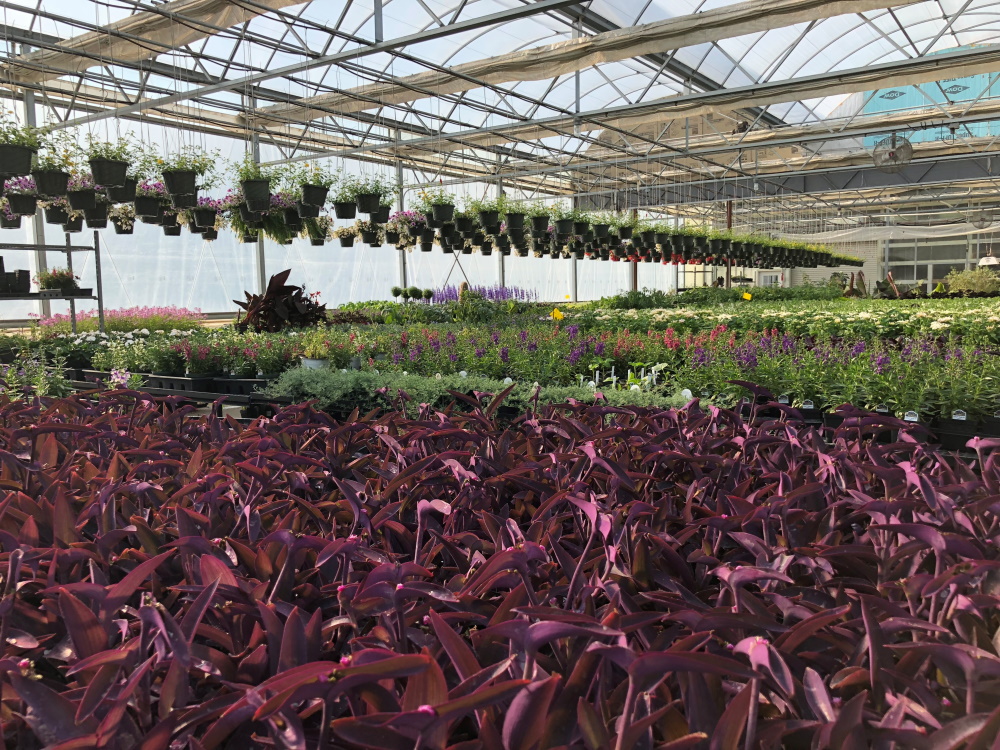 Same view of the greenhouse May 14. We run a tight window between our frost-free date and Memorial Day Weekend for annuals. This generally means we have a mad rush for getting containers swapped from spring to summer annuals. Some years the spring annuals are thriving at Memorial Day so we have a bit longer to make the swap out. This photo is from 2018 and since they we have doubled our hanging basket space with more drippers. It is a balance for having too much in the greenhouse and ensuring there is good air flow.
Here is the greenhouse on May 24.  You can see the difference those 10 days make in our inventory. The quantity, colors and growing habits of our annual orders are all based on client preferences and ability to create distinct designs for each client. Once we get further into spring annuals season will share how we make the decisions what we grow in house. We can always supplement with purchasing from outside nurseries (we love Lettuce Work) if we need something to fill in a container.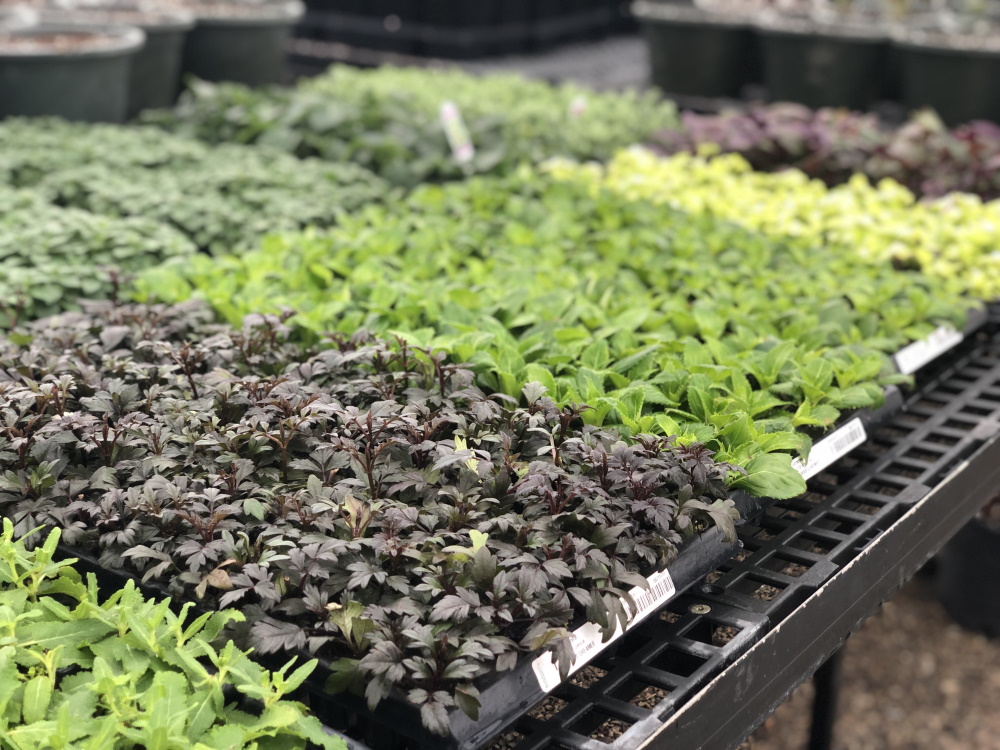 These are plugs that from the grower before they get potted up into larger sizes. All perennials get individual tags, while annuals follow the guidelines from the grower of what is required for labeling. Even though we are not retail, we still follow the requirements for trademarked tagging and pots.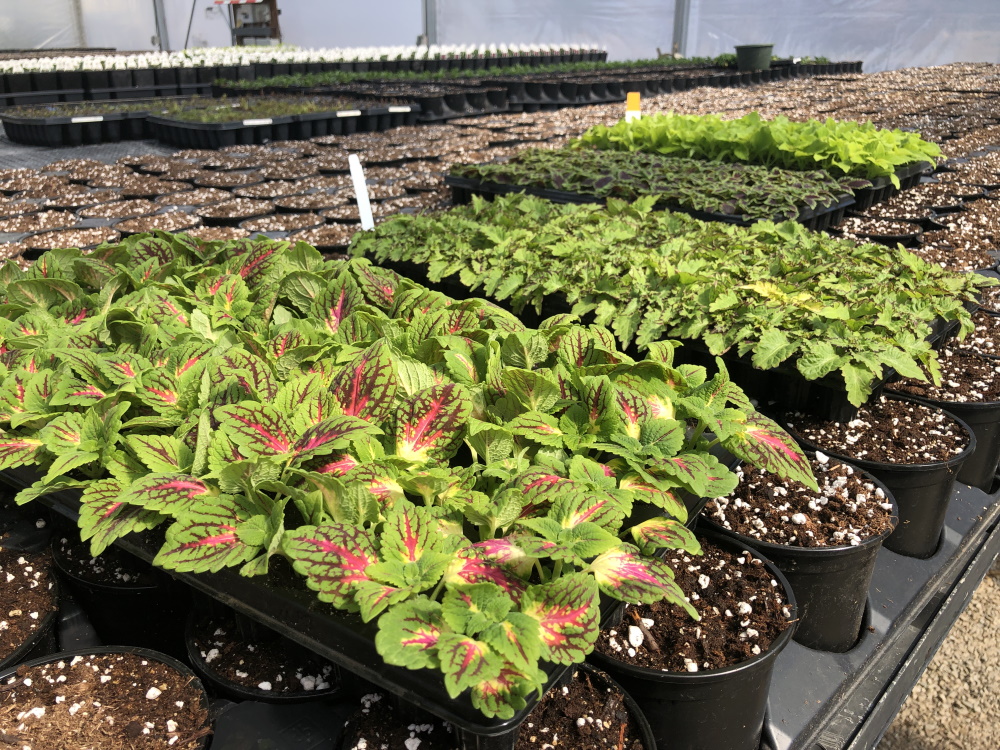 Here is our selection of coleus plugs and their awaiting pots. We order by the tray, which is normally about 104 per tray. There are a few verities we order in two or three trays, but we try to have a larger assortment compared to a lot of one variety. We like variety of plants in curated palette of bloom and foliage color.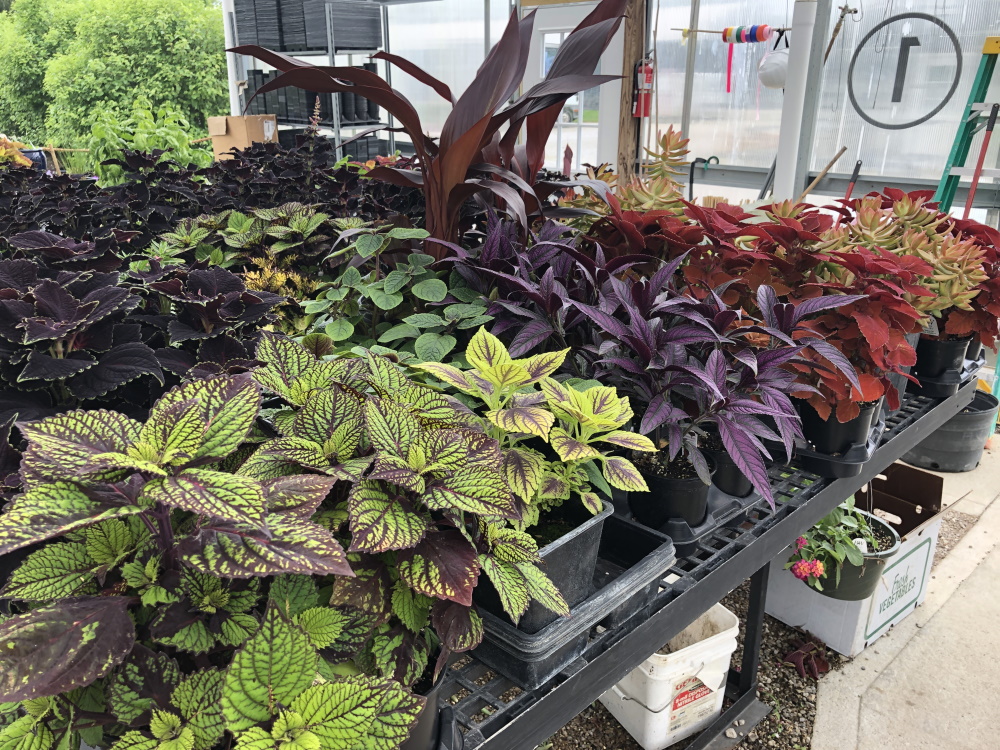 When the greenhouse is full it is easy to see how you can play with the colors and foliage to build different combos with the same group of plants.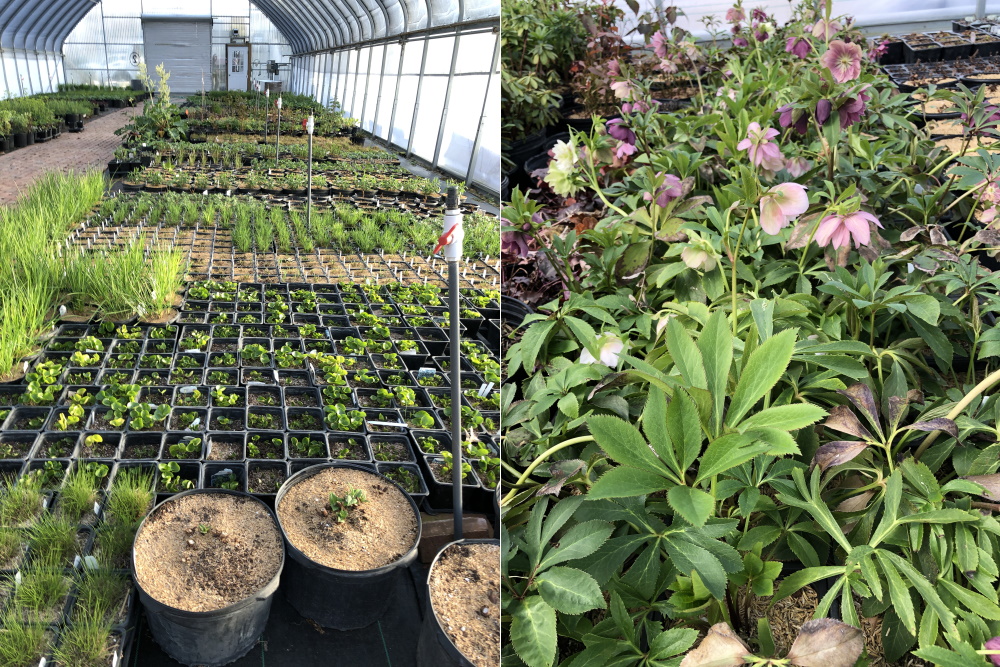 Here is a view of the perennial house in early spring. We use rice hulls for weed suppression. However, we do spend a considerable amount of time ensuring we remove weeds so plants do not go to clients with weeds and then ongoing maintenance becomes problematic.  For spring 2022 we have a lot of hellebores for containers, these are more expensive plants to use for a temporary design, but these can be up potted and placed back into gardens when we do the summer swap.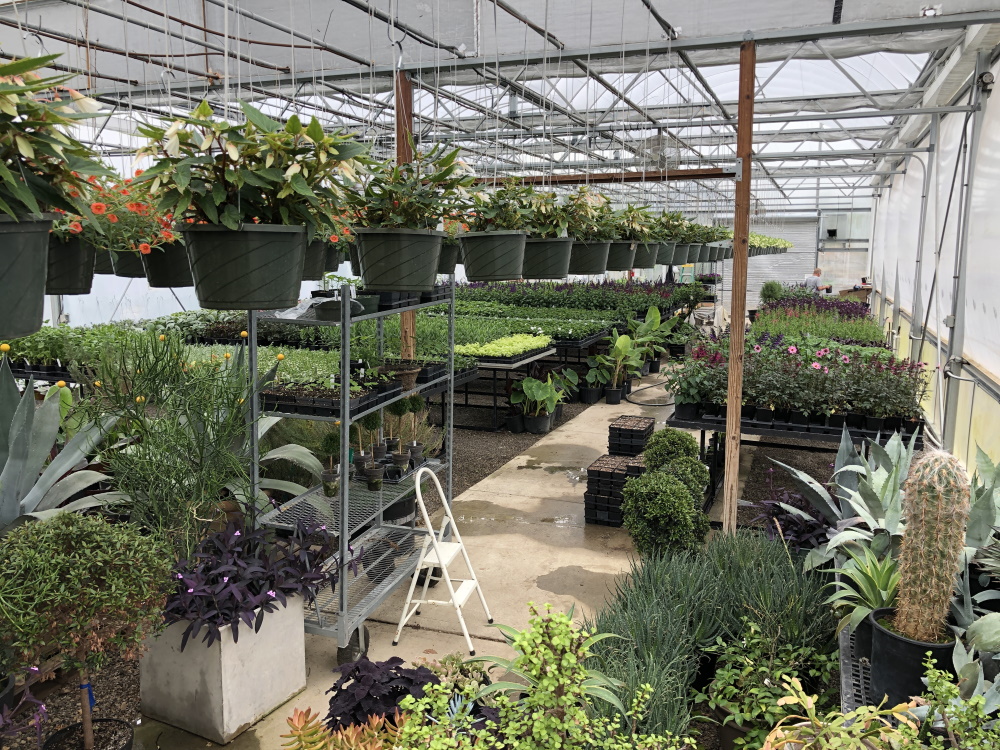 Here is a view looking down the greenhouse from the front corner of the heated area. We have removed the wall between the areas, but you can see how full the building becomes before summer annuals go out.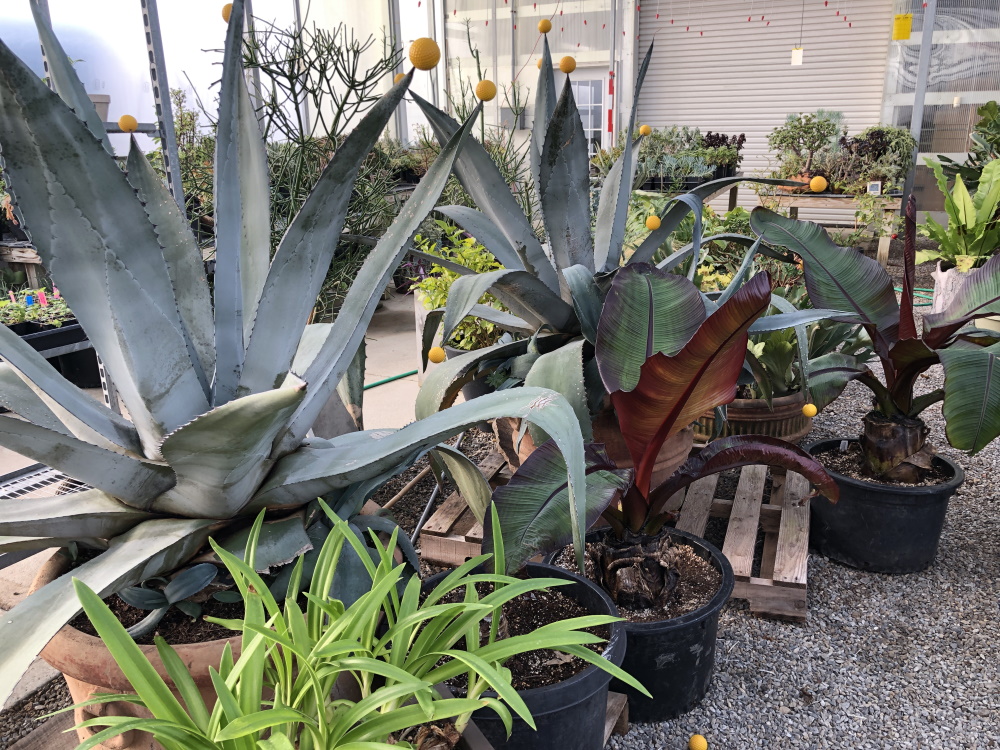 The agave americana has practice golf balls on the tips to prevent any work place injuries. We don't winter over this pair anymore, which has freed up so much more space in the heated portion of the greenhouse.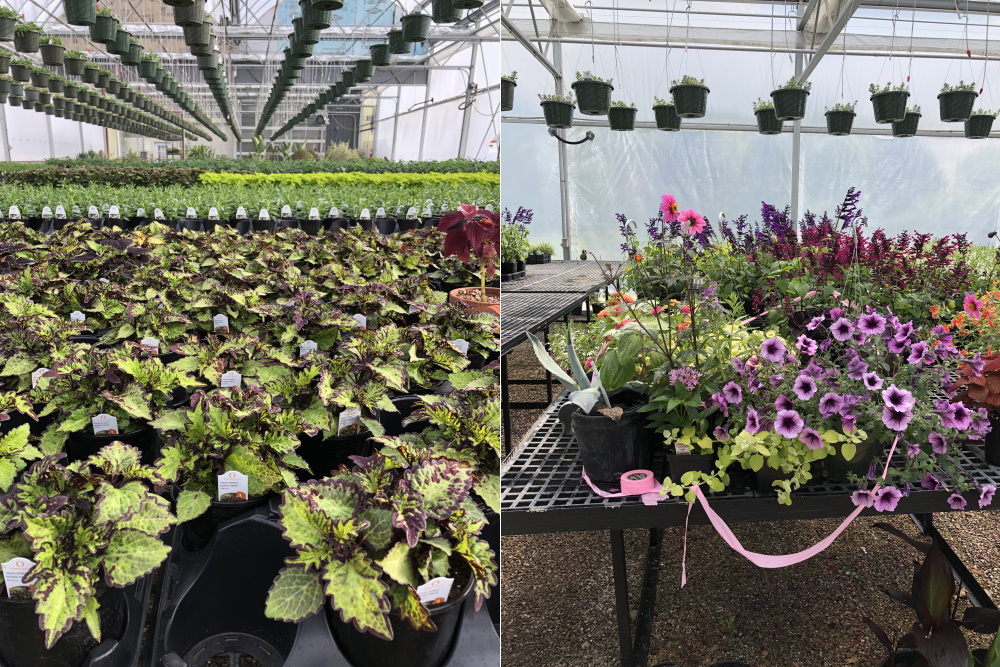 Early in the season we keep plants grouped and pull by the tray to build. When inventory gets smaller, we pre-pull for projects and mark with tape by client. this ensures we have what we want to use to build the containers. You would be surprised how many plants a container can eat up and its best to pull more than you think.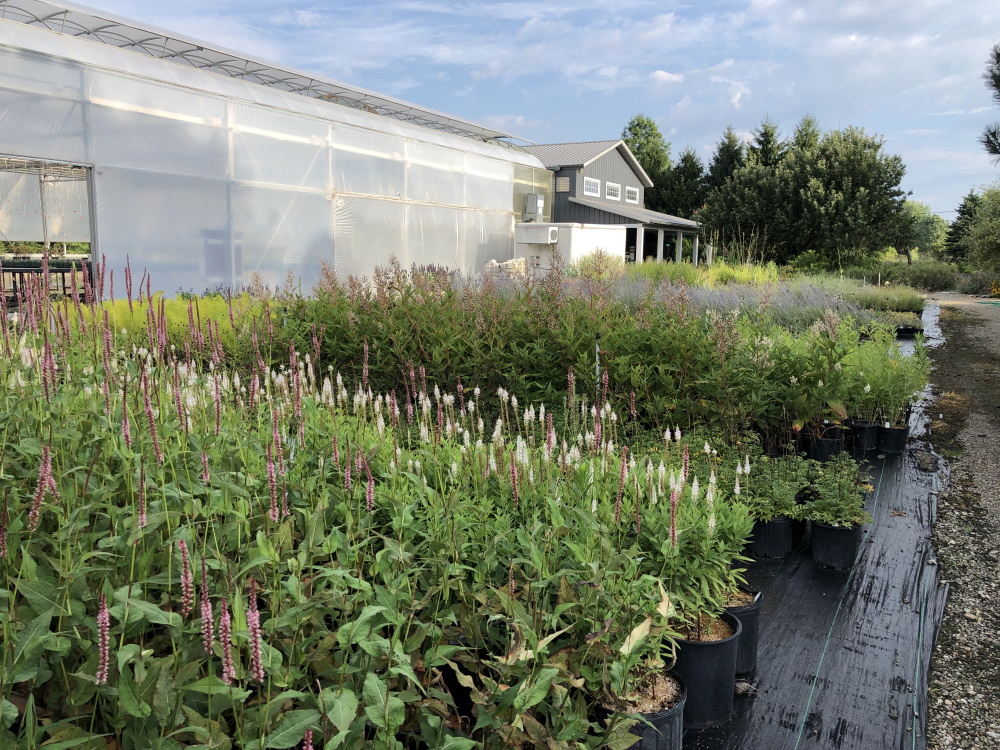 Here is the perennnial pad when it is full during the season.  Generally these plants go out for install projects. You can see the weed barrier that we are replacing this year.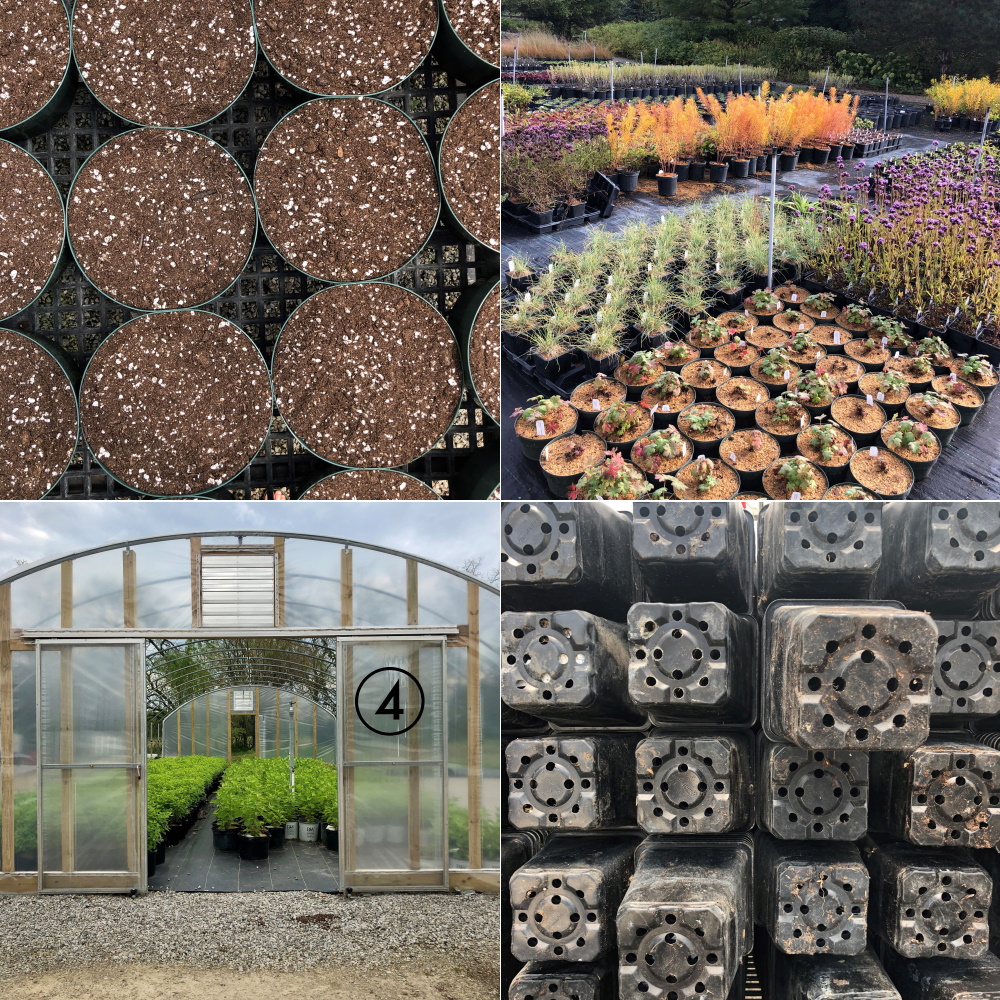 Also, around the greenhouse: (1) We have a few different size pots depending on how large we want the plants at planting. These wider containers allow us to plant larger clumping of annuals.  (2) The sun perennial pad in the fall before cut backs and items are moved into winter storage.  (3) we have two of these hoop houses we use for storing shrubs. Currently they house our large inventory of our favorite hydrangea varsities. This past year we made a large dent in our inventory, but still have one full house worth going into 2022.  (4) We reuse our containers for as many seasons as we possibly can before they start breaking down. Between seasons, they get sterilized to keep disease and weeds at bay.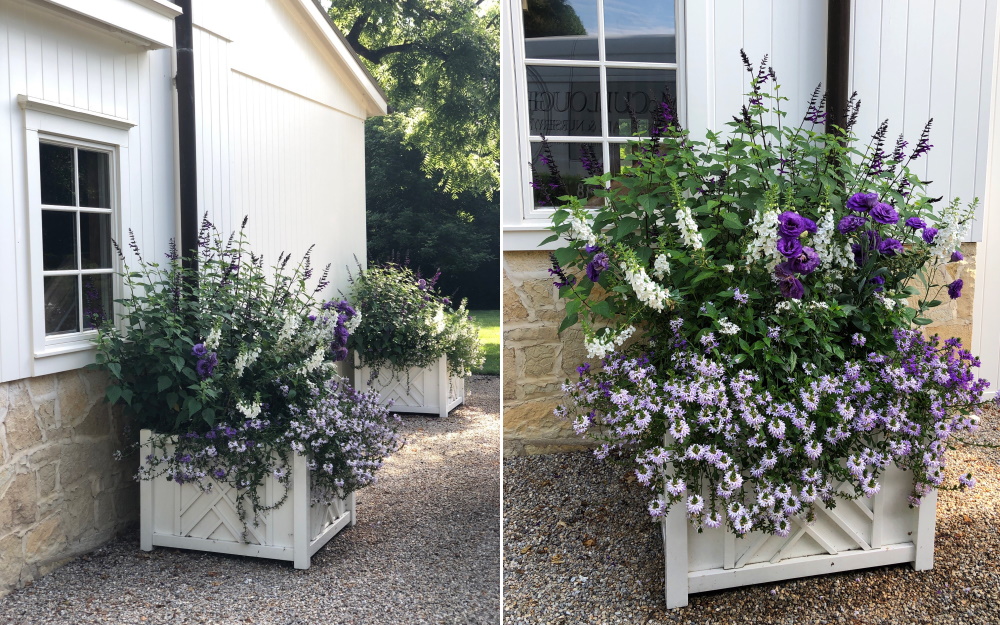 Finally, here are some examples showcasing all the work in selecting varieties, quantities, growing and the artistry in building for containers.  It is our maintenance team that creates the finished combos, hence why they are heavily involved in the selection in the seasonal production.
Here is another example that shows the same containers over two years and you can see who we can mix up the varieties of plants used from year to year and still deliver on a palette the client likes. These are 24×24 inches wide, and this takes a lot of plant material to fill. We plant with plants touching at install and ensure they are getting feed throughout the season.
Over the next few weeks, I will share a few more winter projects we are tackling at the shop and at home. Last week we had two large diseased/dead trees come down. Now I have more than enough wood to split for my staked walls to keep me busy all winter. Plus, we have a large section we are looking to get milled.