I am catching up with sharing the gardens I toured back in August during my trip to Holland and Belgium. First is the Heerenhof Garden or H House, located in the lush area of Maatricht, Holland. The gardens offer a fresh perspective on design and what can be done in a relatively small and narrow space.  The space offers dramatic lines of an ultra-modern glass house and framework of a garden created by the home owners; a dancer and actor turned landscape architects.  The gardens are divided into several linked rooms with different themes or in this case maybe scenes influenced by the couple's theater background.  The drama is further reinforced as you walk into the garden where you are greeted by the couple pair of white peacocks which freely roam the garden.  The homeowners share an interest in modern art and the sculptures placed around the landscape create a strong presence of their aesthetic.  As you wonder the garden and walk through the stacked rooms you are transported from a formal modern theme, to a mixed cottage feel, and back into a hedge topiary sitting garden.  If you are in the area and looking for a place to stay the couple offers a chalet at the back of the garden you can rent for the night or two.
I love the contrasting shape of the glass sculpture with the foliage of the Chilean Rhubarb (Gunnera tinctoria)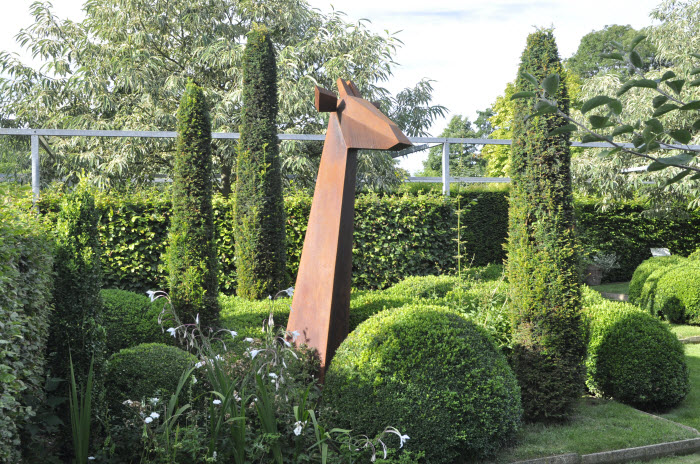 The vertical aspects of the garden a really add that extra element of beauty through form.
I mean come on, how cool is the corten giraffe….and flanked by the Upright Irish Yew (Taxus baccata 'Fastigiata)
The garden design in vastly green however the selective addition of the burgundy / board foliage of the
Red Abyssinian Bananna (Ensete 'Maurelii' adds a dramatic punch.  Not-to-mention really helps the set-off the different shades of green.