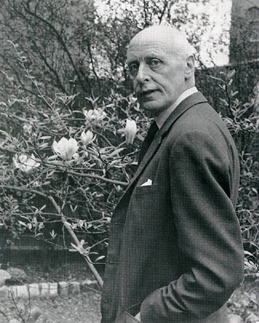 "I know more about plants than most designers, and more about design than most plantsmen." – (Montague) Russell Page
(image from here)
Recognized Style:
Neoclassical, Formal parterres, European with Middle Eastern influences
Page's interest in gardening started at a young age with an early appreciation of Lawrence Johnston's designs at Hidcote. With additional studies of sixteenth to the nineteenth French garden design and subsequent time spent in the Mediterranean, Middle East and Australia (to name a few), continued to influence his designs and plant selection. Page could often see the design for a garden upon the first tour of the space and took pleasure and pride in participating in planting the executed design.
Website: 
Many of Page's works are not well documented and have evolved over generations. The best record of his work is featured in The Gardens of Russell Page (see must read below). You can get more details on some of his work via the sites of the gardens/museums he designed. Here is a short list to review:
The Frick Museum New York (virtual tour)
Leeds Castle (the Culpeper Garden)
PepsiCo Sculpture Gardens (portions)

Accolades:
The best accolades received were the commissions and client desires to have a Page designed garden. The list includes The Duke of Windsor, Edith Wharton, King of Belgium, Anne Bass, Leeds Castle. Additional official recognition includes:
Designed & Directed the Festival of Gardens 1950 and received the OBE (Officer of the Order of the British Empire)
Appointed Landscape Consultant by the Societe d'Encouragement for the racetrack at Longchamps, Pairs
Gardens of Note:
Villa Silvio Pellico, near Turin Italy
The Culpeper Garden, Leeds Castle
Home of Frank de Poorteres, Kortrijk Flanders (my personal favorite modern design)
Home of Anne Bass, Fort Worth Texas
The Frick Collection, New York, New York
Will also like:
Must read:
In 1962 Russell Page published his only book, An Education of a Gardener. This book follows a study by study of the projects he has executed over his early/mid career (designed until his death in 1985). Reading it provides insight and a foundation for understanding how to design a garden form and function grounded in the horticulture selection. The Gardens of Russell Page is a photographic and biographical tour of the gardens Page designed throughout his career. It provides a record of his work before the gardens are changed and his footprint is erased by future generations.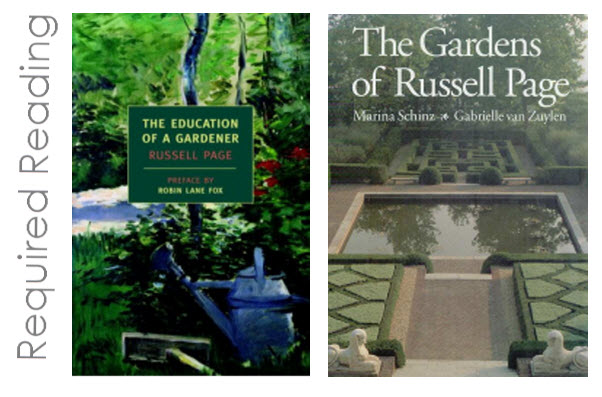 Favorite plants in design:
Yew hedges, Roses, water features, clipped boxwood,