Early September we had our family vacation in Hilton Head, SC. Our drive from Ohio takes us through Charlotte, NC.  Previous years we have planned our lunch stop in Charlotte at Price's Chicken Coop and a leg stretch at Capital to see their green wall by Patrick Blanc.  This year we have a ten month old, so decided to stay over night to break up the drive home and explore more of the city.  In the research of what to see in Charlotte I was surprised to find three living walls in addition to the one at Capitol, a high end boutique.  The living walls are spread across industries – small business, corporation/retail, non-for-profit and education.  It is great to see how a city is embracing living walls, and it inspires me to make Columbus the home to multiple living walls, but would be happy to start at one.
The green wall in Capital was designed by Patrick Blanc, who is the foremost leader in green wall designs. Laura Vinroot Poole , owner of Capital, and her architect husband requested the wall design by Blanc after meeting him at a party and being familiar with his work at the Pershing Hall Hotel in Paris in 2008.  Blanc also designed a green wall for the Foundation for the Carolinas, which features nearly 1,500 plants and 153 different species in 2011. Unfortunately we were in Charlotte on Saturday and the center was not open for us to request a view. Our photo is from the website of the Foundation.
We also visited a green wall inside the local Whole Foods, which opened in 2012. What was interesting about this wall was how it was installed. Individual pots of plants were inserted inside a vertical system. There was a drip line irrigation to maintain, however this system allows for easy replacement of troubled plants. Here is a video of the store opening.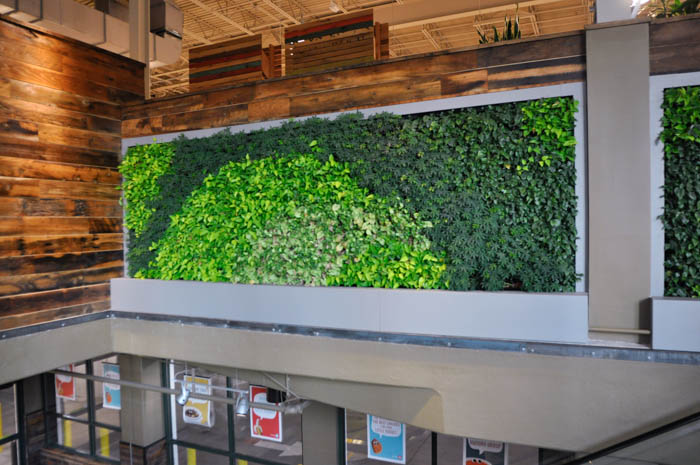 The final green wall we visited was at Queens University. I had a photo of this green wall on my inspiration board, but was not aware it was in Charlotte until we visited the campus. The 735 square-foot design features a double helix, a nod to its home on the Rodgers Science and Health Building.  The Design was by Ambius and was completed early 2013, who also did the green wall inside Longwood Gardens.
If you are staying in Charlotte, stay at the Ritz Charlton where you can add a tour of their green roof and seasonally home to a colony of bees to round out your living wall/roof tour of Charlotte.