I spent some time on Ebay last night looking for unique antique and vintage items for the garden. Adding found garden elements with patina and age give a history to the garden you cannot get with just plants. Looking for an antique gate or interesting container is just as easy as buying new, you just need patience and the ability to see something used to its potential. Below is a list of items I found along with an inspirational Pinterest image to bridge the gap –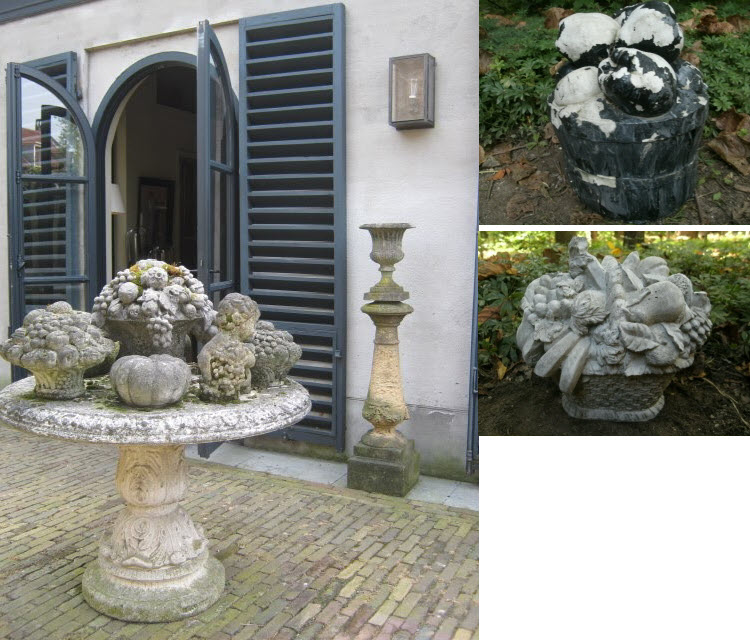 A collection is always better than just one, and this collection of concrete fruit and baskets covered with lichens is a beautiful for smaller scaled item.
See Items for Bidding here: 11″ Concrete Basket of Apples  and 7.5″ Concrete Basket of Mixed Fruit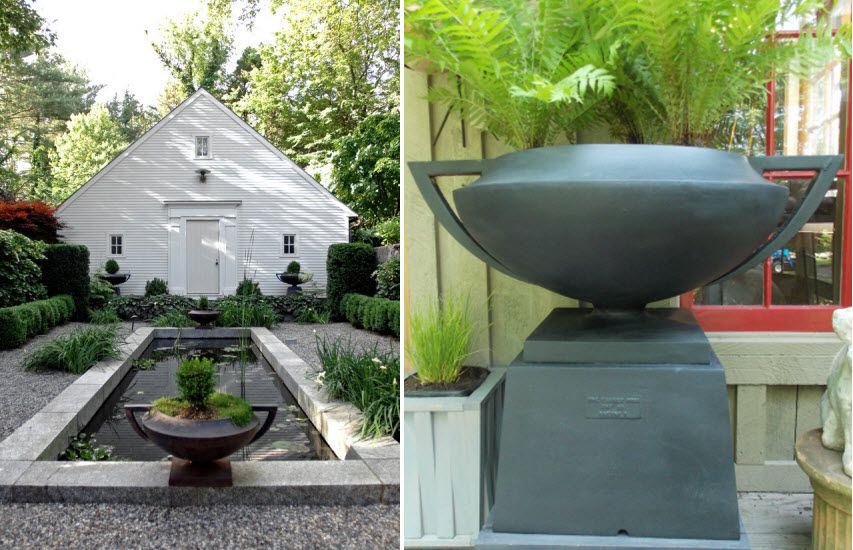 These are iconic grecian urns designed by Kramer Brothers in a foundry located in Dayton, Ohio. Some of the casts initially used are still in use after the foundry closed, but I don't  believe this cast was saved. I was lucky to find one in Southern Ohio ,without the pedestal, that matches those accentuating the pond above; I paid $200. This one is listed as a buy it now for $1,800 but that seems to match others I have seen at 1st Dibs etc.
See item for bidding here: Cast Iron Kramer Brothers Grecian Urn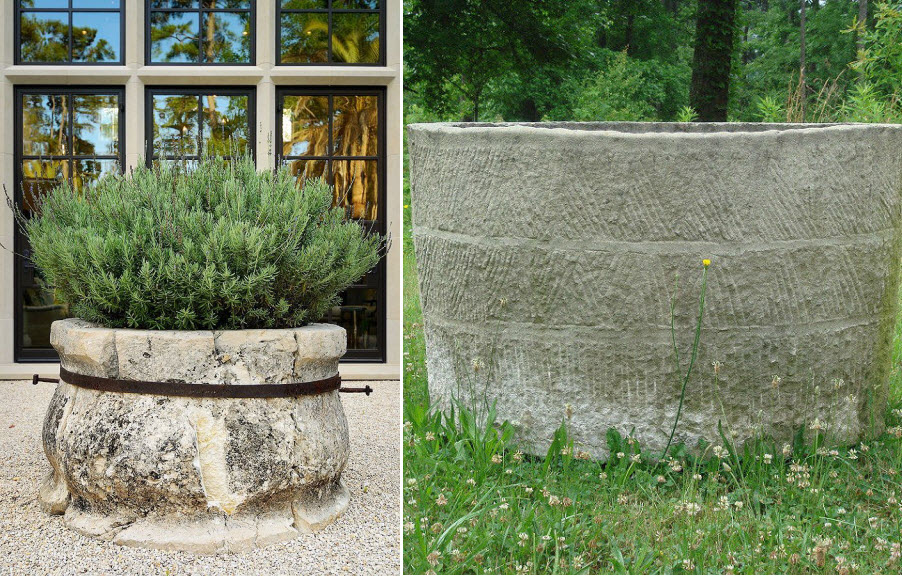 Scale is something important in both a garden and a container. If you are going to invest in an antique or large natural stone you want to make sure you get pay off with large impact.  To create a diverse mixed plant combo you need a large container. This antique sand stone water trough is perfect in texture, age and scale. It is flat on one side which would allow you to place next to the house or wall. Listed as a buy it now for $1,650.
See item for bidding here: 27″H Antique carved sand stone trough.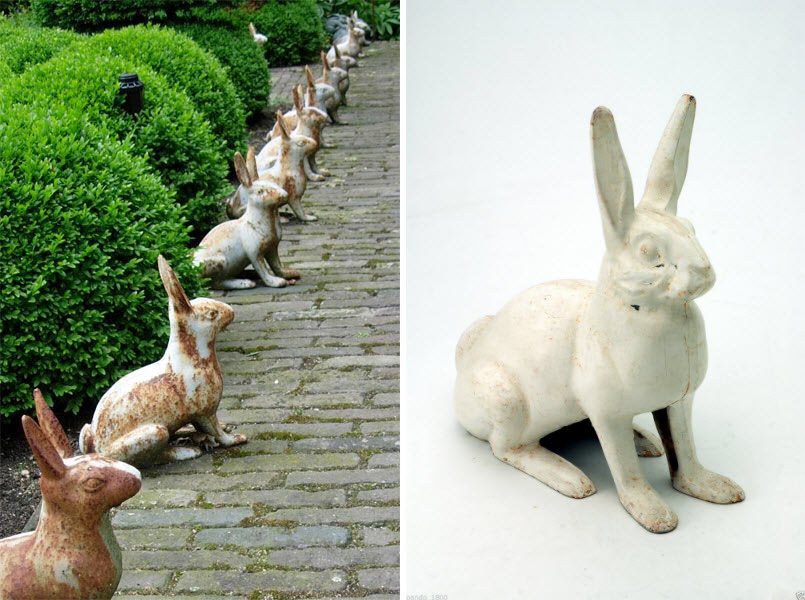 Another Kramer Brothers cast iron item are these rabbits, which look great lining a walkway in another use of collections to make big impact. These will show their age quickly but the weathering makes they as unique as individual bunnies markings. Place near a path entrance or hidden in a collection of containers.
See item here for bidding: 10.5'H Antique Rabbit Signed Kramer Brothers.
Reclaimed brick can be used for many uses in the garden, like the image above for providing the entrance to a gravel driveway. You can edge walkways, use as a patio or on an outdoor fireplace. These bricks were removed from a building completed in 1904 and the price is for 240 bricks so about .60 per brick. However you use them, make sure it highlights the chips, nicks and imperfections of hundred year old brick.
See item here for bidding: Antique Reclaimed Bricks.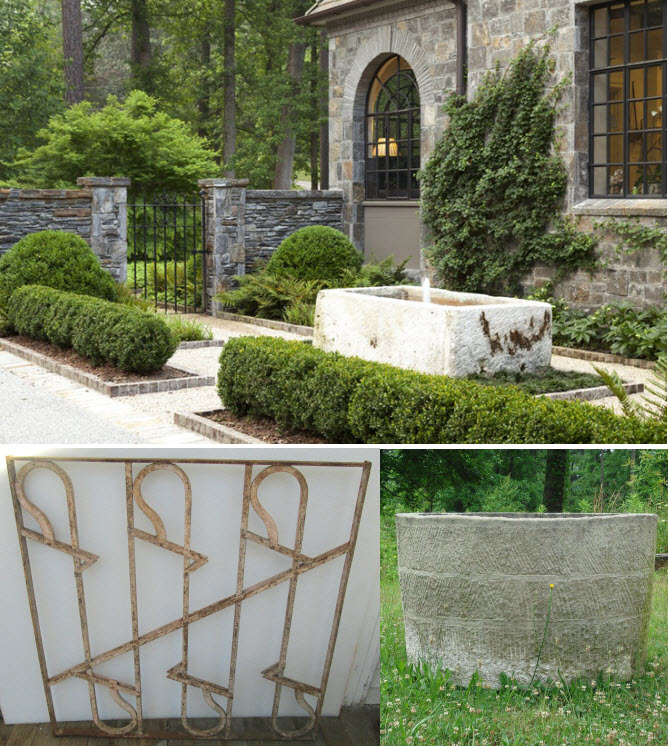 This garden fence has such a strange design, not victorian but almost more art deco. It is 36″ squared and is most likely a portion of a fence than a gate, but a local ironworker could alter into a gate. Keep the natural patina or paint a blue/green to stand out from stone posts. I have also reused the sand stone trough since could be fitted as a water feature.
See items here for bidding: Wrought Iron Gate and Antique Sand Stone Trough.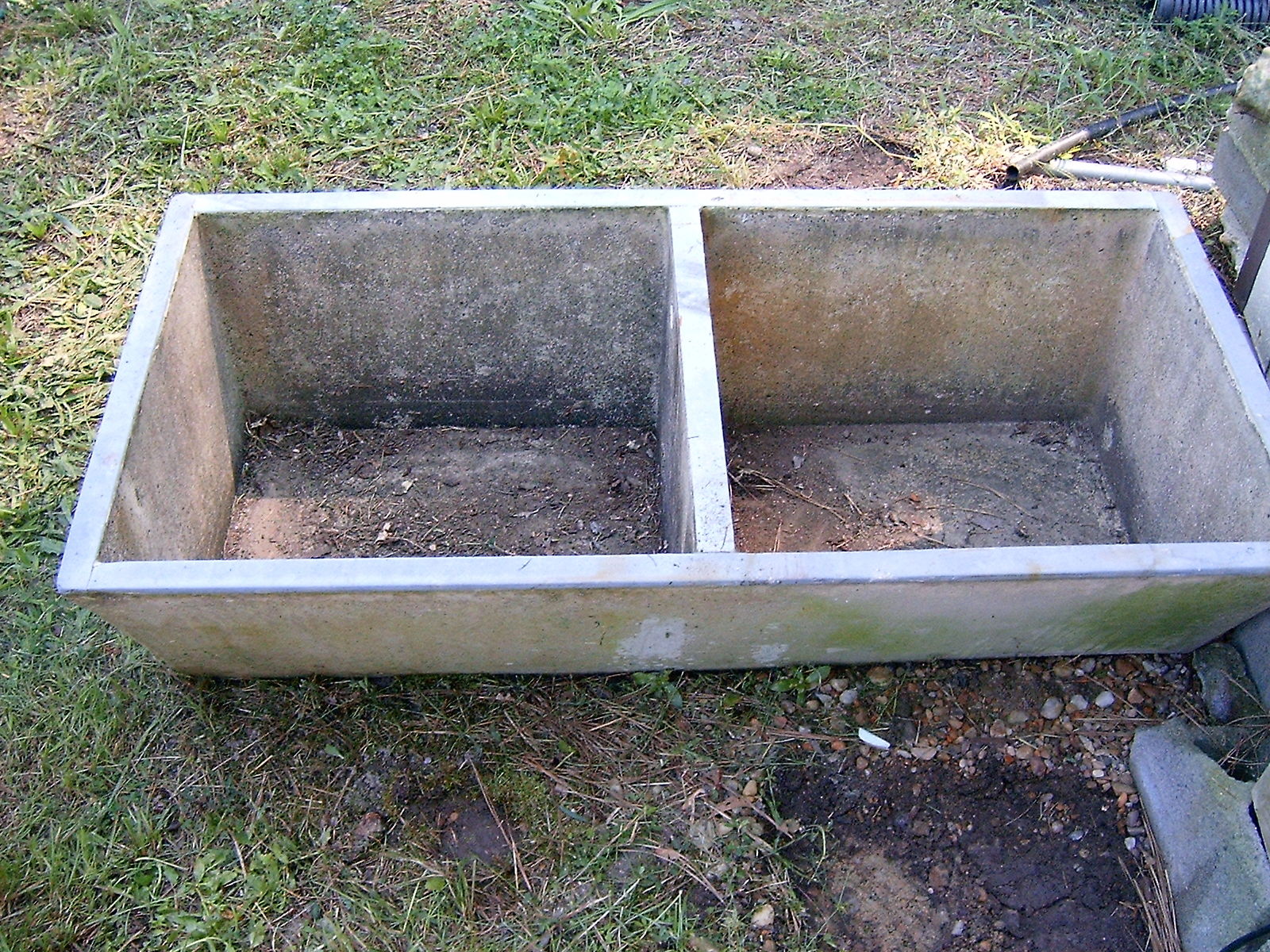 The last item I found is this sink, with no good inspirational image, to showcase how I think it could used in an outdoor kitchen. At four feet across this would be a huge statement and will allow you to do full food prep outside, and filled with ice is a great entertaining bar. For the complete look, mix this concrete sink mixed with soapstone counters, large stainless grill and then clad the sides of the kitchen area in teak or ipe. I prefer mixing multiple finishes in outdoor kitchens and make as many of them natural elements as possible.
See item details for bidding here: Old Vintage Double Bay Concrete Sink