Gardeners split time between taking care of the now, and planning for weeks, days and months in the future. October is one of the times we are busy working in the now with seasonal cut backs and clean ups while working for the garden 6 months from now with bulbs.
I have two bulb planting strategies: collected/accidental and methodical/designed. The collected/accidental results in me adding and adding every year new varieties in unplanned quantities. Mostly I do this with Daffodils, Eranthis, Galanthus planting within wood lines and expanding on existing naturalized drifts. I don't focus on plant height since mostly these are the only plant above ground level so they don't have to compete within in existing foliage. Also, very few other plants are in bloom during this time I am willing to diversify more with bloom colors.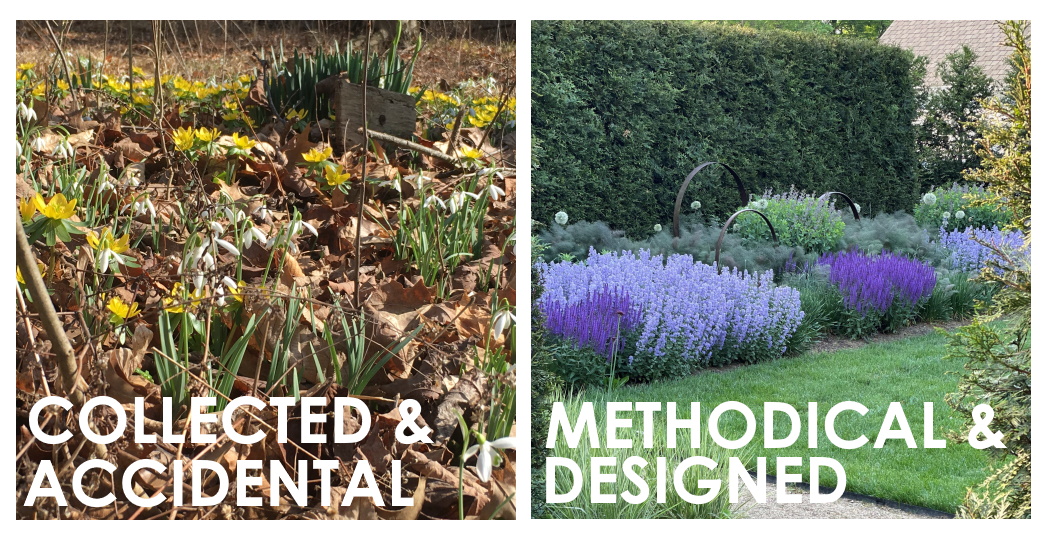 For methodical and design plantings, I do inside perennial beds and for bulbs that will be blooming with other later spring and early summer perennials. This is when you have to think about plant height (ensure not crowded out) and bloom color coordination. This method is a bit trickier in selecting bulbs, bed placement and planting compared to the more organic method, but with some planning can make an existing perennial bed feel renewed.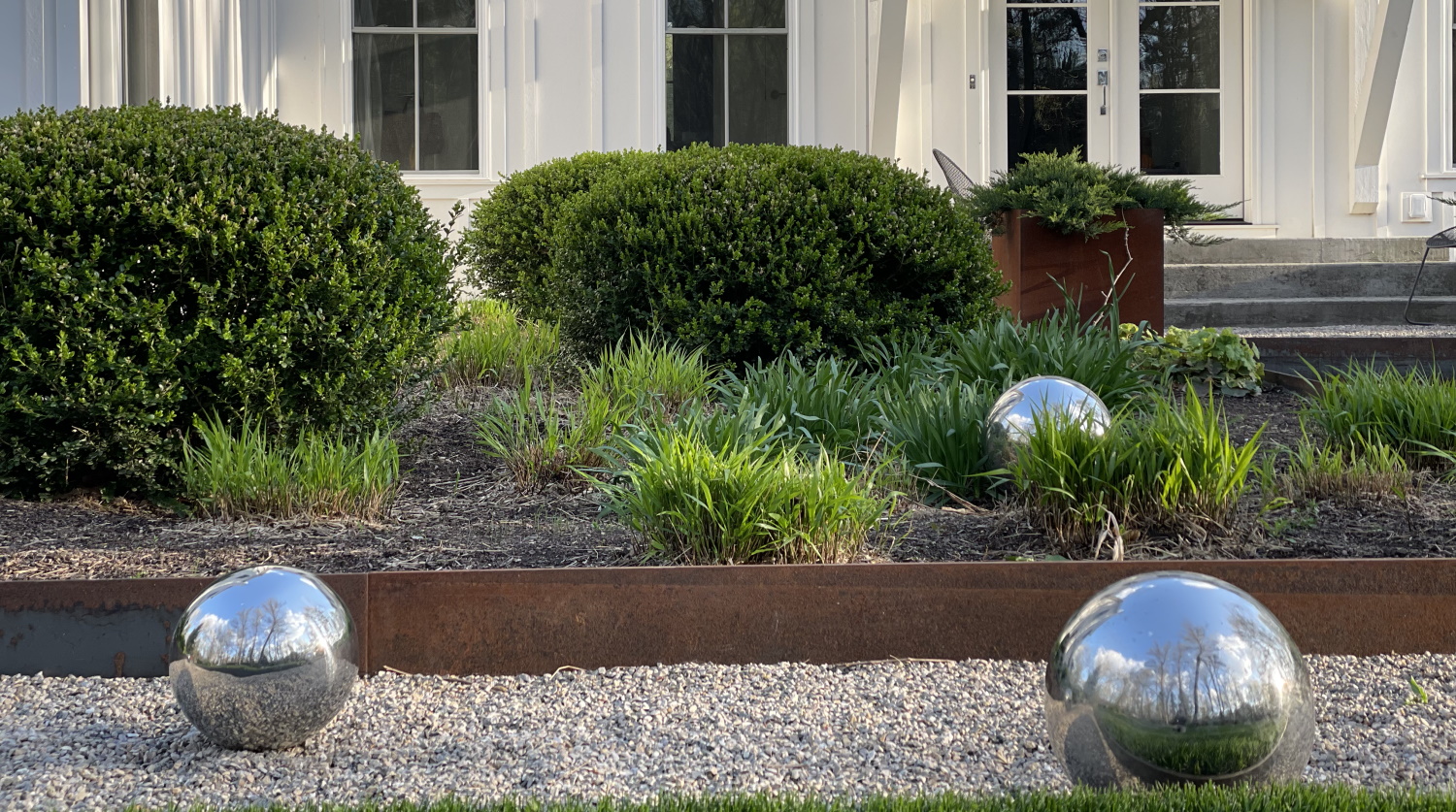 Since I feel like my personal garden has been stagnant this summer, I decided to add a bulb layer to my front bed to give it more depth seasonally. I am going to share the process in three posts, first the planning and selecting the bulbs (this post) and a second later this fall when I am planting. Finally I will share the bulbs as the bloom this spring into summer.  See what I mean, gardening is always about working in the now for something to pay off months down the road.
Look at the garden across bloom times.
My front bed changes drastically from early March to June. I leave up all the perennial foliage during the winter and do a drastic cut back in early spring. This is also when I can top dress the compost/mulch layer. So early spring is the best time for low growing bulbs. Since I don't have any blooms during this time period, I don't have any restraints on colors I can use.
As the seasons progress and my perennials start to push from their spring cut back, low growing bulbs will start to be hidden in the foliage. For later spring to early summer bulbs, I need to select taller varieties. This also means the foliage from the first phase of bulbs are starting to be covered and I don't have to worry about foliage as it dies back. For bloom / foliage color, my existing color palate of white flowers and focus on textural foliage means bright colored bulbs will conflict with the design, so I need to be much more confined by the blooms I will include further into the season.

A good way to think through this is look back at photos from March, April, May and June of your garden and see how everything looks and where you have open areas in the garden. Here is my front garden from March, May and June. (Bonus you can see the front walkway I put in this year).
Selecting Bulbs knowing your constraints.
Now that I had identified my constraints within the existing garden, I could start shopping for bulbs. I am not a bulb shopping snob and with everything in gardening, bulb shopping is a  high/low price balance.  I have purchased bulbs everywhere from the grocery store to an obscure retailer I learned about from a friend of a friend. Often when it is a specific bulb am looking for, it is a rabbit hole of an internet search or a moment I cannot believe my luck a nursery had it stock.  Here are some online resources, but check out your local nurseries too:
I do believe in buying in a quantity that makes a statement – that means purchasing in the 50s to 100s + for perennial beds depending on size. With the collected/accidental planting it is easier to add to over time compared to a planned designed area, so investing in bulb quantities is easier upfront. If you are planning to add overtime, I would suggest taking photos of the bulbs in bloom so you know what areas you want to add more the next year.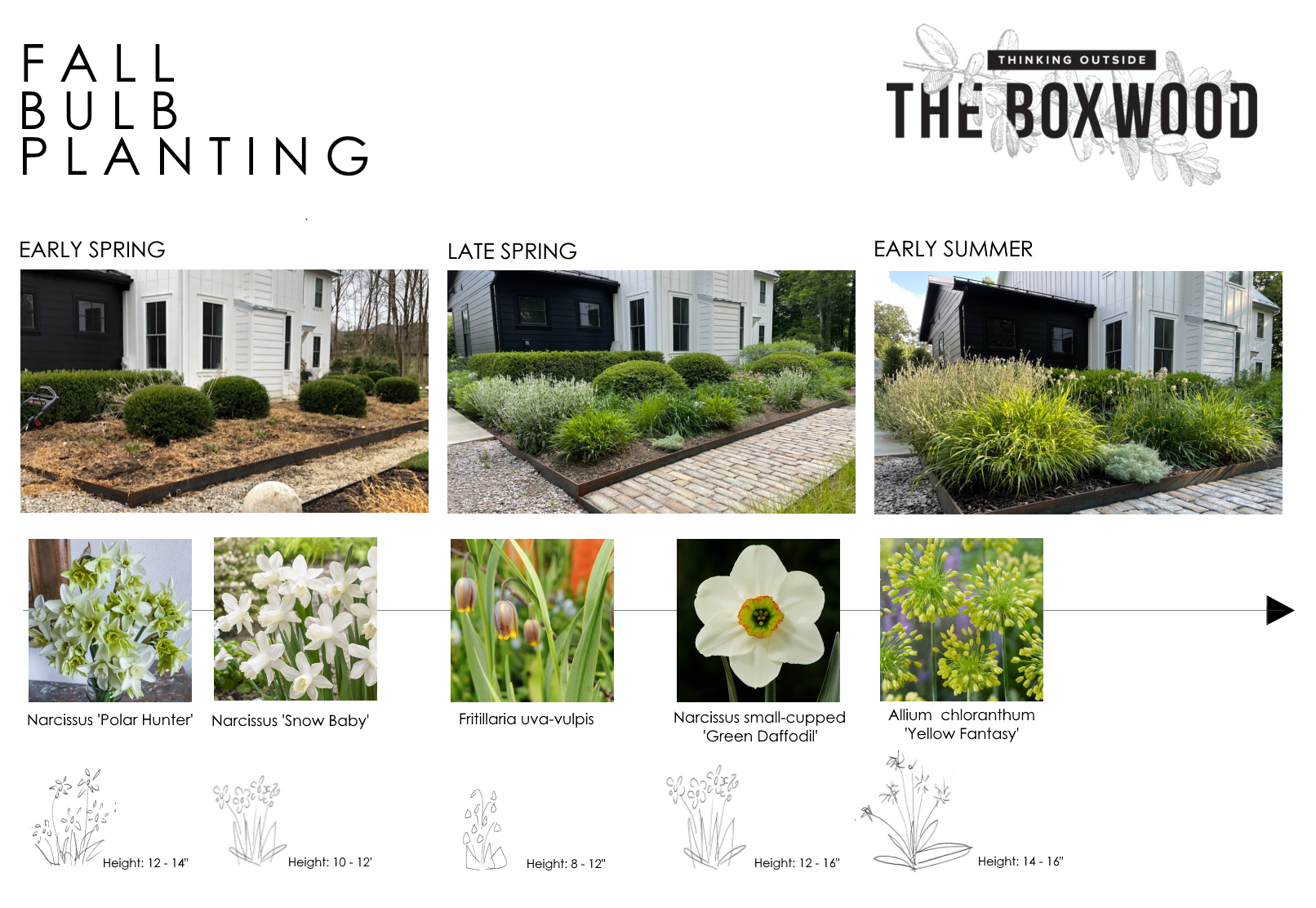 For my front bed I selected bulbs that bloom from early spring to early summer. Past early summer my perennials are full and additional interest/color/texture are not needed and would make less impact. I would rather focus my time and funds in the early season. I also selected bulbs that are deer and (as much as possible) chipmunk proof since we have a chipmunk infestation.
Here are the bulbs I selected for the garden and the quantities I plan to plant as a reference for volume to make an impact. I am planting these across the entire front portion of our house.
Waiting to plant.
The bulbs arrived a few weeks ago and have gone into cool storage (in an air-conditioned room at the shop, nothing fancy) until it is time to plant.  Here in Ohio, it is late October into November when we plant bulbs for clients. You want to make sure the ground temperature is not warmer than 60 degrees.  If you plant too early there are fungal / bacterial diseases that can set in and rot the bulbs. Between now and then I am keeping busy working on other areas in the garden, mainly managing the leaves and wrapping up projects I started in the spring and never completed.  I will share the planting process around the end of October or early November depending on the ground temperature. If you have any questions, please ask. I can either answer them now or will ensure it is a detail I show more deeply in the next post.
GIVEAWAY
Last but not least, I am doing my very first giveaway!  The prize includes 150 fall planted bulbs to add to your garden. The package includes: 50 Tulip Passion Play, 50 Allium Purple Rain and 50 Fritilaria bulbs, all in my preferred purple palate. These bulbs will bloom from mid-spring to early summer.
Leave a comment on this blog post between October 8, 2021 and October 14, 2021 (11:59 PM EST). Be sure to leave your email address in the form for me to contact you and ship out your bulbs.  Winner is limited to residents of the United States. I will announce the winner very soon after October 14 so you can get your bulbs in time for planting.
This post was sponsored by Flowerbulbs.com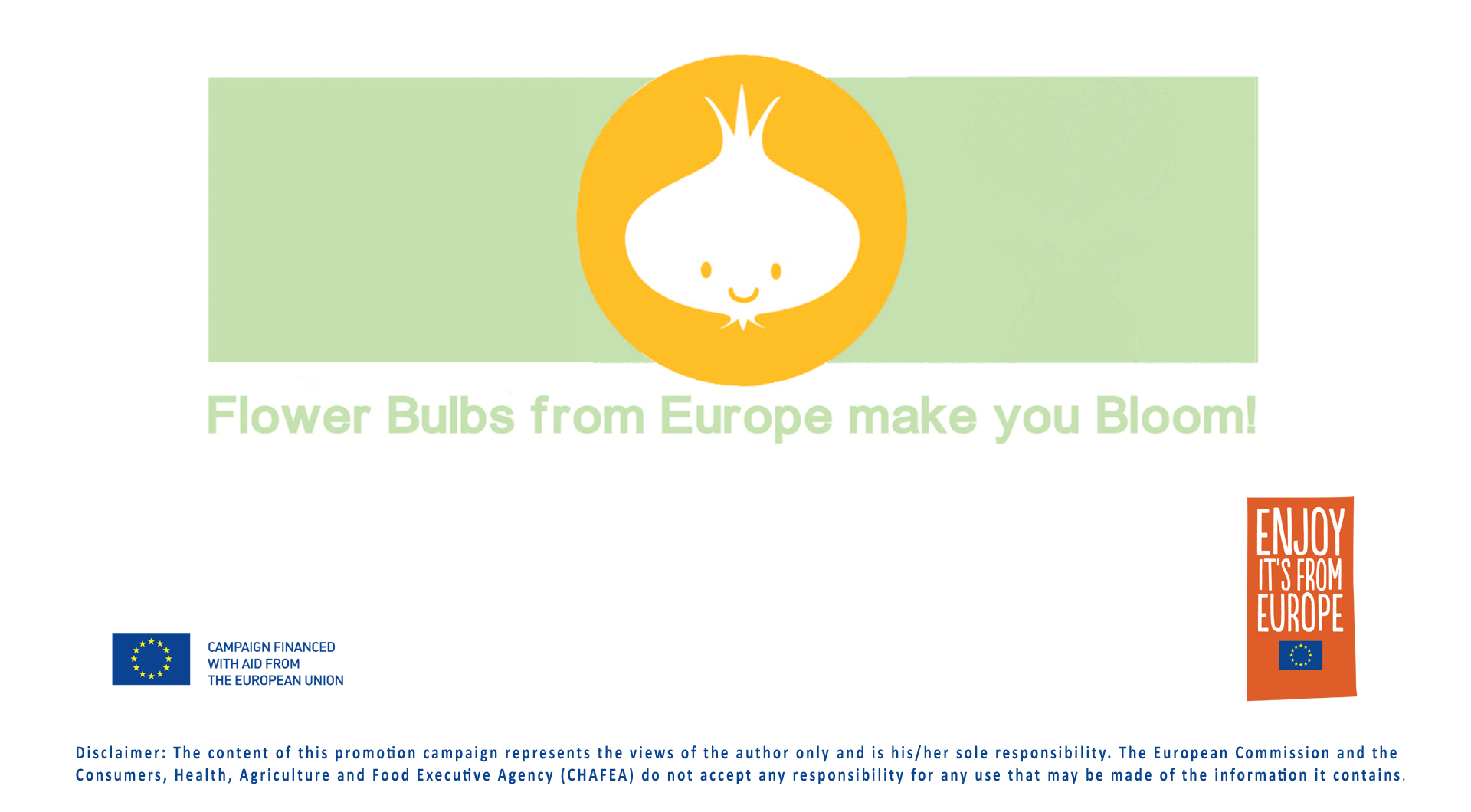 -Nick