The slower pace of the winter months allows me time to plan for the coming year, which is normally busy from March to December.  Every year I make notes of the events and shows I want to attend, and work hard to step away to go. Below is a list of the items on my calendar this year. If you have any other recommendations please let me know! Most of my list is local or on the east coast and I would love to know more about what is going on out west.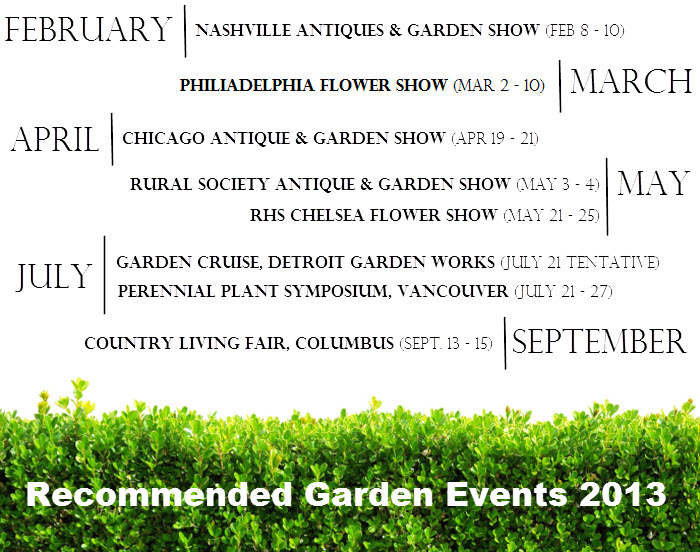 February: Nashville Antiques & Garden Show (Feb 8 – 10)
I have never been to this show or Nashville, but the time of year is perfect for me to travel and get a dose of horticulture during the grey Ohio winter. The show is a combination of antiques and gardening with the theme being a tribute Interior Designer, Albert Hadley . I am interested in the lectures by Flower School New York and Gil Schafer (see my post on his home here). I am also very interested in seeing the display garden of and talking with Page|Duke, a landscape architecture firm out of Nashville that I admire design aesthetic.
March: Philadelphia Flower Show (March 2 – 10)
I was able to attend this event back in 2008, just before Terrain opened outside Philadelphia and was able to see their design talent at work with their display garden.  The display gardens are over the top, much larger than what you see at local home and garden shows (See Target's display for Smith & Hawken in 2011). If you appreciate flowers roll in the garden this is a great show to visit.
April: Chicago Antique & Garden Show (April  19 – 21)
I have also never been to this show, however has been on my list for a few years (April is busy time for landscapers). This year I am especially excited to go to hear Charles Stick's lecture, his work is so thoughtful yet simple (See Garden & Gun Article here). There will also be five display gardens created by local landscape architecture/design firms and a very long list of vendors with booths.
May: Rural Society Antique & Garden Show (May 3- 4) 
This is a local show in Mont Vernon, Ohio that takes place on a farm (see portions of country living article here) featuring garden and antiques that is wonderfully edited and at Midwestern prices. (Almost don't want to share this and keep it a secret) It takes place twice a year (May & October). I recommend you be there Friday when they open, the good stuff goes fast!  After visiting the show, I recommend traveling to visit the beautiful campus of Kenyan College down the road.
May: RSH Chelsea Flower Show (May 21 -25)
I will someday go to the Chelsea Flower Show and see the best designers in the world display their talent in the display gardens in the pinnacle of garden design events.  I am beyond jealous to anyone that gets to attend and spend hours scouring the web to see others images from the show to visit vicariously through them. This year is the centenary of the show and will have Roger Platts design the main show garden.  Look for these gardens to influence the design trends in the months and years to come.
July: Garden Cruise, Detroit Garden Works (July 21 Tentative)
This event is a tour of the gardens designed by Deborah Silver of Detroit Garden Works in which proceeds benefit Greening of Detroit.  On this tour you will get to see some of the work showcased on Deborah's blog, Dirt Simple.  If you make the drive for this event I also recommend visiting  the Kresge Foundation Headquarters (see my post on a visit here).
July: The Perennial Plant Association Symposium (July 21 – 27)
It was with the PPA that I went on my Belgium trip this past year and is a great organization I recommend for anyone that is a plant geek like me.  Each year the PPA's symposium travels across North America to showcase the best of perennials in both the lectures and in the garden tours. This year's event is in Vancouver, another area on my must visit list. I would love to see the gardens they have lined up for the tours this year.
September: Country Living Fair, Columbus Ohio. (Sept 13 – 15)
Last year was my first trip to the Country Living Fair and had a wonderful time listing to lectures, touring the booths and tasting yummy local food (the year before lectures included the Fabulous Beekman Boys).  I was even able to find a new local grower for unique and specimen trees.  I am glad they continue to bring this event back to Ohio. You can also visit the event in Texas and Georgia; keep an eye on the Country Living website for more information.
 Year Round –  Open Garden Days with The Garden Conservancy in your area.
If you cannot make it to any of the items listed above, check out the Garden Conservancy's website to see if there will be open garden days in your area for you can attend. This is a great way to be inspired by gardens  that you can translate within your same zone and climate.