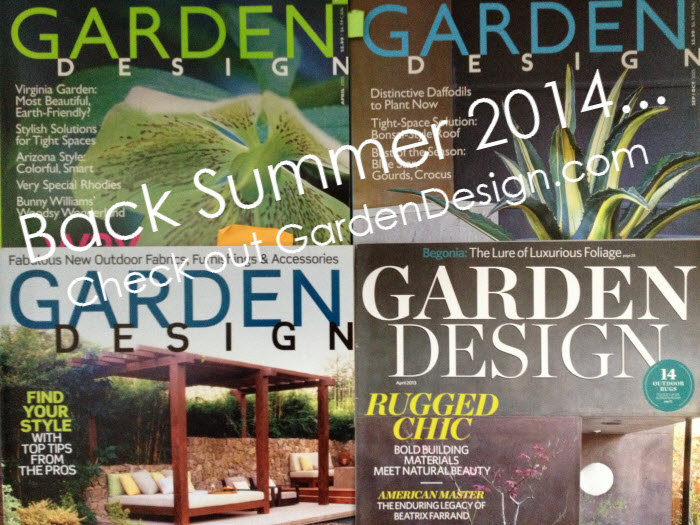 Have you heard? Garden Design Magazine is back! Even better, it is aligned to make it the go to landscape/outdoor reference for both designers and homeowners.  When the magazine folded back in April, we were left with importing magazines from across the pond or buying 10 shelter magazines for one article each month. Even though the magazine in its past state had issues (skewed content towards wealthy, modern Southern Californians), it was the only source for design trends, and garden articles written for folks who can id more than just boxwoods and hydrangeas.
I am lucky to be privy to a few specifics about what you can expect from the first printed magazine (Summer 2014 issue) and the already launched website.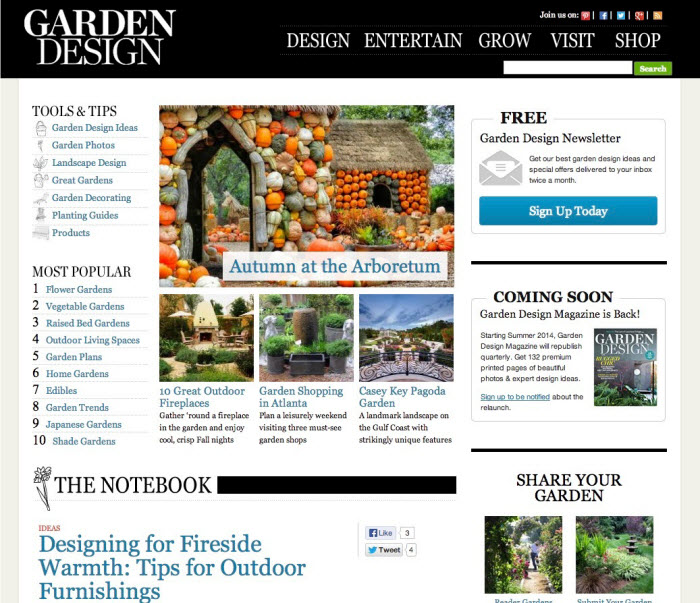 New Leadership
With the new magazine comes new leadership and Jim Peterson is just the man to getting the job done.  Jim offers a unique / fresh perspective, coming at the magazine from a different angle then a background in publishing.  Jim's roots stem from two already successful ventures in the Concrete Network and Landscape Network which offer professionals and consumers a forum for sharing design ideas, photos galleries, and products information.  Jim has been reaching out to designers across the country asking their perspective into the Garden Design brand; the good and the bad and is leveraging those ideas with a social platform. Garden Design will have a very strong editorial eye and voice, and will embrace the entire garden design community in content representation .
Regional Representation.
We all know that the United States has a diverse landscape, much more than what is represented on the east and west coasts (hello fellow fly over states!) With "ambassadors" from each distinctive region, Garden Design will provide readers with content that is relatable to their zone/climate and expose them to designers and innovators in their area as well as across the country and abroad.  I will be among the ambassadors writing from the Mid-West and will keep you posted as my articles are published online and in the magazine.
Attainable and Reach Designs/Products
The high/low in design has been a touted trend for a long time, but often in traditional print that those with the big advertising dollars get showcased over good design. Garden Design will showcase the innovators at all price points and gardens; large and small, rural and urban, expansive estates and intimate enclosures.   The regional representation will also help draw out those small hidden gems in designers for gardens and décor/furnishings.
Embracing Digital and New Formats
Like most visual people, I saved all my past issues of Garden Design like reference books, cataloged by year and ear marked with tabs of favorite articles and images.  The new print magazine leverages the reference format with 132 premium printed pages with specific rear advertising index.  The first print issue will be available in Summer 2014, but now turning to the Garden Design website provides you with fresh daily original content leveraging the new regional writers, (not reruns of print content).  Also an active Pinterest and Facebook page keeps you current with all news and inspiration.
I will keep everyone up to date on new Garden Design news but in the mean time tap into the already great network they have established:
And check out Landscape Network too see Landscape Design Professionals: