Yesterday my article on Garden Design was published about using ornamental branches in containers. I intended to have a blog post up to accompany the article, but have been so busy creating client holiday containers and hanging decorations I got a little behind on the blog.
The stems used in the article and for clients are all grown on our farm in Johnstown, Ohio next to our offices. The farm is named Red Twig Farms directly after the scarlet bark of the dogwoods. You can find more information about the farm on previous posts here.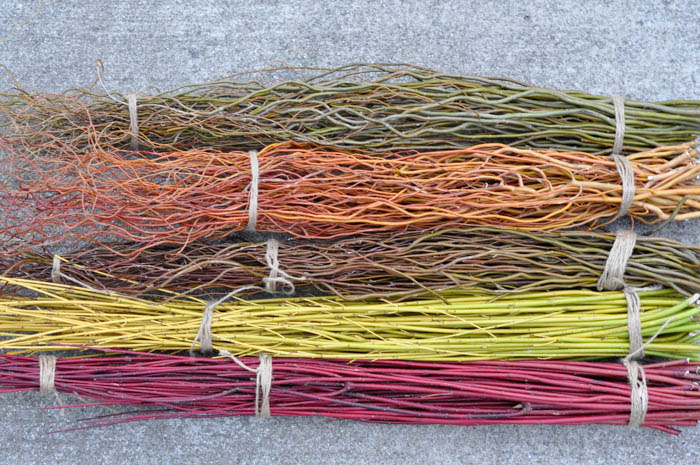 We have hundreds of plants that we harvest from each fall after the leaves fall and the bark has reached its peak color. By cutting back, coppice, each year we ensure the new growth comes back in tall single branch formats. Depending on the age and species of the plants we can get between 2 and 6 feet plus length branches.
Dogwood Branches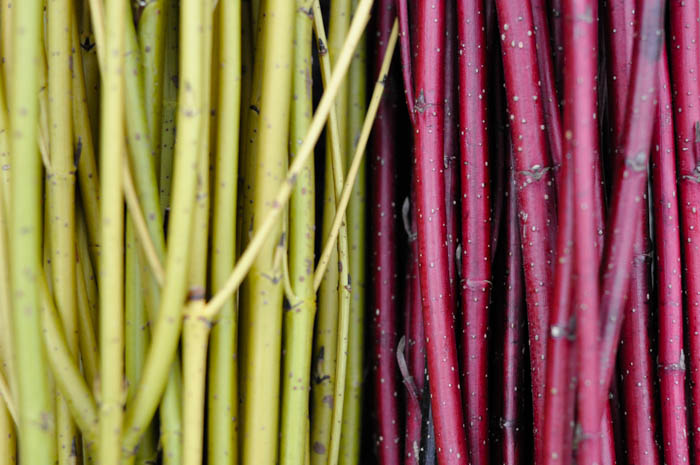 We grow red and yellow twig dogwoods. The red is great with the seasonal colors for christmas and the yellows are great all the way into spring. I like to use as many branches as possible in my container designs, the bundles above show 50 stems. The dogwoods are also very upright, so you can cram a lot into a container without spreading out too far in width. However you can also use just a few and will pop against any greens added to the container.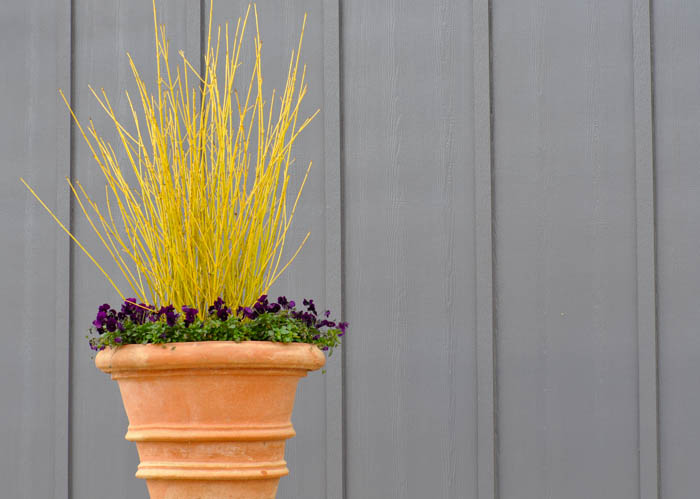 Example of yellow branches used in a spring or early fall container.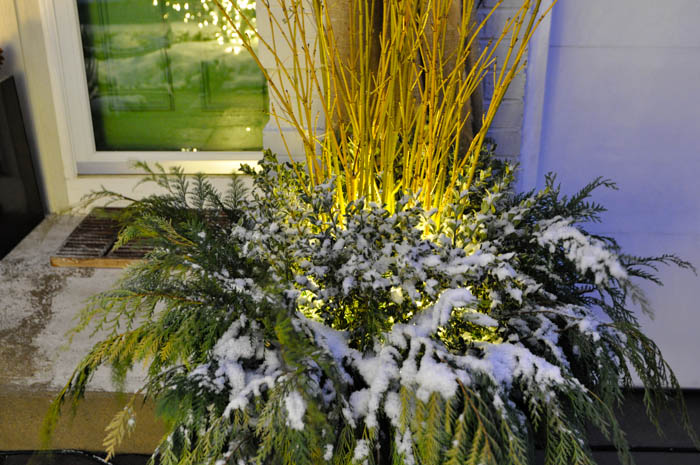 Example of yellow branches used in a holiday container. We placed LED Christmas lights around the base of the stems to provide a glow.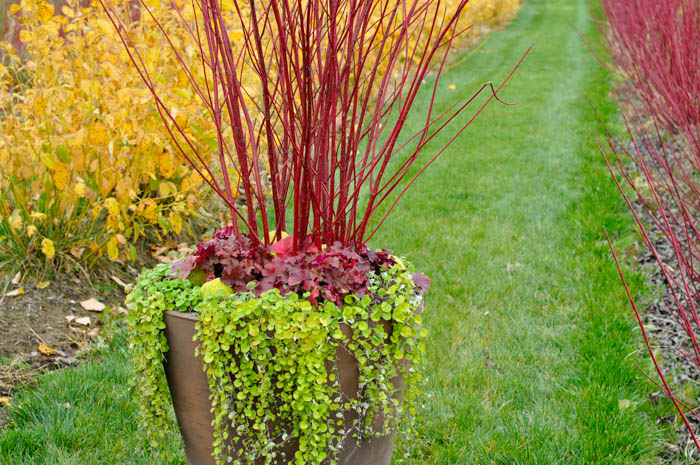 Example of Red Twig Dogwoods in a fall container.
 Curly Willows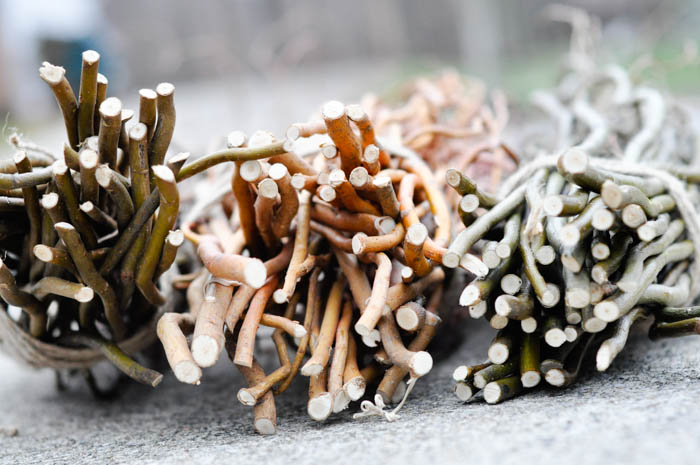 We also grow curly willow for cut branches. These also grow quickly through the season between 2 -6 plus feet in length. The additional benefit of these stems is the gnarly shape the branches grow and are very wide when used in containers.  We grow three colors (left to right  in images above and below): Black, Scarlet and Green.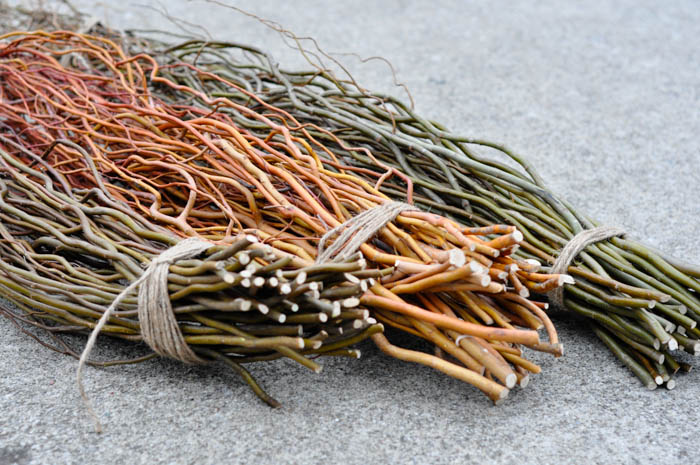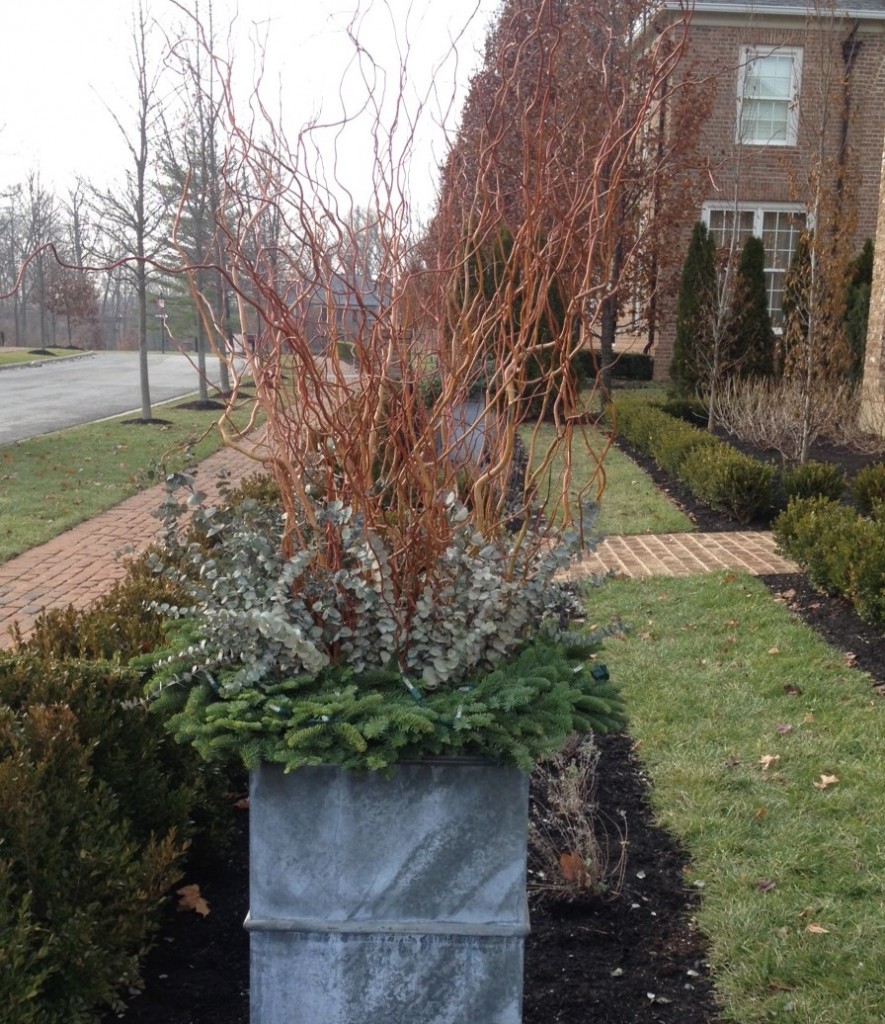 Example of curly branches used in a holiday container design.
Ordering Branches
If you want to order any branches you can order from our Etsy Store. They are packaged in bundles of 50, but we can do in any order you wish. Also if you want a large bulk, you can email Joshua@mccland.com and get wholesale pricing.
Additional Holiday Decorating:
I will do a post dedicated to holiday decorating once we are done and that will include more examples of the branches in container designs. I have yet to decorate at home, and that is often where I do something a bit unconventional but also takes significant hours to execute.  I would love to see how you extend the season with container designs or if you have any questions about using branches.