Tis' the season for gift lists, so I wanted to throw out my recommendations. Gardener gift lists leave me mystified because they typically include items gardeners will never actually use. Here are a few items I recommend because I use them everyday.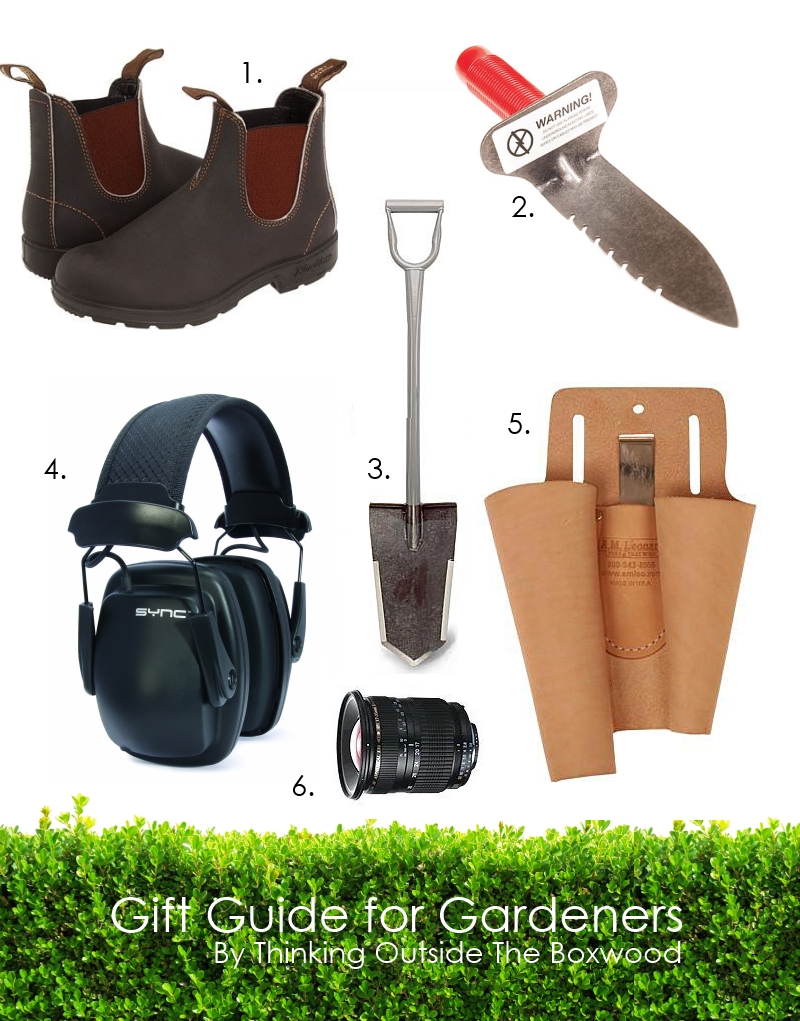 Links to Products: (1) Boots (2) Soil Knife (3) Shovel (4) Headphones (5) Tool Holder (6) Lens
Blundstone Boots. Gardening is a lot of kneeling, heavy lifting and dirt tracking. Blundstone boots are great for providing flexibility at the ankles, protecting the foot from equipment and easily slip on and off. I have had my pair for over five years and am just now getting to the point where I need a new pair.  Blundstone also uses sustainable manufacturing and promotes ethical treatment of its employees.
Lesche Soil Knife. We call these our soil swords, along with Felco Pruners these are our most frequently used tools. This is a great tool for planting, scoring the roots on a root ball or popping a weed out of the ground. This model is hefty and provides the best leverage, also I heard Martha Stewart's gardeners use this knife so you know it is good.
All-Steel Super Penetration Shovel.  Also known as the King of Spades, this is my go to shovel. The all steel design has a pointed blade and sharp tapered edges to provide the most ease in cutting into soil. The foot pad also allows you to get the most impact from your exertion.
Noise-Blocking Stereo Earmuff. Lawn mowers, string trimmers, and leaf blowers all put out around 90 decibels,  which prolonged exposure can cause serious hearing damage. I always wear protection when using equipment and have found these great headphones that allow me to listen to music while working. I run Pandora on my phone and put on my headphones. I can still hear calls and text come through and am protecting my ear drums. I really love these!
 A.M. Leonard Double Pruner/Saw Holder. My soil knife and pruners are with me at all times, and proper storage that puts them at quick access is important. This side by side design is my preference, and the leather wears over time giving it a great patina. For someone that already has favorite pruners, this with the soil knife is a great combo gift.
Tamron SP A0S 17-35 MM F/2.8-4.0 Aspherical DI IF Lens. Gardeners know that moments in the garden are fleeting, each day brings different sunlight, flowering combinations…..and having a great camera and lens allows you to capture those moments when all your work looks its best. This is my favorite lens to use when taking garden photos because it is an Ultra Wide Angle lens.  I would also pair this lens with a polarized filter for better results when you are shooting on a sunny day.
Follow me on Instagram to see a photo my items noted above to see how they wear with constant use. Nickmccland
I am also working on one more gift guide for this or next week and owe a holiday decorating wrap up post.