I look forward to pulling together the list of gardener gifts every year. Generally, it is the time of year I return to the blog after being MIA for a few months. Writing the gift guide allows me to curate the tools, books and special items I have found and used throughout the year. In the end, the list becomes a personal visual diary of what I had learned and accomplished in the garden over the year.  I have created an Amazon List page with past recommendations for the Gardener's Everyday Carries and The Well Read Gardener categories. (note these do include affiliate links).
This year I travel a lot and did not accomplish many projects in my personal garden. I did however get to explore some of the most amazing private gardens across the United States. Immersing myself in those intimate spaces and exploring the varying regions of the US in a condensed time frame provided me with the ability to view my garden with a fresh lens.  The gift list this year reflects items that aid in encouraging gardeners in to continue looking at their gardens with new references along with some items to make you look good while gardening.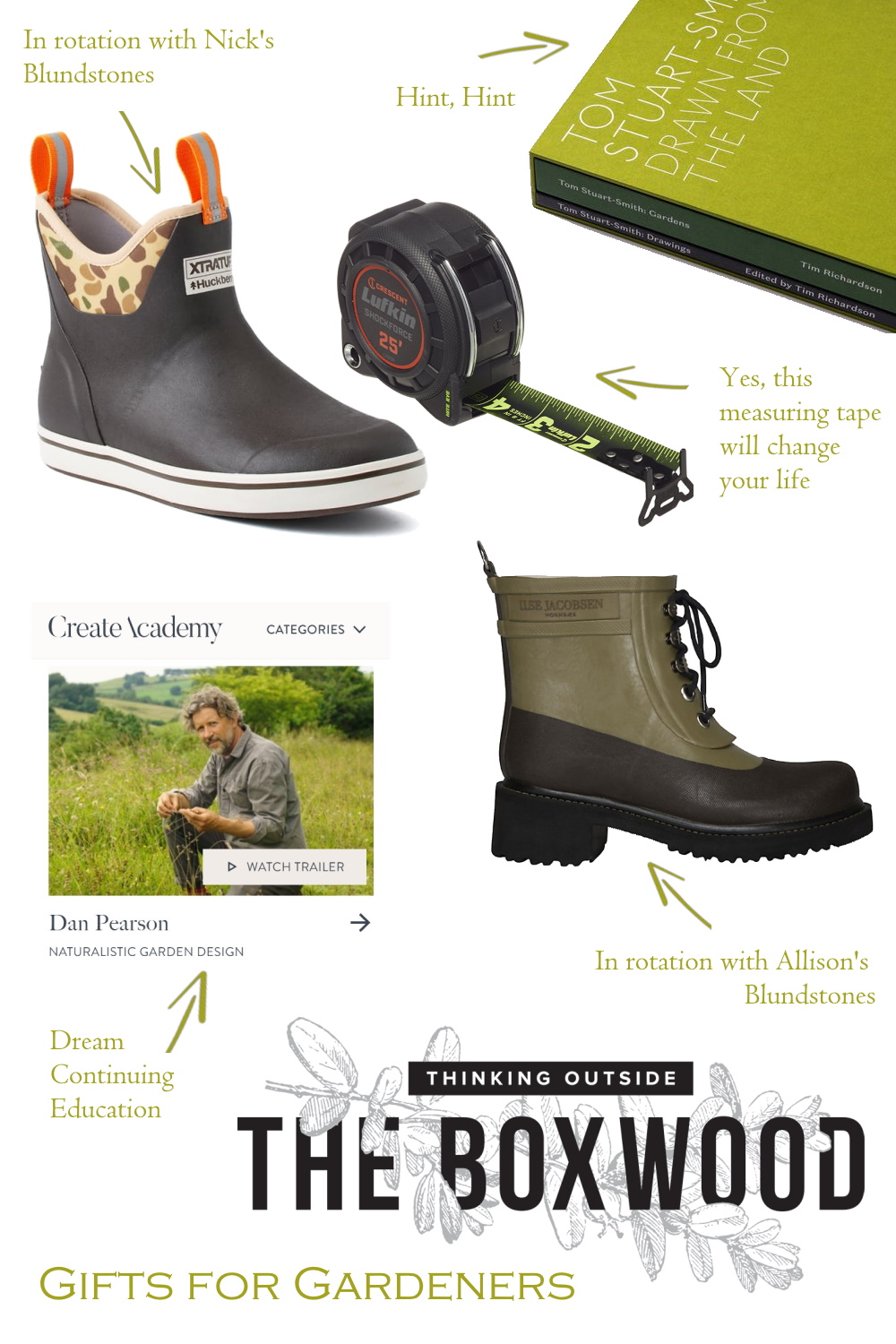 Dan Pearson's Master Class in Naturalistic Planting from Creative Academy  (about $170 )
Being a gardener means you are constantly learning from your garden and every other you enter. It is not often you get to learn directly from a celebrated garden designer like Dan Pearson. This is an online class I am personally excited to take over the winter. Dan's Gardens are a personal creative inspiration for me, and the production and organization of the course provides a wonderful insight into Dan's process. You can present the gift of the class along with a copy of Dan's Book, Toakachi Millennium Forest (this is an amazon link)
Collector's Edition of Drawn From The Land by Tom Stuart Smith (about $200 with shipping to the USA).
Earlier this year Tom released, Drawn From the Land (this is an Amazon Link). The book is a collection of Tom's portfolio of work illustrated with drawings, photos and writings with insight into Tom's planting and designing methods. Tom's 2011 limited release of The Barn Garden, Making a Place is one of my most prized books in our library, and Drawn From the Land has moved into my core list of   books recommended to someone interested in starting a career in garden design.  Tom created gardens of poetic energy and the book provides you insight into his process, giving you an education of how to craft a garden of emotion and thoughtfulness.
HOWEVER, if you have a major Garden Design Geek in the family (ahem), I would gift them with the Collector's Edition of Drawn From the Land. The special edition is limited to 1000 copies and includes a special book collection of Tom's Drawings.  This is the Tom Ford coffee table book for gardeners.
Crescent Lufkin 25ft.  Black Blade Tape Measure ($28)
I found this tape measuring while watching an episode of This Old House. I then went on an internet rabbit hunt for a tape measure with a black and florescent green blade and I found the Lufkin and have never looked back.  Better looking than the standard yellow exterior case, the face is easier to read and the blade has a 12 ft standout. It is a simple tool, however one I use all the time for projects and at home. Trust me, it is the tool that is that much better than the one you are currently using.
Huckberry x Xtratuf Deck Boot ($110)
Don't worry I still love my Blundstones, but when it is damp and I need boots, I love my new Xtratufs. They are lower around my ankles, light and keep my feet dry. There are other versions of this boot, but I wanted this version specifically for my affinity for camo. If you check out my Everyday Carry Page, I have lots of different blundstone styles I have owned over the years and other Xtratuf styles.
Ilse Jacobsen Diamond Rub 90 Boot  ($150)
Allison has a few pairs of Ilse Jacobsen boots, and they are her preferred wellies over Hunters. This year she got this lower boot in black with a heal and they have joined her daily rotation with her Blundstones (yes the whole family has pairs, even the kids).  They are water proof, but easily clean up to look good for client meetings. They are also comfortable for all day wear compared to taller wellies. This style is harder to find, but she recommends any of Ilse's styles.
PREVIOUS GIFT GUIDES: Here are some quick links to previous Gardener Gift Guides from previous years. I am happy to say there is only one item across these lists I would not continue recommending.
2019 – This year we created gift boxes with my recommendations from preivous years. Ended up not selling, but I did sell off all the limited edition Flecos I was hoarding and just rolled all the items into my everyday carries. This post has no links, but you can Google all product names and find the items.
2018 – I no longer recommend the Barebones Hori Hori knife, it is too heavy and is more for someone that wants the look of a serious gardener. I Lost my Antonio Bandanas – Beverage Collection Bandanas sometime over the past few years and need to order a new one.
2016 – Everyone of these items holds up and would recommend again and again. Sorry the photos are not loading, will be a winter project figuring out why.
2015 – Again, another list I would recommend every item again. Of course a list that includes Botanist Gin is timeless.
2013 – My first list for Gardeners. I now notice Blundstones have been repeated a few times, I think I might have a problem. Also, this year I got a new camera (shh… that will come up again in 2022). It has been life changing in the photos I have been taking of gardens. Will share more on that in an upcoming post.
Here is a quick look at what is included in my Amazon Store. The items are serious garden tools. I would not say they are like gifting someone a vacuum, but these are meant to be used gifts. Again, please note these are set up as affiliate links. I believe this is my first time posting with affiliate links and want to be upfront.
THE GARDENER'S EVERYDAY CARRIES – Amazon Shopping List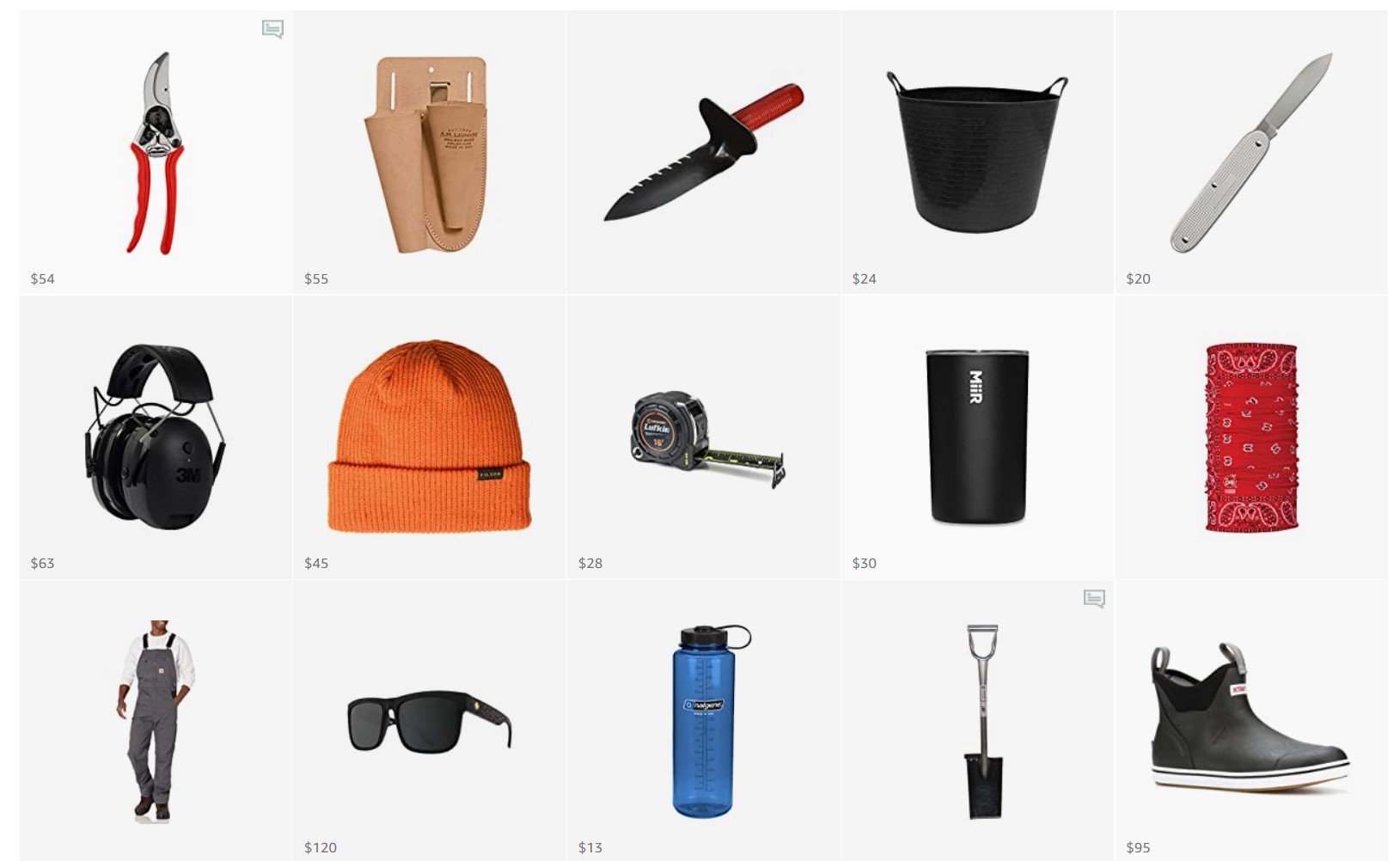 THE WELL READ GARDENER – Amazon Shopping List
I think Pinterest, Instagram and traveling are ongoing great resources, but nothing beats a good book (well except travel). A good book I return to over and over again and I am amazing that no matter how many times I have read it I still get a creative charge from them.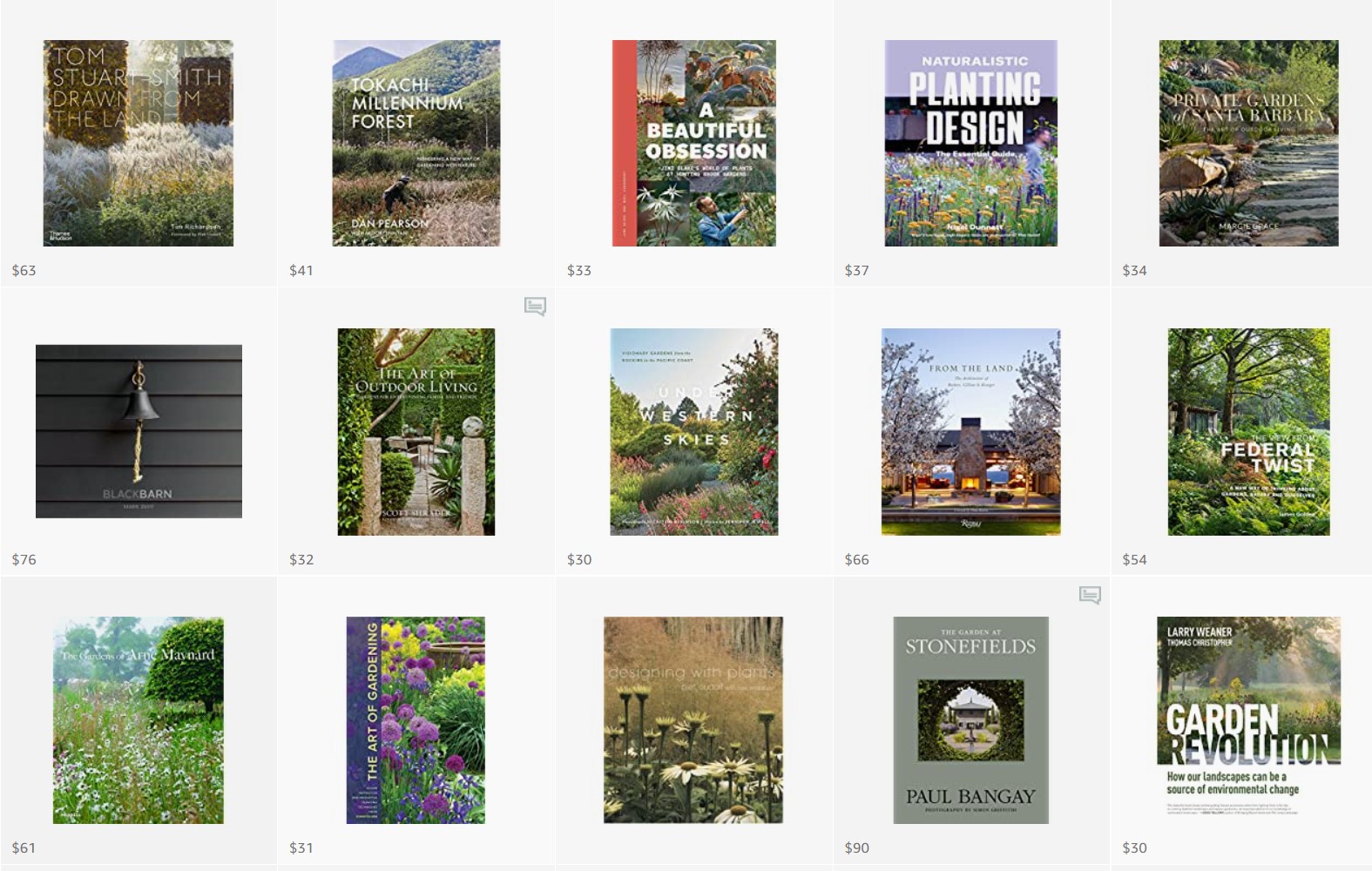 Have a wonderful Holiday season. May all the gardeners find time to recharge and be reinspired.