I grew up taking a week "field to table" vacation every summer to my grandparents pig farm in rural Ohio. Our excursions included early morning feedings, trips to the feed mill, swimming in the pond, picking bramble berries, helping in the fields, and sleeping outside listening to the cicadas. When I was younger I assumed everyone grew up with a connection to the farming community, but now realize my Midwest childhood exposed me to the real field-to-table system that most never experience. There are sites like FarmStayUS.com and Agritoursimworld.com that connect urbanites with agritourism or farm stay vacations on real working farms, but the very posh can stay at places like Daylesford, Blackberry Farm and Babylonstoren, where the field to table lifestyle has been coated in beautiful potagers, swimming ponds and spas.  They are a far cry from staying on my grandparent's farm, however even I am transfixed and inspired by their bucolic gardens, stone farm houses and swimming holes. Here are some photos of agritoursim to inspire you.
Babylonstoren. Located outside Cape Town, South Africa, Babylonstoren is an old world working farm in the style of the historical Cape of Good Hope farms along the ancient trading route, supplying sailors with fresh produce. Visitors can walk among the acres of gardens, visit the winery, swim or relax at the spa. Babylonstoren invites its visitors to help with the harvest or tour the fields, but you are just as welcome to enjoy its bounty at dinner. Images below from Rue Magazine (1) and Babylonstoren (2-5)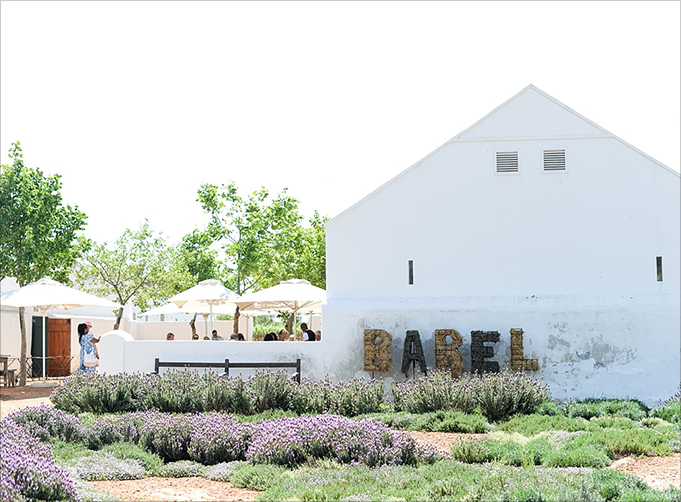 Blackberry Farm. Capitalizing on the great southern food tradition, Blackberry is a true foodie destination in the foothills of the Smokey Mountains, pulling in top chefs from all over.  Less on the designed landscape and more about the natural beauty of the foothills.
Blackberry Farm Images from: Town & County Magazine (1)  and Williams-Sonoma Taste (2)
Daylesford. Mixing both argitourism with anglomania, Daylesford is Pinterest porn dotting just about every garden board. Daylesford markets and cafes beautifully display the produce from the farm and is like its own city filled with livestock, gardens, buildings. Image Sources from Pinterest (1,2, 3) Cylde Oak (4)
Topping Rose House. Bridgehampton is not exactly in the heartland of America, however Topping Rose House is a hotel and restaurant operated by celebrated chef Tom Colicchio with a focus on fresh field to table food. The hotel features an one acre garden and sources food from other local fisherman and farmers to feed the guests. More of the middle ground of the Hampton's lifestyle with garden design and rows of vegetables. Images from Topping Rose House website.