The other weekend my father-in-law gifted me with a copy of Kenneth Lynch & Son's Garden Ornaments catalog from the 1970s. It is 176 pages of garden furniture, ornaments, containers, fountains, and statues made in cast stone, iron and lead. Tucked inside was a reprinted article from the September, 1951 issue of The Saturday Evening Post about the company founder, Kenneth Lynch. Trained as a blacksmith, Lynch was known for his work in restoring and recreating metal armor and motto "if its made of metal, Kenneth Lynch can make it." He expanded his design offering from purchasing the cast off molds, dies and patterns from other metal smiths marginal lines.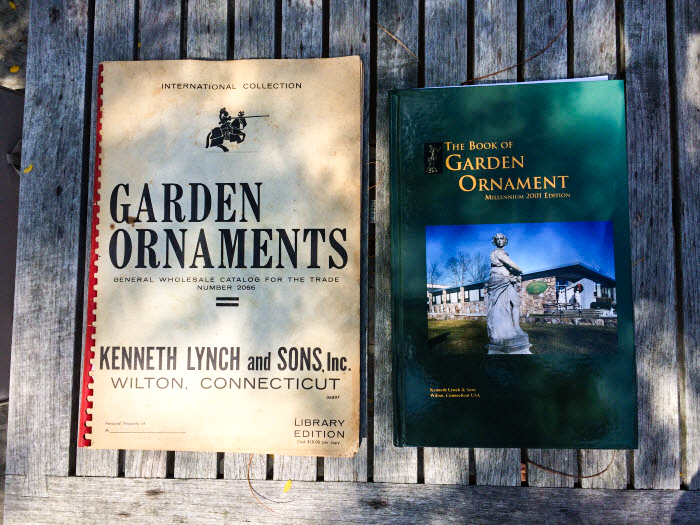 On the left is my 1970s catalog. On the right is the catalog/book I received when I contacted Kenneth Lynch & Sons for a copy of their current catalog. There are some products that are listed in both, but both feature items not included in the other.  If you are interested in their products you really need to request a catalog or download the PDF version. The website does not provide great photo examples of their work outside the catalog. 
The Saturday Evening Post article gave a great framework on the company's history and transformation. It includes the great lesson to always say yes and have a "can do attitude," you never know where that will take you. My favorite anadote is how he had a police officer help him steal a one of a kind sample bench for the 1939-40 World's Fair so he could copy measurements and make molds to help win the work fabricating the 800 benches needed for the fair. Also, he did the work within the two week deadline.
Here is the drawings for the Worlds Fair Bench, which is also used in New York City Parks. If interested you can still order this bench design. 
Even if you are not thinking of purchasing from the company, the catalogs give you great inspiration for design work and containers. Here are some detailed shots from inside the catalog of favorite pages.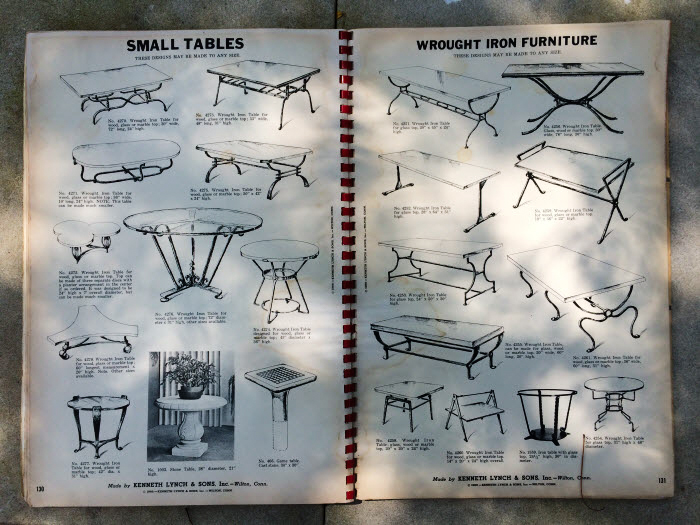 A lot of these tables do not appear in the current catalog, but I like the legs on the wrought iron legs. Simple design without a lot of extra flourish.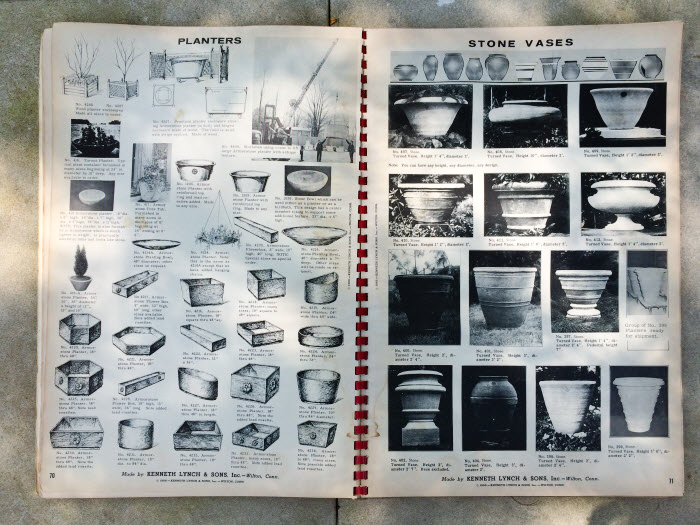 I gather planters were not a favorite product since there were just a few pages of containers. What they do offer are a lot of different shapes and scale.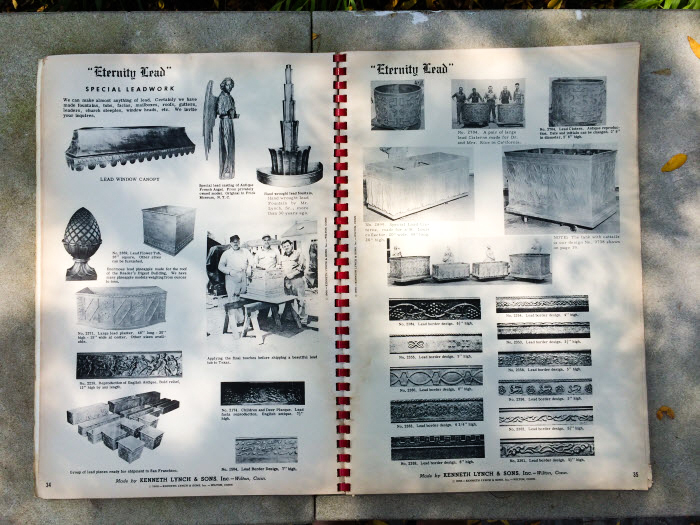 Showcase of the detailed banning options for lead containers.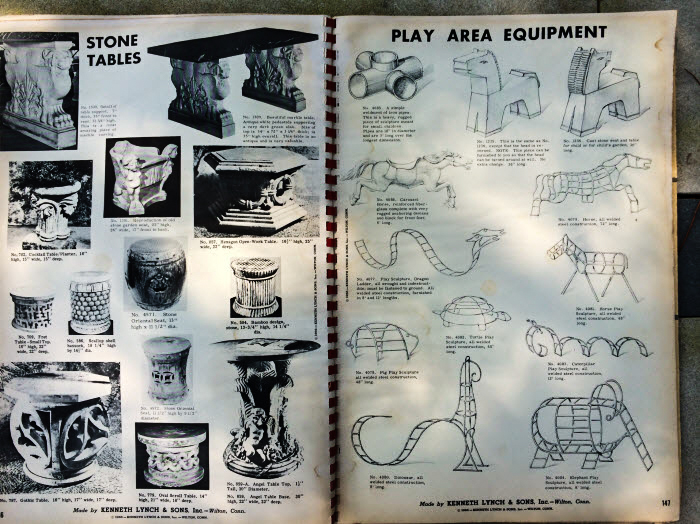 The animal shapes of the kids playground equipment are amazing and great reference for making some almost mid century topiary shapes. 
The straight lines of the chairs on the bottom left feel modern and contemporary. Even the scroll own on the loungers are unique and different from current items on the market. 
Here are some photos from the current catalog of products. You can see the catalogs are set up much of the same way with black and white photos.
Their current catalog has beautiful cisterns that would great in formal spaces or used as garden planters. The catalog also includes cast stone and lead animal statues; deer, dogs, birds and the more exotic kangaroo or hippo.  
I would recommend the 1970s (or 60's) book for any garden designer for creative reference. I found a few listed on eBay for anyone interested:
1966 Garden Ornaments Catalog, by Kenneth Lynch & Sons – currently $50, Buy it Now.
1961 Garden Ornaments Wholesale Catalog – Kenneth Lynch & Sons – Currently $45, Buy it Now
Garden Ornament an Encyclopedia from Kenneth Lynch & Sons – currently $16 (this is a bound book compared to my copy, and looks to have different images)
Here are links to the Kenneth Lynch & Sons company information. I was not able to find a lot of color photograph examples of their products nor have I ever used their products.
If any one is interested in the full article from The Saturday Evening Post, I can scan the article and send you a pdf. It was very entertaining and you appreciate all that Lynch accomplished in his life.